Lunch is always my biggest challenge when on Whole 30, or for that matter, anytime. For some reason creating a healthy, delicious breakfast or dinner is a cinch, but at lunchtime I struggle. So what better way to help myself, and you, than to gather a collection of lunch recipes that are amazingly delicious, healthy and happen to be Whole 30/Paleo compliant!
(This post contains affiliate links. See full disclosure at bottom of page)
12 Healthy (Whole 30) Lunch Recipes
Keep the eyes and the belly happy with these Paleo Chili Stuffed Sweet Potatoes from Calm Eats!
Collard Wraps and Satay Dipping Sauce from The Healthy Foodie, because sometimes you just want a sandwich!
The Best Homemade Chicken Salad from me, The Organic Kitchen. Serve on a bed of lettuce and enjoy!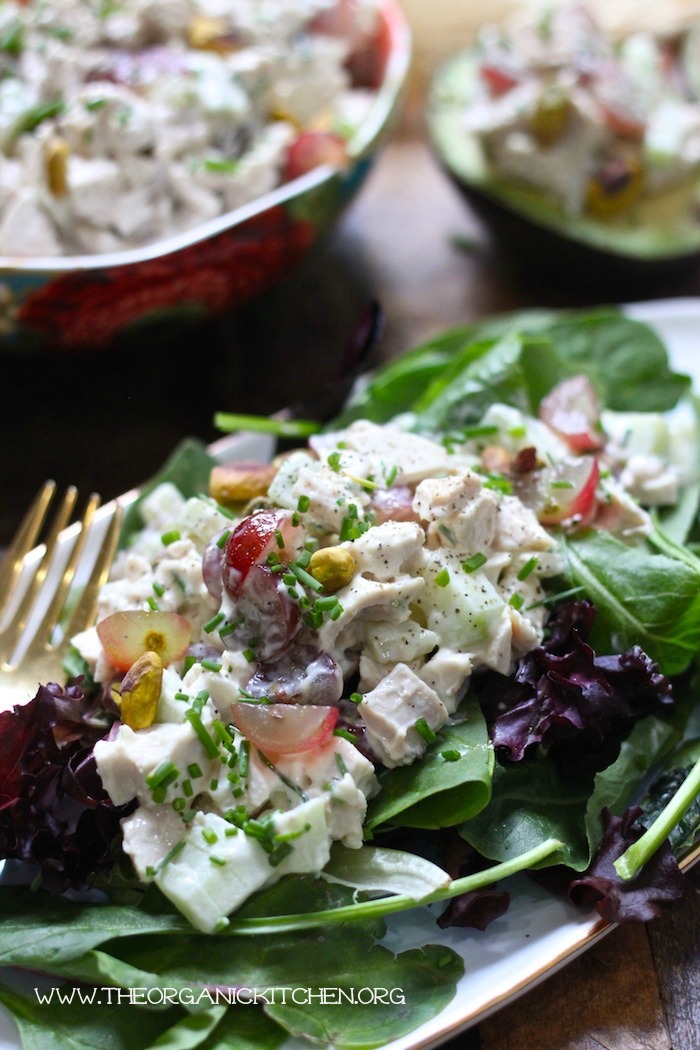 Chili is classic comfort food, but frequently off limits for those on Whole 30 because of the beans. This Beanless Turkey Chili with Cashew Cream from Cook with Me Darling makes a great W30 lunch and is made in about 30 minutes!
…these Spiralized Sandwich Buns from Inspiralized and you've got an incredible burger! (PS the bun is W30 compliant, the filling pictured is not)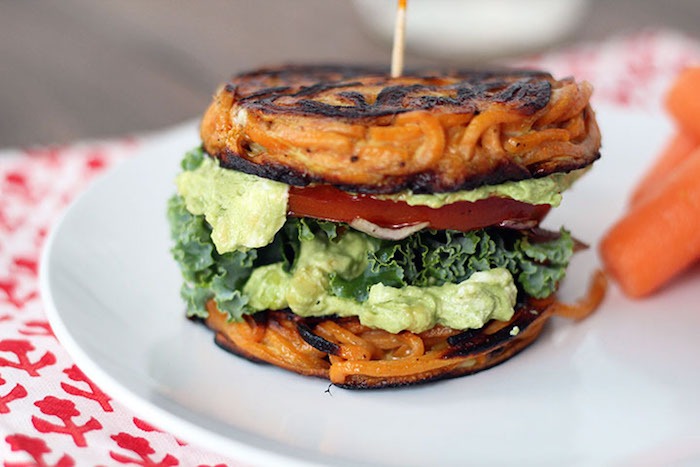 There is nothing like a Chopped Salad with Ranch Dressing!  And this homemade dairy free dressing is to die for…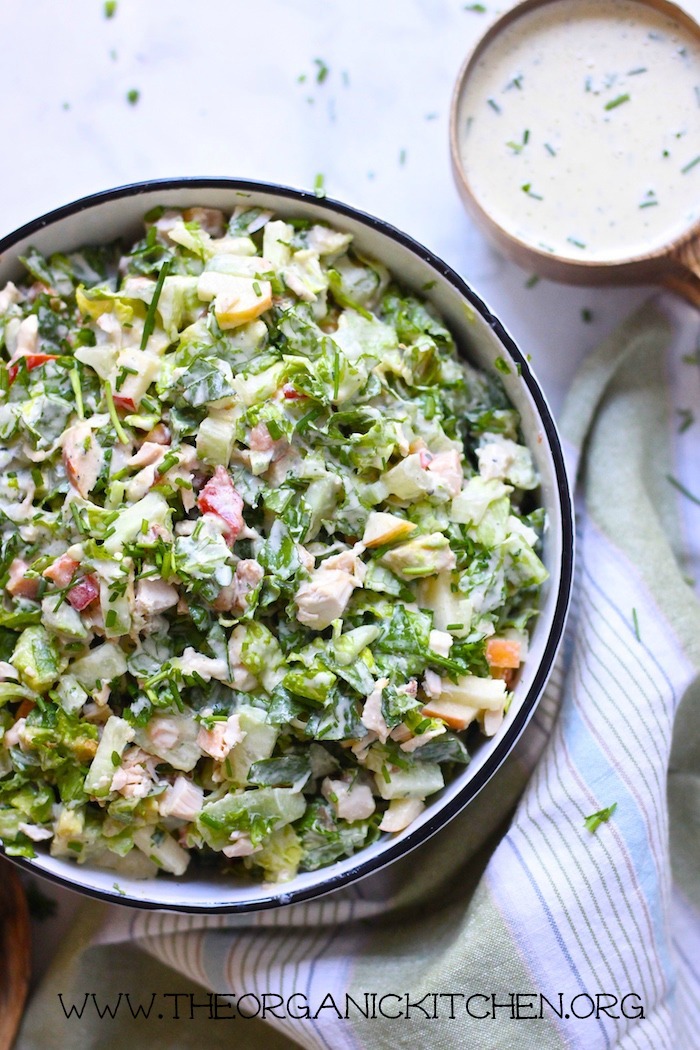 Look at the color of this Rainbow Salad with Grilled Chicken and Raspberry Walnut Dressing from A Calculated Whisk!
Ground Turkey Brussels Sprouts Skillet from My Heart Beets: good old fashioned comfort food.
Make the Whole 30 version of this Shrimp or Chicken and Artichoke Heart Soup and eat it all week or freeze in mason jars for later.
When pomegranates are out of season I make this Mango Pomegranate Chicken Salad with raspberries!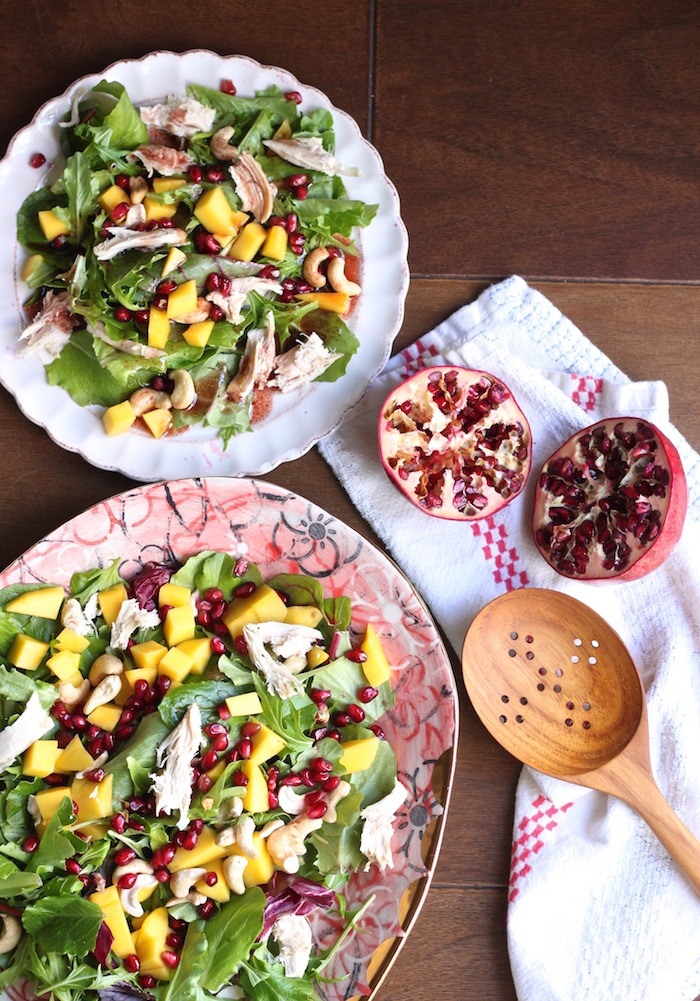 These Chicken Pesto Stuffed Potatoes from The Whole Cook rock my world!
Ten minutes is all it takes to make this Amazing Variation of Egg Drop Soup!
More Whole 30 Recipes!
See: 12 Healthy Delicious (Whole 30) Breakfast Recipes here and 12 Dinner Recipes here. Enjoy~ Linda Spiker
Get $30 off your Sun Basket order! Organic ingredients from the best West Coast farms and easy, healthy recipes delivered weekly.

MAY I PLEASE ASK A LITTLE FAVOR?
We small bloggers need all the help we can get. Subscribing and sharing on social media is very appreciated!