Who doesn't love tacos…or any variation thereof: tostadas, fajitas, even taco salads and/or bowls? As long as it resembles and tastes like a taco, it's all more than good! So here is a collection of 50+ Taco, Tostada and Fajita Recipes for your viewing (and eating) pleasure!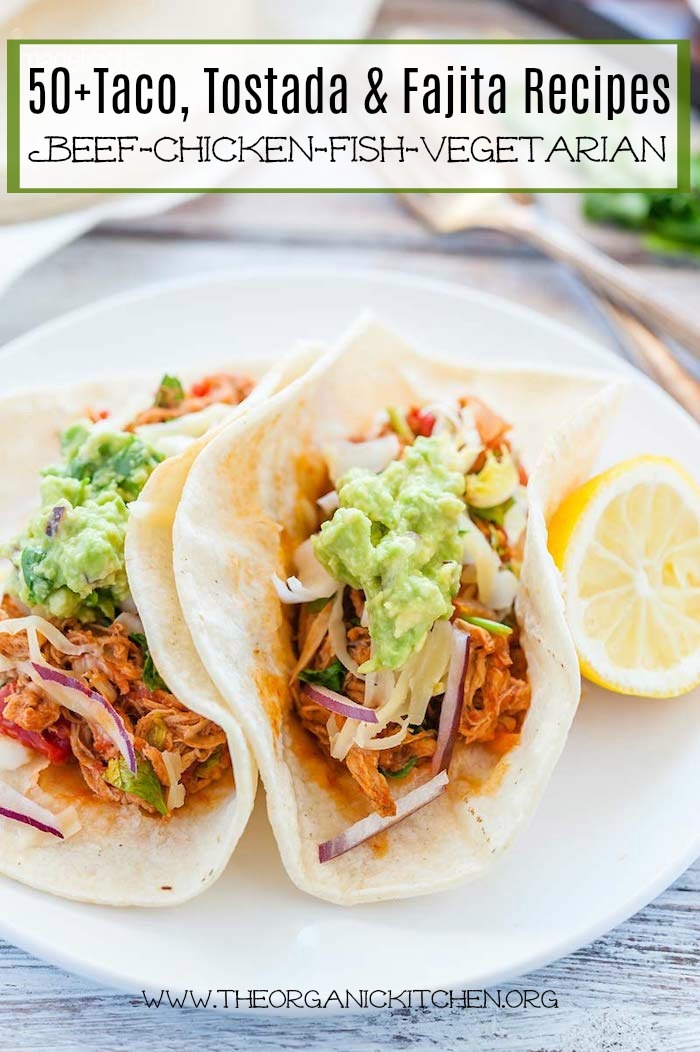 50+ Taco, Tostada and Fajita Recipes!
Beef:
Whether you prefer ground beef, skirt steak, brisket or filet mignon, I've got you covered!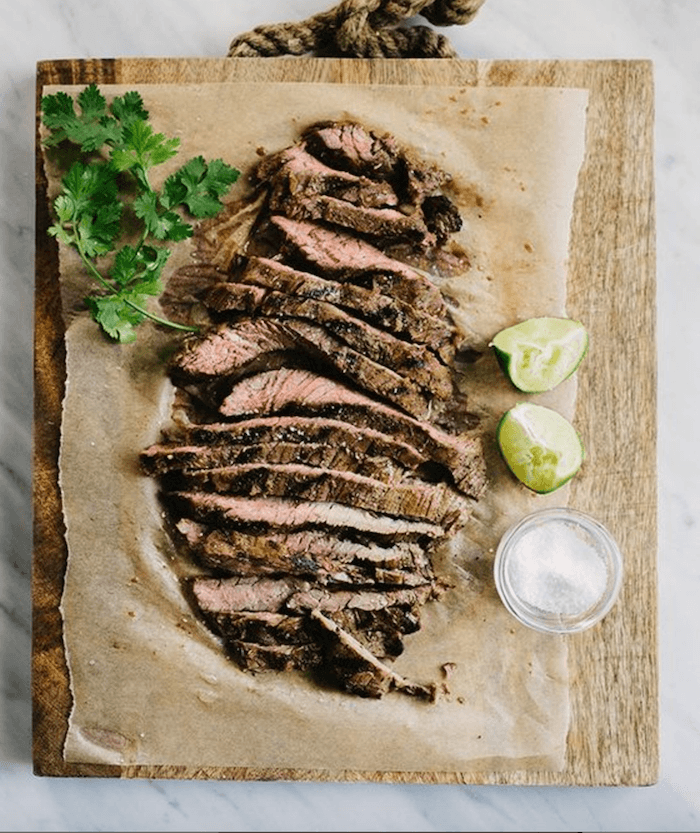 Grilled Skirt Steak Tacos with Lime Crema (pictured) from Our Salty Kitchen
Beef Brisket Tacos from Jessi's Kitchen
Grass Fed Beef Tacos from Recipes to Nourish
Steak Tacos with Mango Salsa from Garden Kitchen
Carne Asada Tacos from Pinch and Swirl
American Style Ground Beef Tacos from Our Salty Kitchen
Pork:
Carnitas, one of my favorite ways to enjoy Mexican Food!
Pulled Pork Tacos (pictured) from Imagelicious
Pulled Pork Tacos Made in The Crock Pot or Instant Pot from The Organic Kitchen
Chorizo Style Pulled Pork Con Pimientos Del Piquillo from The BBQ Bastard
Crock Pot Polynesian Pulled Pork Tacos from This Vivacious Life
Mexican Chicken Tinga from Bacon is Magic
Pulled Pork Tacos AKA Carnitas from Home and Plate
Korean Pulled Pork Tacos with Creamy Sriracha Slaw from Mary Ellen's Cooking Creations
Chicken and Duck:
Instant Pot, slow cooker, rotisserie, oven baked…it's all here!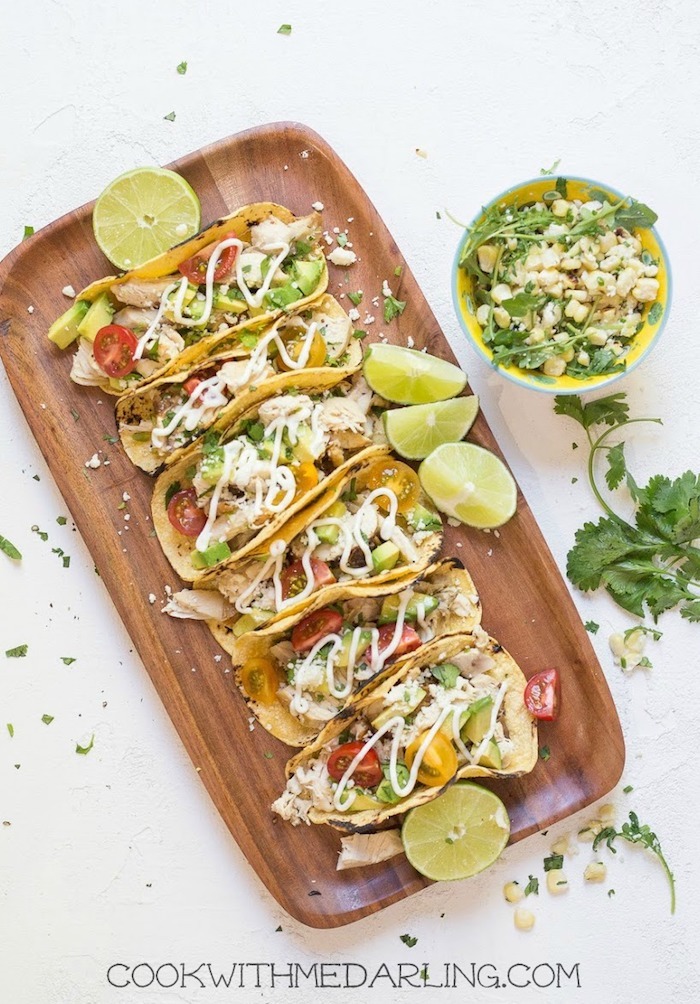 Easy Garlic Lime Chicken Tacos with Lime Crema from me, The Organic Kitchen! (pictured)
Easy Skillet Chicken Fajitas from Save Room for Dessert
Ras el Hanout Chicken and Pineapple Fajitas with Pico de Gallo from The Spice Train
Slow Cooker Hawiian Chicken Tacos with Pineapple Orange Salsa from The Must Have Mom
Oven Baked Chicken Fajitas from Make Ahead Meal Mom
Salsa Verde Chicken Fajitas from Erica Julson
Duck Tacos with Spicy Orange Cherry Salsa from Easy Cooking with Molly
Crispy Lemongrass Chicken Tacos from Pups with Chopsticks
Seafood:
Shrimp, halibut, salmon…grilled, seared, or beer battered!
Easy Fish Tacos with Mango Salsa (pictured) from The Organic Kitchen
Steak and Shrimp Fajitas with All The Fixings from The Organic Kitchen
Fish Tacos with Avocado Mango Salsa and Avocado Cream from Calm Eats
Shrimp Tacos with Lime Crema from Taste Abounds
Seared Salmon Tacos with Asparagus Scallion Salsa from Prepare & Nourish
15 Minute Fish Tacos with Chimichurri Sauce from I'm a Honey Bee
Easy 20 Minute Fish Tacos from Pass Me Some Tasty
Lobster Tacos from Caroline's Cooking
Beer Battered Fish Tacos from Krumpli
How to Make Healthy Blue Corn Fish Tacos at Home from Compass and Fork
Vegetarian/Vegan:
I can't forget my vegetarian and vegan friends! Here are some fabulous choices for the non-carnivore!
Guajillo Sweet Potato Tacos (pictured) from Jessi's Kitchen
Butternut Squash Tostadas with all The Fixings from The Organic Kitchen
Fresh Corn and Black Bean Tacos from The Organic Kitchen
Halloumi Tacos with Red Cabbage Slaw from The Cook Report
Healthy Orange Cocoa Black Bean Tacos from Recipes to Nourish
Chickpea Cauliflower Tacos with Lime Crema from a Side of Sweet
Quick Seven Layer Vegan Tacos from Where You Get Your Protein
Five Minute Easy Vegan Tacos from Happy Kitchen Rocks
Super Easy Baked Breakfast Tostadas from The Life Jolie
Vegan Tostada Filled to the Top from Healing Tomato
Quinoa and Black Bean Tacos from Raia's Recipes
Salads and Bowls:
For those that prefer their south of the border fare in a salad or bowl, here are some tortilla free options!
Vegan Mexican Rice Bowl (pictured) From The Stingy Vegan
Sweet Potato Taco Bowl from My Kitchen Love
Quinoa Taco Salad from The Live-In Kitchen
Quinoa Fajita Bowls with Meal Prep Options from Healing Tomato
Chilaquiles with Black Beans and Eggs from Venturists
Mexican Grilled Chipotle Salad in Tortilla Bowls from Veggie Desserts
Quinoa Taco Salad from The Live In Kitchen
Low Carb/Paleo/Grain Free/Whole 30
And last but not least some choices for my carb watchers!
Healthy Taco Salad: Low Carb Gluten Free (pictured) from Wholesome Yum
Sweet Potato Tacos on Herbed Grain Free Tortillas
Whole 30 Pulled Pork Tacos on Butternut Squash 'Tortillas' from The Organic Kitchen
Jicama Taco Party from The Organic Kitchen
Whole 30 Chicken Fajitas from The Clean Eating Couple
Paleo/Instant Pot Chicken Tacos from Calm Eats
Chicken Fajita Bowls from Jessi's Kitchen
My Big Fat Greek Low Carb Chicken Tacos from Say Grace
Paleo Cajun Fish Tacos from Prepare & Nourish
Chipotle Shrimp Jicama Tacos with Mango Salsa and Avocado Crema from I'm Bored, Let's Go
MAY I PLEASE ASK A FAVOR?
We small bloggers need all the help we can get. Subscribing and sharing on social media is very appreciated!