Avocado toast. It's everywhere and there is a good reason. Actually many reasons! Making avocado toast is easy, time savvy, mind blowingly yummy, loaded with healthy fats, budget friendly, and there is really no need for a recipe. Top avocado toast with a perfectly poached egg and you have a complete breakfast, lunch or casual dinner!
(This post contains affiliate links. I may make a commission from sales but your price remains the same.)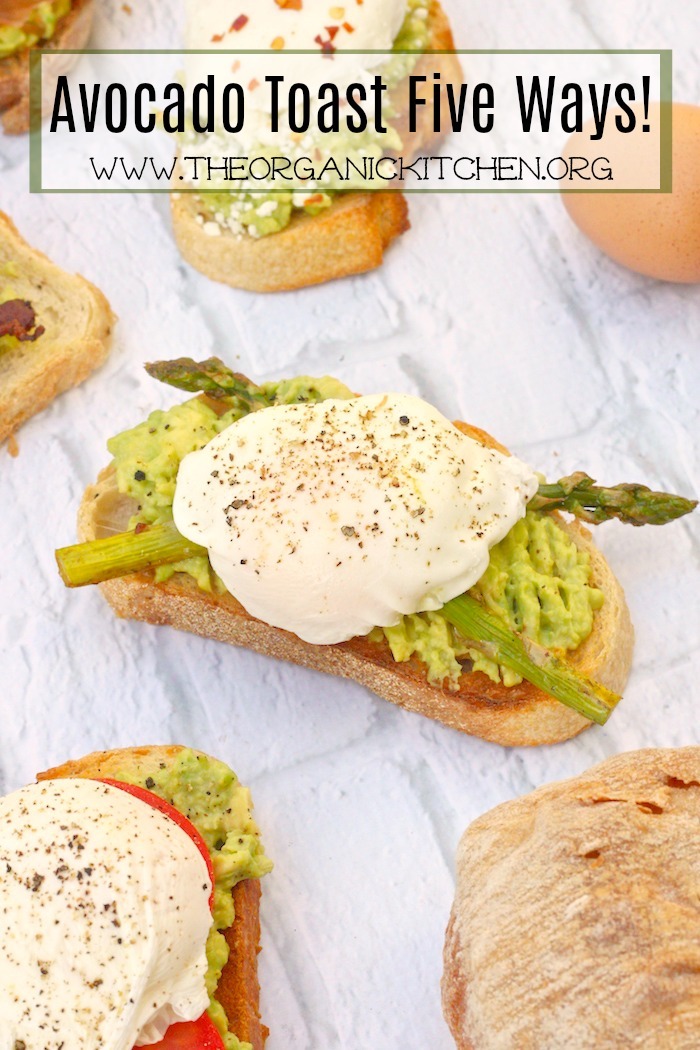 The Mash:
The star of the show is the avocado mash. Simply take a fork and mash a ripe avocado. You can add a little sea salt and garlic powder, or leave as is. It's up to you! Then spread on your favorite artisan bread and top with the goodies! Including poached eggs!
Poached Eggs: How to do it right!
Of course you don't have to top your avocado toast with a poached egg, but if you do it's important to know how to do it right. I have a video tutorial to help you out. Watch it and know that it takes a little practice to get it right. I messed up on my first few attempts, but once I got the technique down, poaching eggs became a cinch!
Eggs Matter: Facts About "Pastured" Eggs
The quality of eggs is important. When a recipe calls for so few ingredients you need to make sure those ingredients are top notch! I use 'pastured' eggs, not to be confused with 'pasteurized' eggs (I stay away from those). Grass-fed/pastured hens are raised on pasture, as opposed to being kept in confinement and fed primarily grains. Eggs from pastured hens contain up to 20 times more healthy omega-3 fatty acids than those their less fortunate cousins, factory hens.
Pastured hen's diets are naturally complemented with bugs, earthworms etc…that give their eggs a huge nutritious oomph. Although not necessarily organic, pastured hens are usually much healthier and happier than their space-restricted and antibiotic-pumped industrial cousins.
Pasturing is the traditional method of raising egg-laying hens and other poultry. It is ecologically sustainable, humane, and produces the tastiest, most nutritious eggs.
Pastured eggs also have 40 percent more vitamin A and 34 percent less cholesterol than eggs obtained from factory farms. The yolks are a bright orange, instead of pale yellow like factory eggs. See what I mean…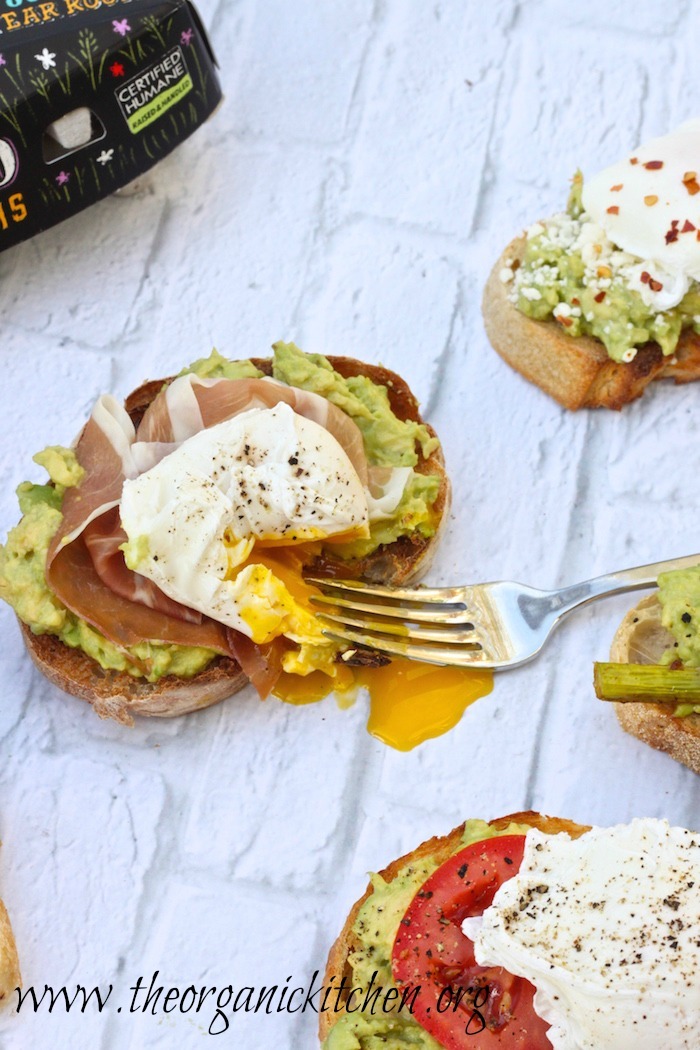 The following are a few of my favorite ways to serve Avocado Toast:
Ciabatta Avocado Toast with Prosciutto and a Perfectly Poached Egg
This one is my favorite! Prosciutto is naturally salty so I skip the sea salt on this one and simply top toasted artisan Ciabatta with pasture butter, mashed avocado, prosciutto, a poached egg (see video) and freshly ground pepper.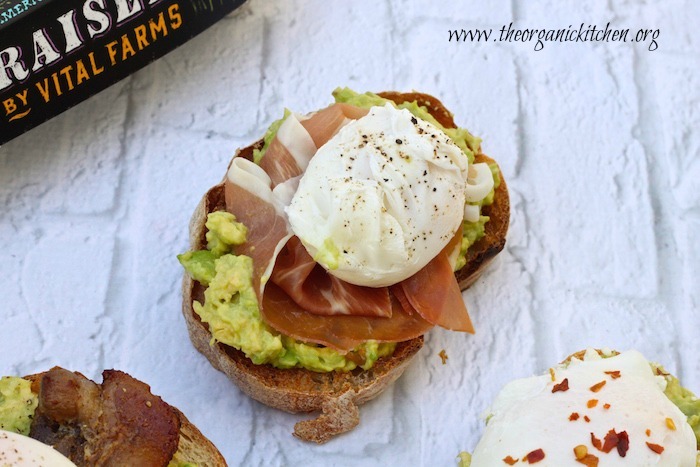 Three Cheese Semolina Avocado Toast With Tomatoes
Can I tell you that taste testing is the best part of my job! I used fresh Roma tomatoes, sea salt, fresh black pepper and a slice three cheese semolina for this tasty version.
Avocado Toast on a Sourdough Baguette with Roasted Asparagus
One of my many motto's is 'add veggies to everything', even avocado toast. To roast asparagus, simply drizzle with olive oil, sprinkle with sea salt and pepper, toss and place on a parchment covered cookie sheet and roast at 425 degrees for 6-8 minutes with rack placed in upper third of oven. (OR: if like me, you happen to be making bacon, simply place trimmed asparagus in the pan with the bacon and cook till ends are browned but asparagus is still crispy!) Speaking of bacon…that would also be a nice addition to this toastette!
Avocado Toast on Traditional Sourdough with Bacon
Bacon lovers rejoice! Another way to pair two breakfast favorites!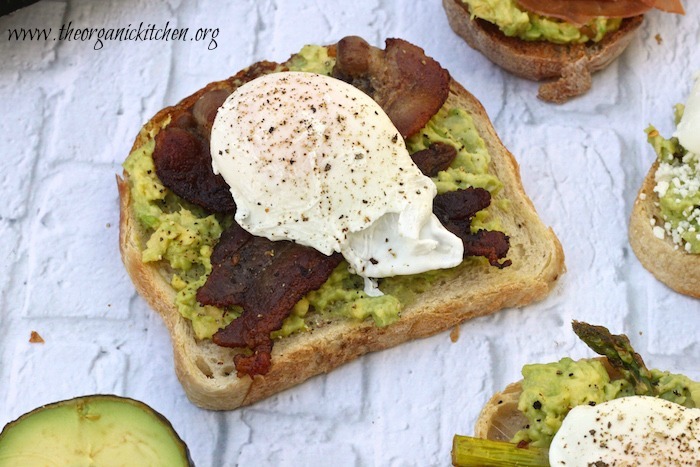 Avocado Toast with Feta and Red Pepper Flakes
Basically when it comes to avocado toast you are only limited by your imagination. Top with leftover vegetables, scrambled eggs, fried eggs, cured meats, artisan cheeses, whatever you have on hand. In this version I add a little heat with red pepper flakes which counter the creamy feta nicely!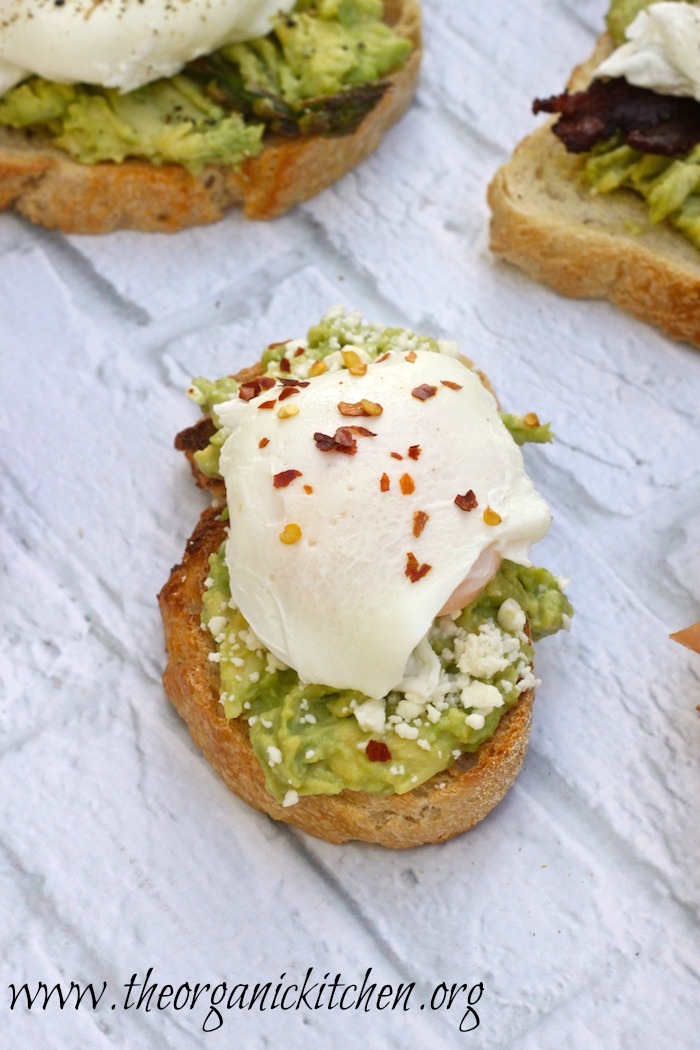 Love Kale? Try this!
If you find yourself wanting to expand your avocado toast recipes. try this Kale Avocado Toast!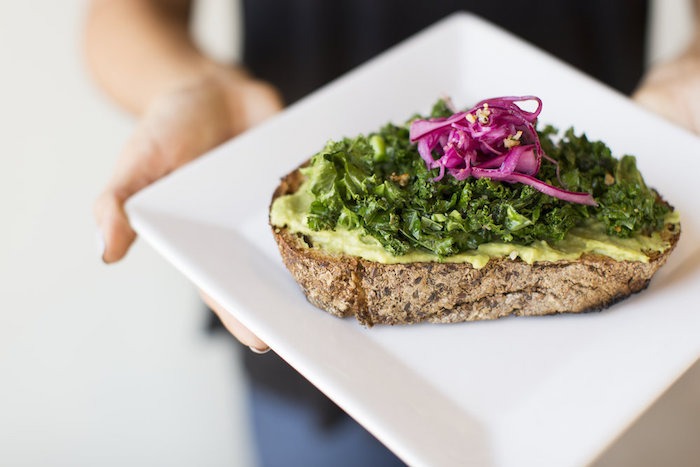 The Recipes: Avocado Toast with Perfectly Poached Eggs!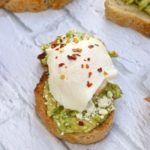 Avocado Toast with Perfectly Poached Eggs- Five ways!
Cuisine:
American, Argentine
Keyword:
Avocado toast, breakfast
Ingredients
1

Avocado, mashed

sea salt, pepper, garlic powder (optional) to taste

2

Your favorite artisan sourdough, ciabatta, multigrain or French bread.

2

eggs (See poaching instructions above)
Toppings:
your choice of bacon, prosciutto, steamed asparagus, tomato slices red pepper flakes
Instructions
If using bacon. cook that first. If using asparagus steam that. If using a tomato slice it thinly.

Using a fork, mash an avocado with a pinch of sea salt, pepper and garlic powder (optional)

Poach eggs (see directions and video link in blog post above) Pop the bread in the toaster.

When toast is done, top with mashed avocado and whichever toppings you chose and poached aggs.. Sprinkle with sea salt, pepper and red pepper flakes if you like a little heat. Enjoy!
MAY I PLEASE ASK A FAVOR?
We small bloggers need all the help we can get. Subscribing and sharing on social media is very appreciated!