When we were visiting Boston, we made a day trip to Martha's Vineyard! We took the ferry over to the island just in time for an early lunch. We ordered crab cakes…we were in New England after all. The crab cakes were scrumptious, perfectly crusted and crispy on the outside, flavorful and tender on the inside, perfection! Needless to say when I came home I started working on a recipe. You know how I roll. So here is the result: Crab Cakes, Aioli and Martha's Vineyard!
(This post contains affiliate links. I may make a commission from sales but your price remains the same.)
After lunch, we spent the rest of the day exploring the island. One day was definitely not enough time to take it all in, I wish we could have stayed longer. Hopefully, there will be a next time.
Martha's Vineyard: A Little Slice of Heaven on Earth
As mentioned we got a little bit of a late start heading to the island, after stopping for lunch we had about six hours before we needed to be back to the ferry. A quick google search of The Top Ten Things To Do On Martha's Vineyard gave us a place to start. But first…I picked out a house….priorities people!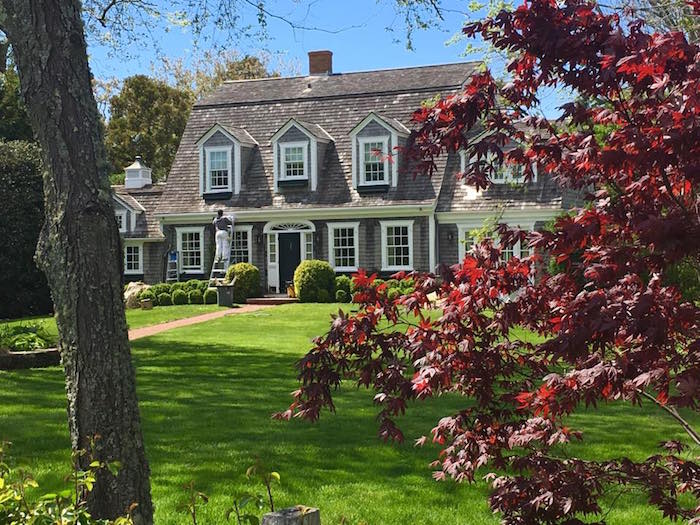 Our first stop was the Edgartown Lighthouse. We were so fortunate to have glorious May weather.
Then it was off to South Beach, and that my friends is when disaster struck! My phone died. That may not sound like a disaster to you, but to a food blogger that was blogging about Martha's Vineyard it definitely is! Luckily we ran into a very nice gentleman taking photos, I asked if he would take a few pictures for me. He obliged, I am forever indebted!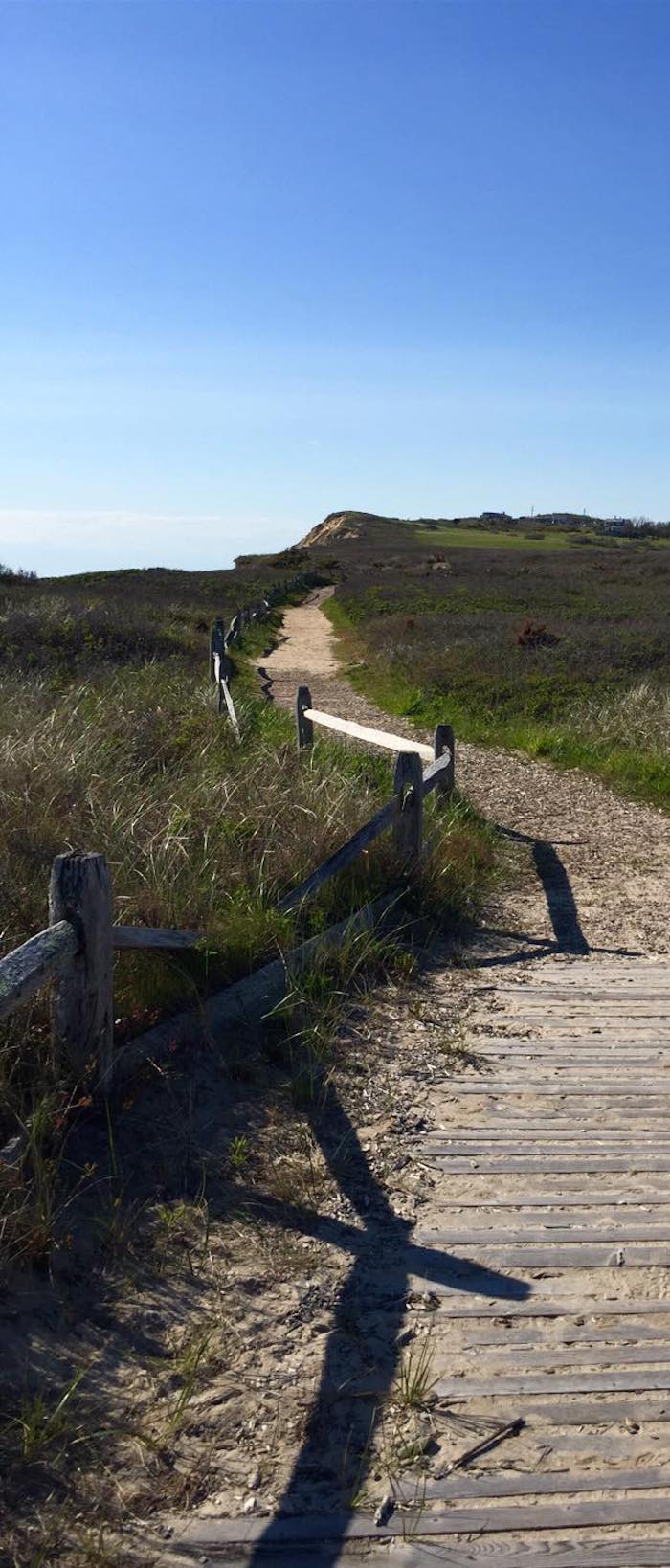 We visited farm stands, stopped at shops and cafes, and walked on beaches. We loved our day on the Vineyard and hope to go back soon. Next time we will plan for 2-3 days, rent bikes and ride around the island, sit on the beach, and of course, eat! Which brings me back to where we started…
New England Crab Cakes and Aioli!
This recipe was inspired by our day on the vineyard. It is easy to follow, so not much explanation is necessary. The base of our aioli is mayonnaise. You can make your own mayo or use store bought. I would just recommend using a mayo that is made with olive or avocado oil.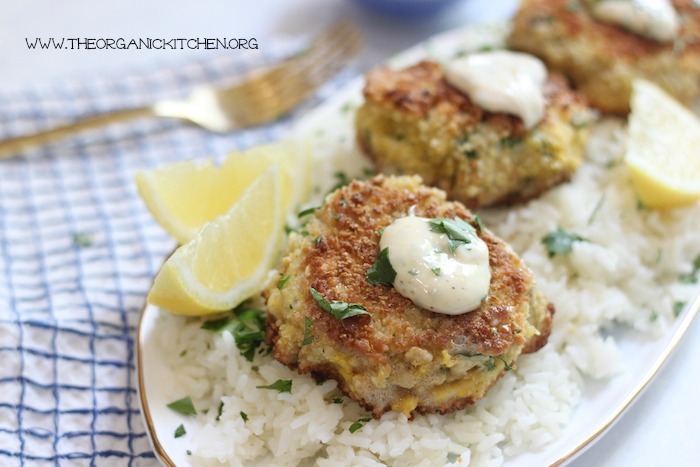 The Aioli:
So simple: mayo, fresh herbs, lemon zest and juice and a little hot sauce! That's it.
The Crab Cakes:
Don't be intimidated by crab. Until I worked on this recipe I had never cooked with crab before. If I can do it, you can do it. This recipe is made with 'lump crab meat'. I get my lump crab at the Whole Foods Market fish counter. It also comes canned. Lump crab meat is already cooked and packaged so all you have to do is squeeze out the extra water and combine with celery, herbs, and seasonings. Then dredge in an egg wash, coat with bread crumbs (I use Ian's Gluten Free Panko), and fry in butter, ghee or olive oil to golden perfection and eat!
The Recipe: Crab Cakes with Aioli
Tips and what you will need: for getting these crab cakes crispy I recommend using a cast iron pan. You will need a microplane for zesting citrus. And I always recommend a good sea salt, I buy the tub, it's a real money saver and lasts forever! If you want to make your own mayo, click! If you want to use gluten free bread crumbs I recommend Ian's Panko.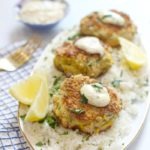 Crab Cakes, Aioli and Martha's Vineyard!
Delicious and easy New England Crab Cakes with Aioli!
Keyword:
classic recipe, easy dinner recipe, party recipe
Ingredients
For Aioli:
One cup mayo

homemade or store bought

zest of one small lemon

juice of half a lemon

1

tablespoon

chopped parsley

1

tablespoon

chopped chives

one garlic clove

peeled and finely minced

1

teaspoon

hot sauce

your favorite

2

pinches

sea salt

a few turns of freshly ground pepper
For Crab Cakes:
1

pound

lump crab meat

excess water pressed out with paper towels

1/3

cup

prepared aioli

1/3

cup

finely chopped celery

1

tablespoon

chives

finely sliced

1

tablespoon

parsley

chopped

1/3

cup

panko bread crumbs

gluten free friends opt for GF bread crumbs

pinch

sea salt

pepper

2-3

tablespoons

butter

olive oil or ghee
Coating:
3-4

eggs

2

cups

Panko bread crumbs

gluten free friends opt for GF bread crumbs
Instructions
To make aioli:
Combine all ingredients in a bowl and whisk. Set aside
For Crab Cakes:
Remove crab meat from container, place between paper towels and press until all excess water is removed.

In a large bowl mix crab meat, 1/3 cup aioli, celery, 1/3 cup bread crumbs, chives, parsley, salt, and pepper until well combined. Form into discs with hands and set on a dish. You should have enough to make 8 cakes.
Coat:
Whisk eggs in a shallow bowl, place breadcrumbs in a separate bowl.

Gently pick up crab cakes one at a time. Coat in egg and then dredge in panko breadcrumbs. If cake loses it's shape, no worries, gently press back into shape and set on dish.
Cook:
Heat cast iron skillet on medium/high heat for two minutes. Add enough butter, ghee or olive oil so bottom of pan is nicely coated. Allow to melt. When oil is hot add crab cakes to pan, when golden, turn. Lower heat if necessary. Cook second side until golden (usually 3-4 minutes a side). Add more butter/oil to pan if needed and cook second batch. Top with aioli and serve.
I hope you get a chance to visit Martha's Vineyard! If not, you'll still be able to make a mean crab cake! ~ Linda Spiker
MAY I PLEASE ASK A FAVOR?
We small bloggers need all the help we can get. Subscribing and sharing on social media is very appreciated!