Cheerio from London! Honestly, I don't know why I said that. I never heard anyone say 'cheerio' while we were in London. Although I did hear "Top of the morning to you" many times in Ireland…but we will get to that …after Paris…
(This post contains affiliate links. I may make a commission off sales while your price remains the same)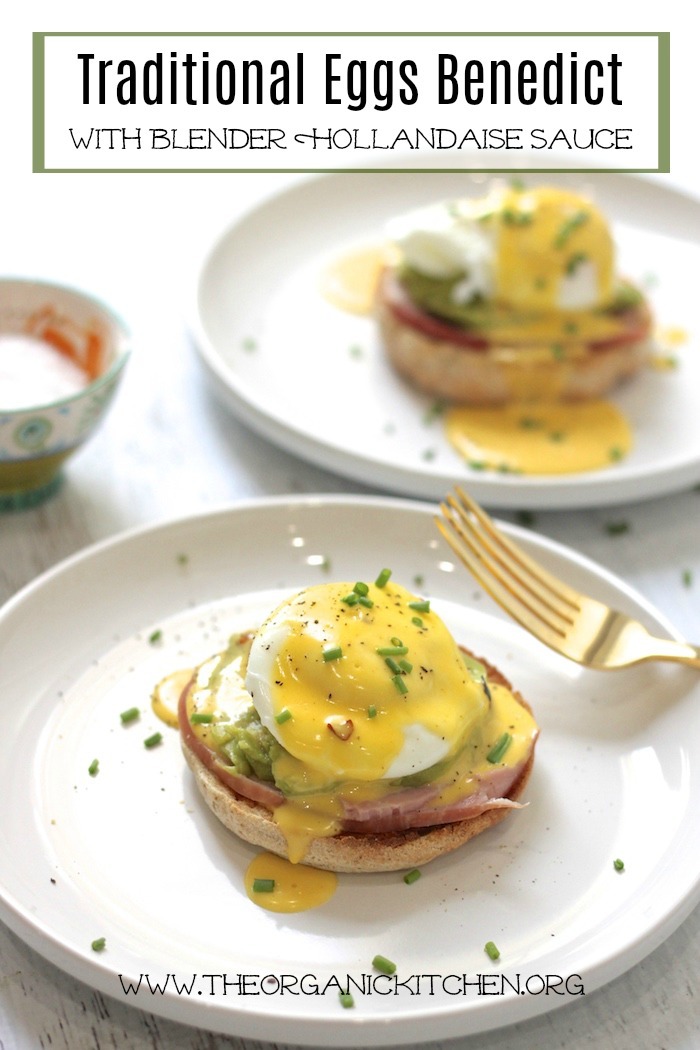 I have so many amazing recipes coming your way from our three weeks in Europe, including the Traditional Eggs Benedict with Easy Blender Hollandaise Sauce pictured above! Plus travel tidbits, suggestions on getting the best vacation photos using your iPhone (we left the 'real camera' at home this time) restaurant recommendations and even a few 'quick hair' tips that will save you time and effort. If you haven't yet, sign up for my free email newsletter so you don't miss out. Right there under my picture in the right side bar—>
The Trip That Almost Wasn't
After almost nine months of meticulous planning on my husbands part, alas I am NOT a planner, we weren't sure until the day before the trip that we were even going. Six weeks before we were supposed to leave our 27 year old daughter was diagnosed with salivary gland cancer. A month and a half of biopsies, two surgeries, recoveries, appointments with the oral surgeon and oncologist we got the news that the tumor was 'low grade' and that the second surgery had 'clear margins' meaning they got it all, and while she will need years of follow up appointments she does not need chemo or radiation. To say we were relieved, and  so very grateful. So with one day to pack and a little arm twisting my husband got me on a plane. Eleven hours later I was standing at the gates of Buckingham Palace!
Where We Stayed
My husband and I prefer to stay in boutique hotels when we travel. We appreciate a smaller more intimate setting and the personal service guests receive in such an atmosphere. This time we chose Hotel 41 on Buckingham Palace Road and we were not disappointed! This 30 room hotel is not only beautiful but the staff is very friendly and offer truly amazing service! Located in the hub of London, The 41 is walking distance from the Palace, three of London's largest parks, Westminster Abbey, the London Eye and a some of London's best restaurants.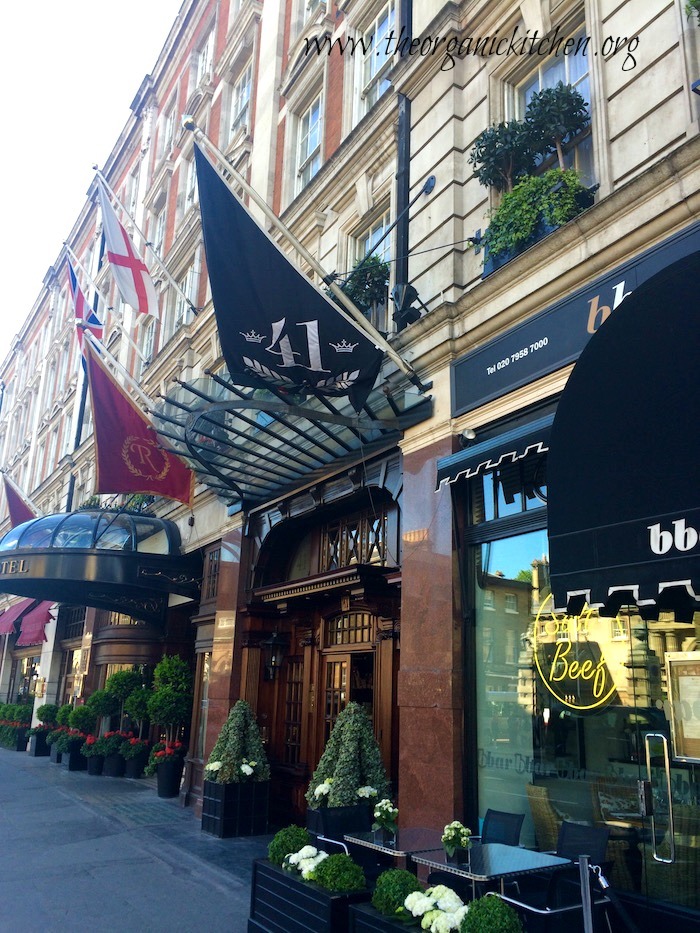 What To Expect from London:
London reminded us of Manhattan, busy, bustling, and high energy! Business is booming and because of that the construction of high rises is in full swing. So expect traffic, lots of bodies and some noise. But unlike Manhattan there are laws against honking horns and the streets are amazingly clean. In fact 'clean and friendly' are the words that come to mind first when thinking of London. Everyone we encountered in London was warm and welcoming. Strangers on the street would offer to help when they saw we were lost or had questions, and even the police and taxi drivers were were unbelievably nice.
The weather in London can be very unpredictable so pack layers, scarves, jackets, beanies and gloves. If I had it to do over again I would have packed in 'shades of grey', meaning jeans and leggings with black, white and grey tees, sweaters, coats, boots and shoes so it could all be worn mix and match. This saves time and suitcase space. Laundry tip: We brought a bottle of Woolite along and washed our own tees and underwear and just hung them to dry in the bathroom. We learned last year in Italy that sending out laundry in hotels costs a fortune.
The Sights!
The first few days in London we visited all the big attractions, Buckingham Palace, Big Ben, Westminster Abbey, The London Eye, Museums, The Tower of London etc…and then we spent our last few days visiting some less traveled spots (blog post coming in two days). And although I would love to blog about every single thing we did and post ALL my photos there are just too many! You can see more on Instagram here. Here are a few of my favorite photos with some tips on making your vacation photos truly memorable.
Finally, The Food: Where We Ate!
We found some pretty great restaurants in London, here are a few of our favorites.
Below is a spread from Jamie Oliver's restaurant Barbecoa. We loved it. BONUS: The restaurant has the most amazing view of St. Paul's Cathedral.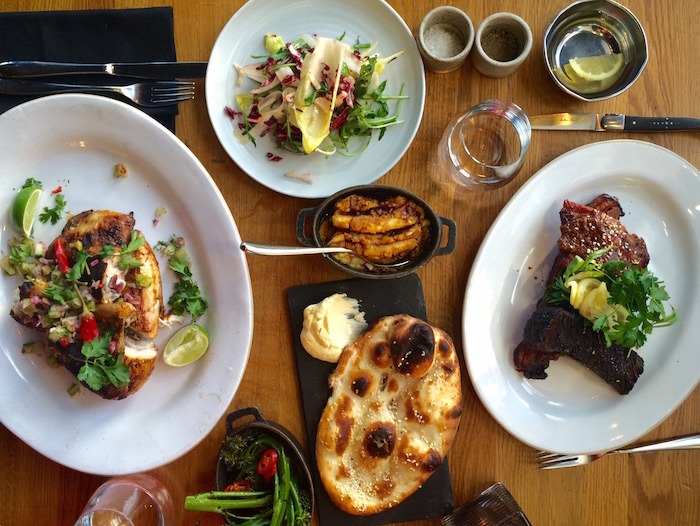 Michelin star winner Quilon: was located right around the corner from our hotel and honestly, it blew me away! The best Indian food I have ever eaten. The cauliflower chili fry and lobster butter pepper are my top picks.
Santini: If Italian food is your deal then head over to Santini. You can look forward delicate handmade pasta, delicious salads and a perfectly cooked filet mignon.
Babaji Pide: Londoners are flocking to this kitchen in search of flat breads, turkish teas and coffee, and traditional stewed chicken and beef dishes.
If you are looking for less expensive or more casual dining, no worries! London has cafes on every corner that feature everything from traditional fish and chips to baked potatoes with your choice of topping for 5 pounds!
Today's Recipe: Traditional Eggs Benedict and my little twist!
Our hotel provided breakfast every morning and we were very happy about it. The chef at Hotel 41 prepared the most lovely Traditional Eggs Benedict. We sort of became addicted! When we got home I added it to our morning repertoire but made it a little simpler by using a hollandaise sauce made in the blender. I also add my own California flare by added avocado, because that's how I roll.
The Recipe: Traditional or California Style Eggs Benedict
Tips on Poaching Eggs and What You Need: Don't know how to poach and egg? I have a video tutorial that shows you step by step how to do it! You will need a small pot and a blender.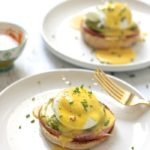 Traditional Eggs Benedict with Hollandaise Sauce
Traditional Eggs Benedict or a California take, both are made with Easy Hollandaise Sauce and or choose Learn to poach a perfect egg here.
Keyword:
classic recipe, easy breakfast recipe, easy brunch recipe
Ingredients
Hollandaise Sauce:
3

egg yolks

small pinch red pepper flakes

pinch

sea salt

pepper

1

tablespoon

lemon juice

1/2

teaspoon

dijon mustard

1/2

cup

melted butter
The rest:
1

tablespoon

white vinegar

1

english muffin

sliced in two and toasted

4

slices

Canadian Bacon

2

eggs

poached

avocado slices

or avocado mash (optional)

1

tablespoon

chives

chopped
Instructions
See video tutorial linked above to learn to poach eggs
Make Sauce:
Melt butter and set aside

Add yolks, lemon juice, dijon and spices to blender.

Whirl for 30 seconds, then slowly drizzle in melted butter and blend for 30-60 more seconds. It should thicken immediately

Place sauce in a small pan, and keep slightly warm but don't allow to simmer! Whisk here and there
The Rest:
Place a small pot of water with one tablespoon white vinegar on high heat and bring to a boil

While waiting for water to boil, crack two eggs into a small dish being sure not to break yolks, set aside

If using avocado, slice or mash with a fork

Place English Muffins in toaster and toast to liking

When water is boiling, use  one had to hold egg dish near pot and use the other hand to stir water briskly until a vortex forms (see video!) then gently, carefully pour eggs into center of vortex

Cook 2-5 minutes. I like my yolks runny so I cook 2 1/2 minutes.

Butter English Muffin, add two slices of Canadian bacon, avocado (if using), then add egg

Spoon Hollandaise Sauce over eggs and season with salt and pepper. Garnish with chives if desired.
More Recipes From Europe!
Our next stop is The Cotswolds to enjoy some scones with clotted cream!
MAY I PLEASE ASK A LITTLE FAVOR?
We small bloggers need all the help we can get. Subscribing and sharing on social media is very appreciated!