Today we are roasting a chicken…not just any chicken but one smothered in caramelized shallots and infused with lemon, garlic and rosemary! This is The Organic Kitchen Roasted Lemon~Garlic Chicken… crispy skin, tender meat and sweet shallots caramelized to perfection!
(This post contains affiliate links. I may make a commission from sales but your price remains the same.)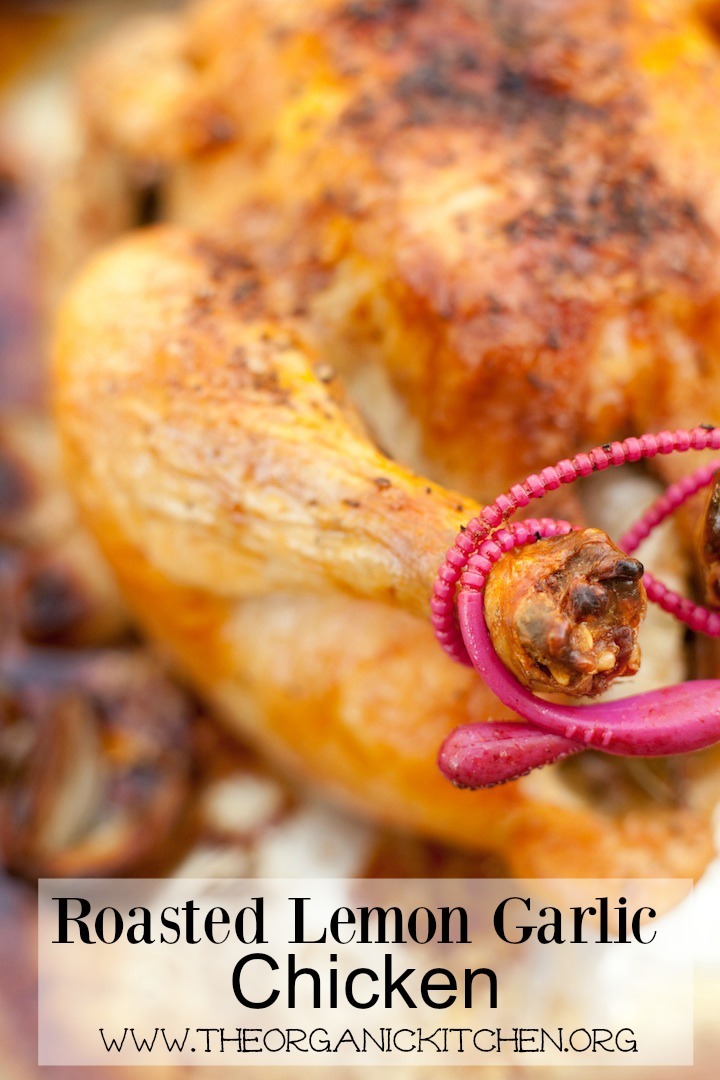 A Crowd Pleaser!
Absolutely everyone loves roasted chicken, which is why it's a fabulous and very safe bet for a dinner party! To give this roasted chicken ALL the flavor, I fill the cavity with aromatic herbs, lemon and plenty of garlic which infuses the meat with flavor as it cooks. Then I season the skin of this chicken with freshly ground pepper, Maldon flaked sea salt and Herbs de Provence. Herbs de Provence is combination of savory, thyme, fennel, rosemary and lavender.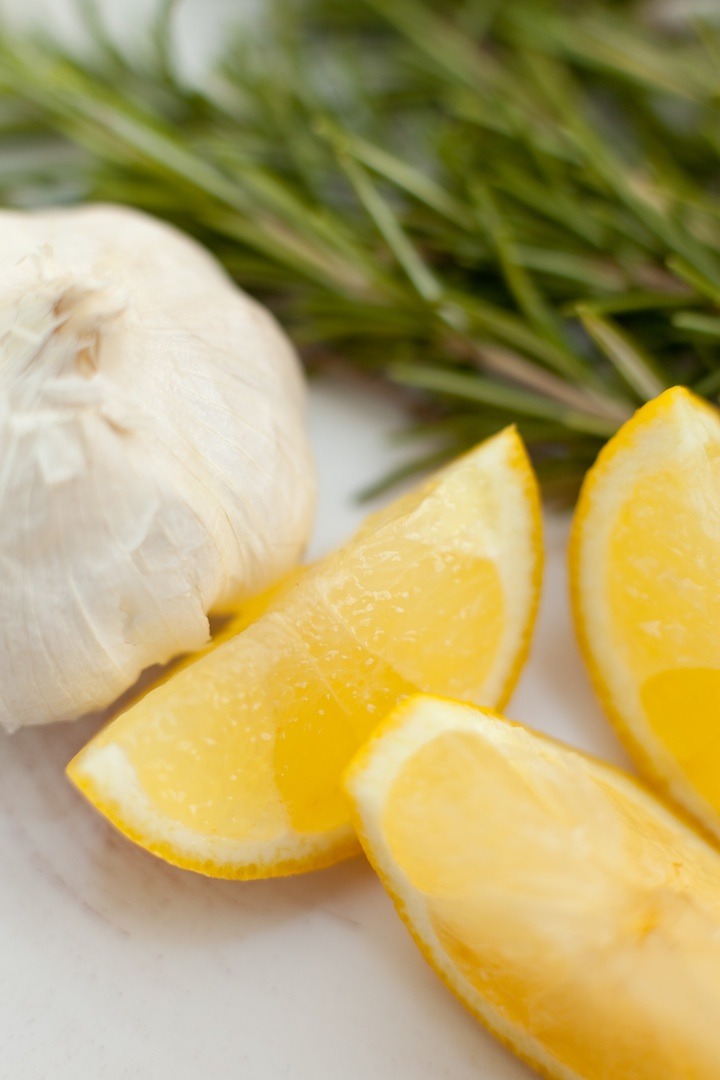 Helpful hint!
I like to put my seasonings in little dishes before I start so I can handle the chicken with one hand and season with the other. I also use a battery operated pepper mill. Being able to use one hand for seasoning and one for handling chicken is important to avoid cross contamination.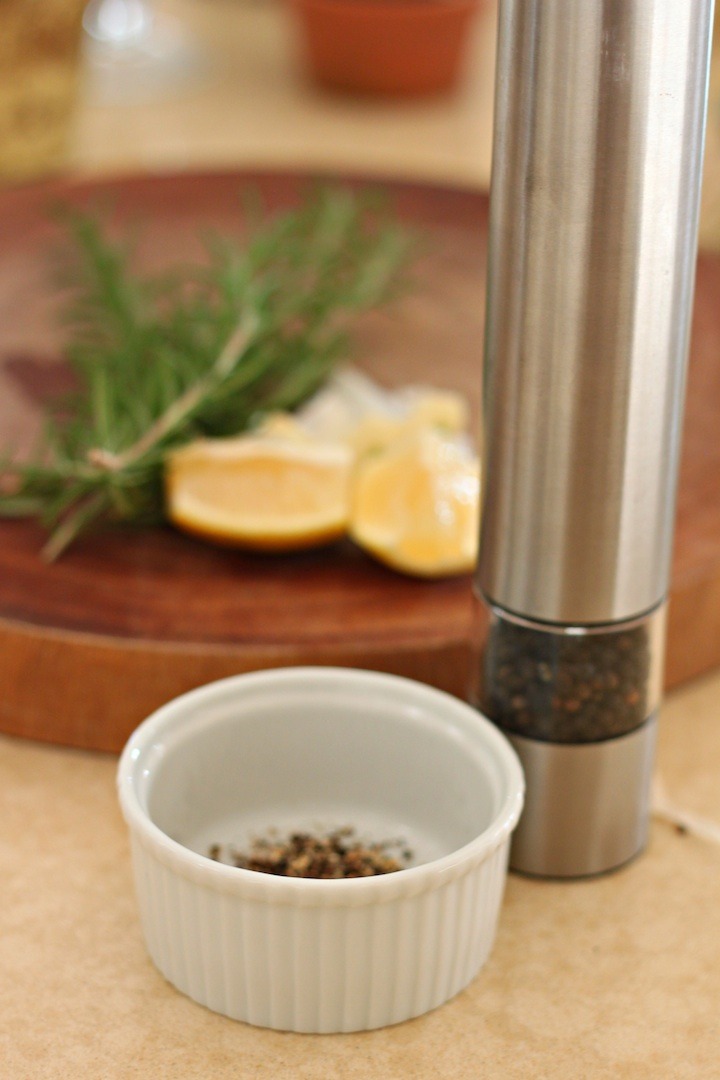 Add Even More Flavor with Shallots!
Shallots are small red onions and as they roast they become sweeter and sweeter. Shallots also add flavor to the drippings, which are lovely when spooned over the finished product!
The Importance Of Allowing The Chicken top "Rest"
After removal from the oven always allow to 'rest' for ten minutes before carving. This is important because 'resting' allows the juices to redistribute and also allows the chicken to cool enough to be handled.
Carve!
Many people make a beautiful roasted chicken and then completely decimate it when it comes time to carve! Don't be that person, watch my tutorial to learn how to easily carve a chicken here.
The recipe: Roasted Lemon~Garlic Chicken with Herbs de Provence
What you need: a roasting pan, Be sure to save the giblets and bones to make broth.
Roasted Lemon/Garlic Chicken with Shallots
A delicious savory roasted chicken.
Keyword:
classic recipe, easy dinner recipe, kid-friendly recipes
Ingredients
1 - 5

lb

organic chicken

Sea salt

Freshly ground black pepper

Herbs de Provence

1

bunch rosemary

2

lemons

quartered

2

heads garlic

whole with skin, cut in half

¼

cup

melted butter

clarified butter or ghee

10-15

shallots

peeled (or as many as you want...more certainly can't hurt)
Instructions
If possible, remove bird from fridge an hour before prepping. This allows for more even cooking

Preheat Oven to 425 degrees. Place rack in second from the bottom position.

Remove giblets (set aside to make broth later), wash chicken and pat dry.

Cut off any extra fat around cavity. Place the chicken(s) in a roasting pan.

Stuff the cavity with 1 bunch rosemary, 2 lemons, quartered, and 2 heads of garlic, halved, skin on.

Brush the outside of the chicken with melted butter, clarified butter or ghee and sprinkle generously with sea salt, pepper and Herbs de Provence.

Tie the legs together and tuck the wings under.

Place peeled shallots in roasting pan around the chicken.

Roast the chicken for 1 hour.

After an hour start basting. Baste every few minutes for 15 minutes.

After the chicken has been in the oven for I hour and 15 minutes, check thigh to make sure chicken is done. Juices should run clear. Larger chickens may take longer, and smaller chickens will take less time. (15 minutes more or less time per pound)

Remove roaster from oven and cover with foil, allowing chicken to 'rest' for ten minutes before carving.

After 10 minutes remove chicken from pan, carve.

Pour juices and shallots from roasting pan over carved chicken and serve.

Be sure to save chicken giblets, carcass and any bones to make broth.
MAY I PLEASE ASK A LITTLE FAVOR?
We small bloggers need all the help we can get. Subscribing and sharing on social media is very appreciated! 
Post tags: main dish, gluten free,  holiday, holidays, main dishes