If you want a beautiful, original, and delicious holiday dessert that will wow your guests, boy do I have one for you. This gorgeous Fruit, Chocolate and Cheese Dessert Platter has three of my favorite foods combined to create a truly spectacular finishing touch to your holiday table.
(This post contains affiliate links. I may make a commission from sales but your price remains the same.)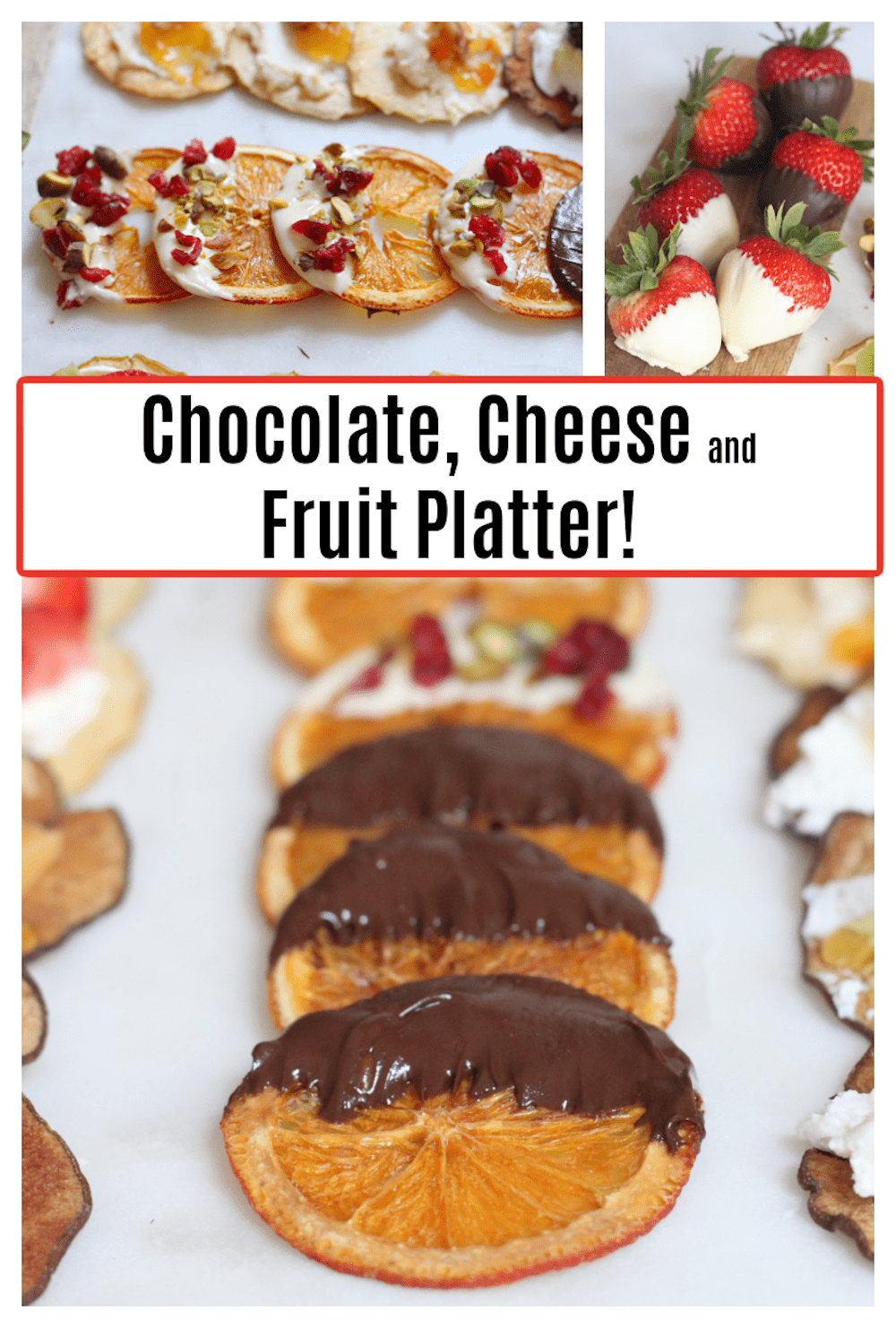 What's On The Fruit, Chocolate and Cheese Dessert Platter?
So many delicious things! Dried fruits topped with soft cheeses and more fruit drizzled in golden honey, fresh fruit dipped in both white and dark chocolate, and some sprinklings of chopped walnuts, pistachios and dried cranberries. HOLY. COW!
To Dry Your Own Fruit or Purchase it, That is the Question:
If you have a dehydrator you probably already know how easy drying fruit is, but if you don't, no worries! You can buy or make dried fruit slices yourself. Many grocery stores with a gourmet deli section sell dried fruit "crackers". You can also find dried orange slice, dried apples and dried pears on Amazon. BUT if you want to make your own I have instructions in the recipe below,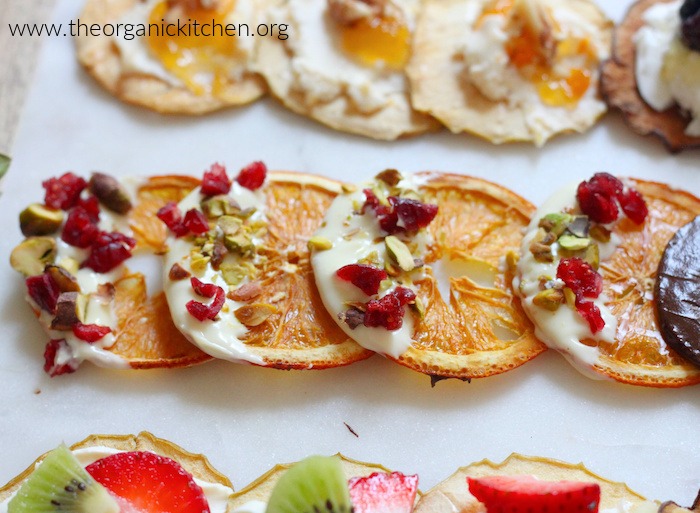 My Favorite Combinations:
This platter is chock full of all my favorites: Strawberries and dried oranges dipped in chocolate and nuts (both pictured above) dried apples and pears spread with soft cheeses like mascarpone, cream cheese or goat cheese drizzled with honey and sprinkled with walnuts.
Dried apples with cream cheese, topped with fresh strawberries and kiwi (Christmas Colors!)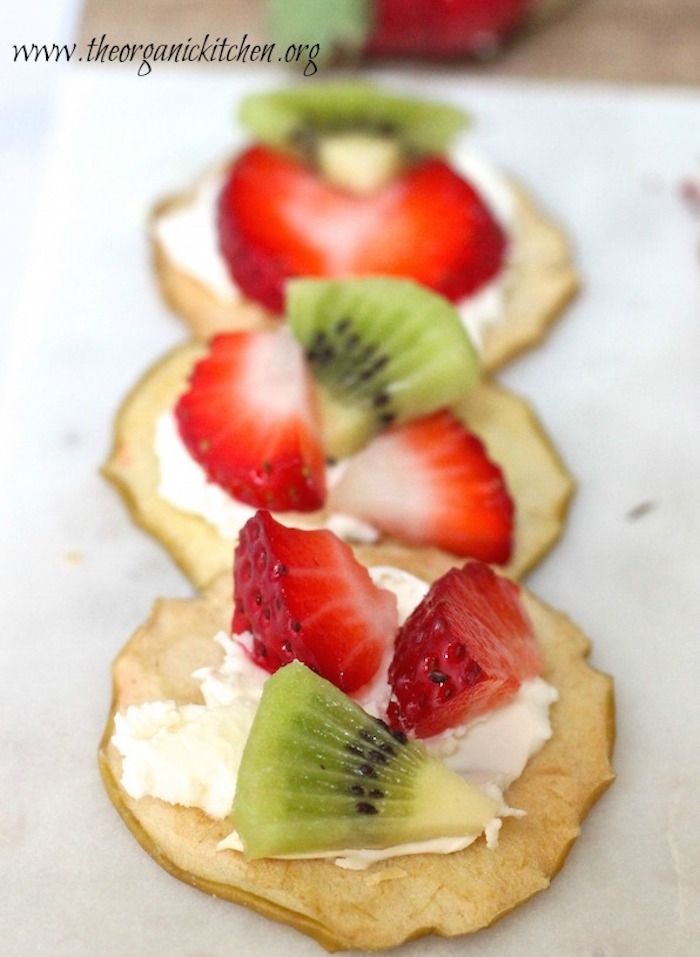 Dried pears with mascarpone, blackberries and honey. Drool…
And last but not least, dried pear chIps topped with gouda and golden honey! I am in love…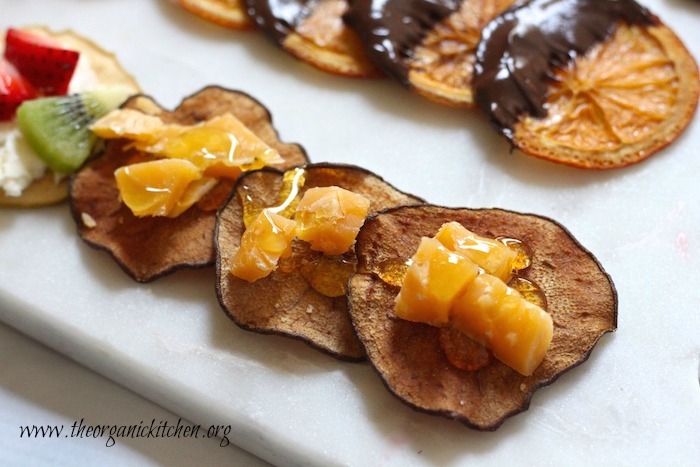 How to Make The Ultimate Fruit, Chocolate and Cheese Platter
It's so simple really. We start with dried fruit "crackers" and then either dip in chocolate or top with cheeses, nuts, honey, berries etc… Incredibly gorgeous! Unfortunately the company that made the dried pears and apples went out of business three years after I posted this recipe, BUT you can find dried oranges here. You may be able to find crispy dried apples and pears in the gourmet section of grocery stores or dehydrate your own.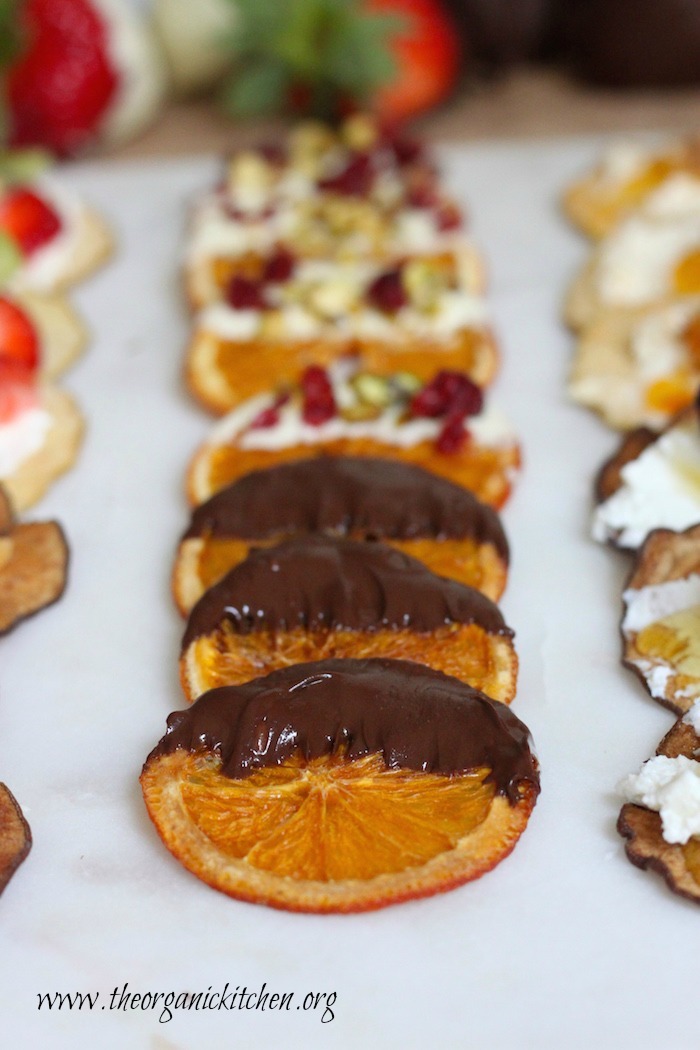 Love Fruit and Cheese and Need More Recipes?
Try these low carb fruit and cheese skewers!
The Recipes: Fruit, Chocolate and Cheese Dessert Platter
Tips and what you will need: You can find dried oranges, pears and apples on amazon here. You may be able to find crispy dried apples and pears in the gourmet section of grocery stores or dehydrate your own. To make you own dried fruit you will need parchment paper and wax paper.
Fruit, Chocolate and Cheese Dessert Platter
A lovely fruit, chocolate and cheese platter that requires very little prep. You can make all the suggestions or just one. Keep dried fruit in wrappers until just before serving so they stay crispy. The oranges stay crispy for days so no worries there!
Keyword:
easy appetizer recipe, easy dessert recipe, party recipe
Ingredients
Dried fruit crackers: buy or make your own. Instructions below.
I use dried orange, dried pear, and dried apple slices.

granulated sugar (if making your own slices)
Fresh Fruit:
Ripe Strawberries, washed and dried, kiwi, blackberries
Cheeses:
Soft goat cheese (chevre)

mascarpone, a soft, sweet Italian cream cheese

five year aged gouda, cut into small cubes
Suggested Toppings:
walnuts. chopped

peach preserves

roasted salted pistachios, chopped

dried cranberries, chopped

good quality local honey

melted dark and white chocolate (melt to package instructions)
Instructions
How to Dry Fruit Slices in the oven: you can do this the day before if preferred. Just be sure to keep apple and pear slices in a bag so the stay crisp.
To Dry Oranges: Preheat oven to 225 degrees. Use serrated knife to slice 3 navel oranges very thinly (no thicker than a 1/4 inch). Line a baking sheet with a nonstick baking mat or parchment. Top with orange slices in a single layer, and generously dust with sugar. Turn and sprinkle with more sugar. Bake until the peels are dry and the flesh is translucent, about 2 hours, turning slices halfway through cooking time. If needed, cook in 15 minutes increments until dry to liking. Cool before dipping.

To dry pears and apples: Preheat oven to 225 degrees. Use 2 to 3 Bosc, Comice, or Red Bartlett pears (unpeeled) Place a sheet of parchment on cookie sheet .Cut each pear lengthwise into 1/8- to 1/4- inch-thick slices. Remove seeds and fibrous bits from each slice; arrange on pan, spaced 1/2 to 1 inch apart. Sprinkle lightly with granulated sugar. Place pan in oven; dry until pears become firmer, slightly chewy, and shriveled around edges, 1 1/2 to 2 1/2 hours. Transfer to a wire rack until cool. Store in an airtight container, refrigerated, up to 2 days.
Orange Crisp Suggestions:
Melt good quality white or dark chocolate according to package directions, when melted stir and the dip orange crisps (covering about 1/3 of crisp) Set on wax paper, leave plain or sprinkle with chopped pistachios and cranberries. Allow to cool and firm up before serving.
Chocolate Dipped Strawberries:
Melt white or dark chocolate according to package instructions, stir well. Dip berries and place on wax paper until chocolate cools and begins to firm up. Serve or refrigerate until ready to serve.
Apple Crisp Suggestions:
Spread apple crisps with mascarpone and top with diced strawberry and kiwi.

Mix two parts soft goat cheese with one part peach preserves. Spread on apple crisp, dab with a little more preserves and top with chopped walnuts.
Pear Crisp Suggestions:
Spread with soft goat cheese, top with a blackberry and drizzle with honey

Top with aged gouda and drizzle with honey.
For more information about Simple and Crisp please visit their website.
MAY I PLEASE ASK A LITTLE FAVOR?
We small bloggers need all the help we can get. Subscribing and sharing on social media is very appreciated!