Seriously…the platter dinners just keep coming. I can't help myself. Do you blame me? Look at this amazing dinner! This is my newest platter meal, The grass fed Grilled Skirt Steak and Veggies with Guacamole.
(This post contains affiliate links. I may make a commission from sales but your price remains the same.)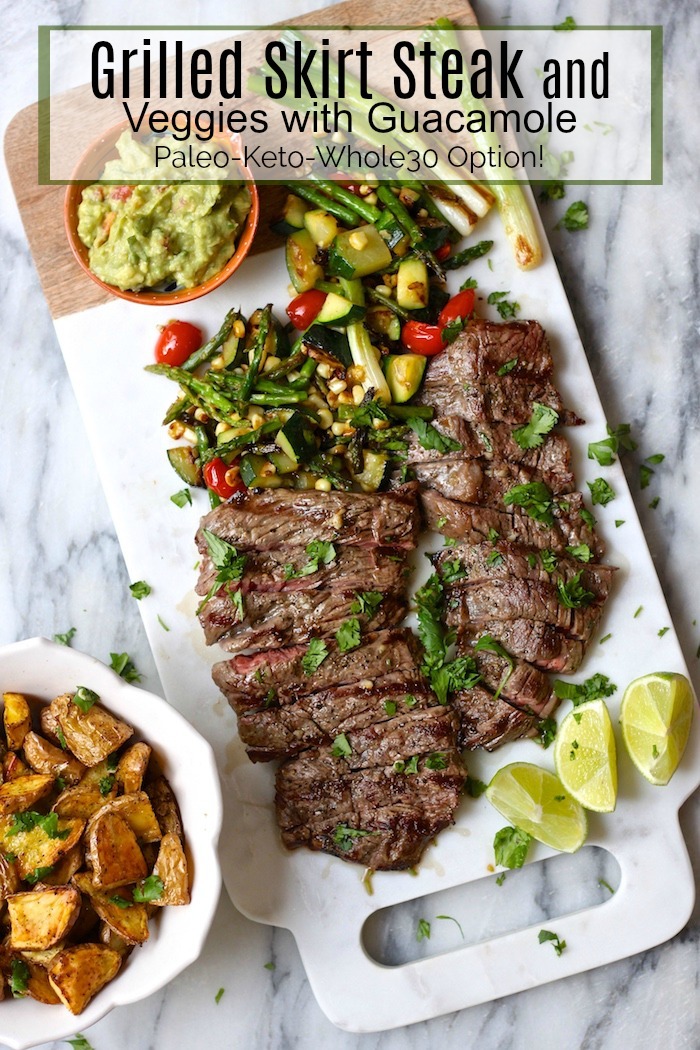 YOU MAY BE WONDERING "WHY GRASS FED?"
I know beef companies proudly tout "corn fed" like it's a good thing, but it's not. Corn is not a cow's natural food, grass is. Corn and other grains make cows sick and when they get sick they are pumped with antibiotics, which are passed right along to you. In fact, conventional grain-fed beef is twice as likely to contain dangerous bacteria resistant to antibiotics than grass fed beef. No bueno.
Grass fed cows make superior meat too. Yep, it tastes better and is better for you. The meat from grass fed cows is higher in the healthy omega 3 fats and lower in the inflammation causing omega 6 fats. And it's nice to know these cows live a better life than those that live in overcrowded feedlots.
ButcherBox delivers grass fed beef right to your doorstep!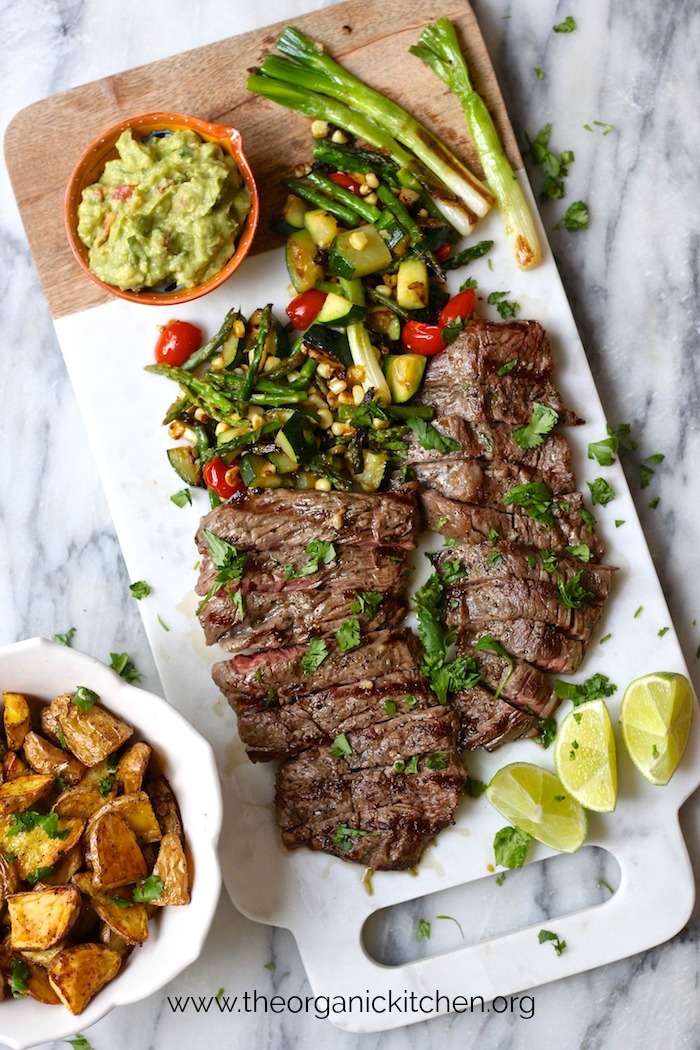 The Low Down on Skirt Steak
Skirt steak is a cut of beef that begs to be marinated. For this recipe I use a simple combination of olive oil, lime juice, garlic and dried spices. This marinade also works well for flank steak. Skirt steak and flank steak look similar but are actually different cuts of beef. Both have an intense beefy flavor and a strong 'grain' so they aren't a super tender cut of beef...which is why they are so affordable! But there are a couple of things you can do to make sure this steak is as tender as possible: skirt steak should be cooked medium rare and very thinly sliced against the grain for maximum tenderness.
How do I Cut Against the Grain?
I want to point this out because I will get back to it later in the post. You can see quite clearly in the photo below the way the muscle fibers in this skirt steak are running (basically from the top of the photo toward the bottom). Ideally, after the meat is cooked you want to cut on a diagonal against the grain and cut very thin slices. This is the best way to ensure this steak is as tender as possible. We will circle back to this, I promise.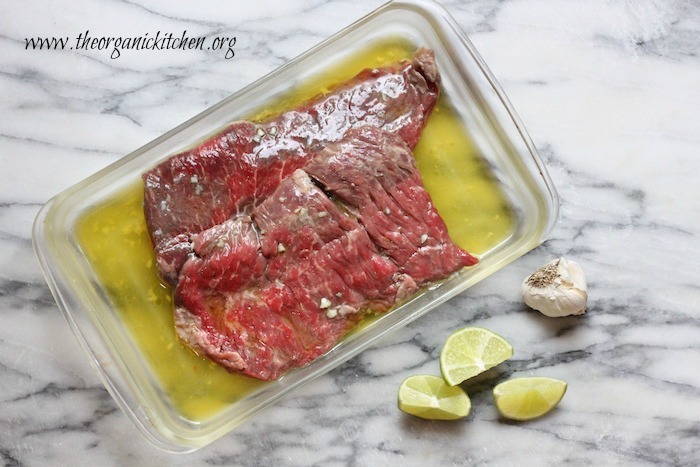 But Let's Talk Veggies for a Minute
This steak is served with a whopping side of veggies! I am using spring onions, zucchini, corn cut off the cob (omit corn if grain free/low carb option desired), asparagus and cherry tomatoes.
When searing vegetables it's important to start cooking the vegetables that take a little longer first, adding the ones that require less time as you go. It's also important to have a really hot pan! Having a hot pan keeps the vegetables from getting too soft and browns the edges nicely.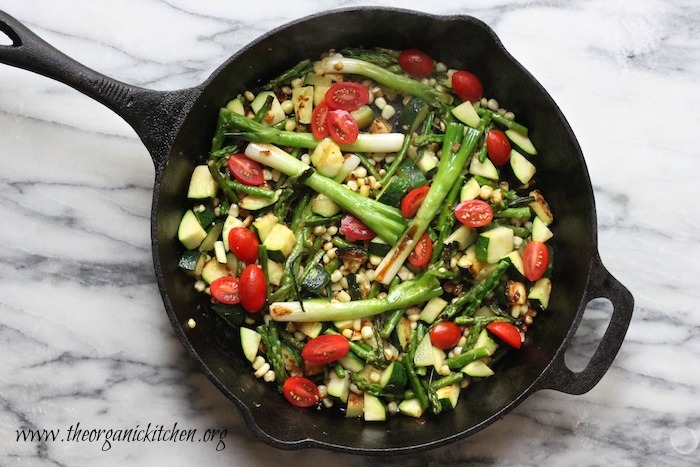 Our Other Side Dish? Chunky Guacamole!
This dish wouldn't be complete without my Chunky Guacamole!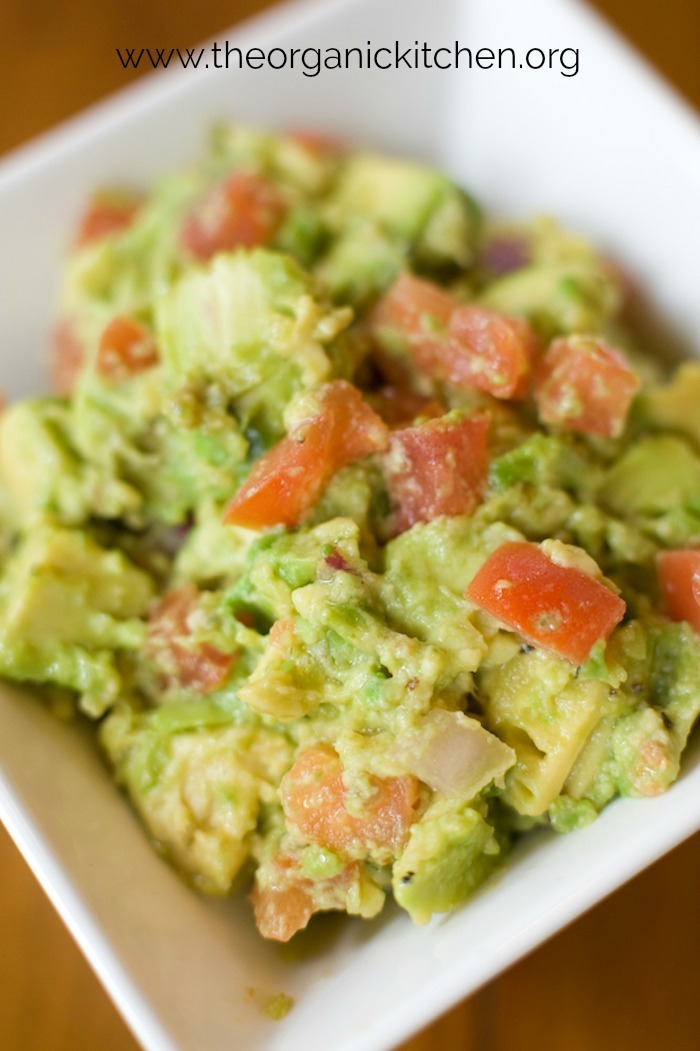 Now, Notice How I cut the Meat…
Yeah…exactly… I blew it! After totally wanting to stress how we cut against the grain, I cut the steak on the right WITH the grain! I thought about reshooting but decided it was actually a great way to show you what not to do! So, notice the striations on the cut of beef on the left and notice how I cut on the diagonal against the grain (like I am supposed to), then notice how I cut the steak on the right with the grain. The steak on the left was more tender because I cut it correctly. Now you know: slice thin cuts, AGAINST THE GRAIN.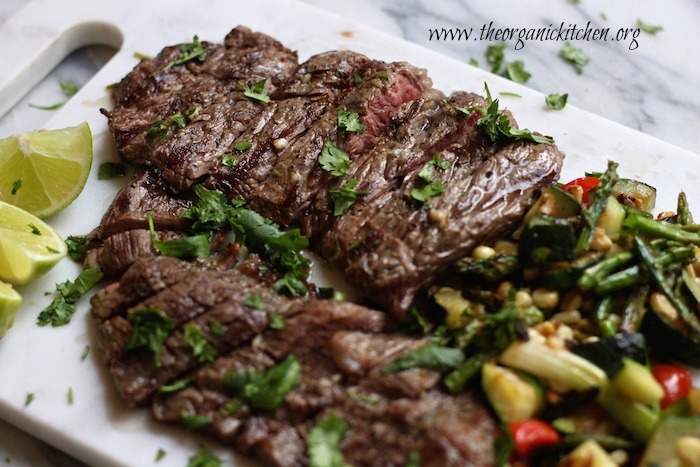 The Recipe: Grilled Skirt Steak and Veggies with Guacamole
Tips and what you will need: I use a large cast iron pan for searing vegetables. I grilled these steaks on my BBQ but you can also cook them indoors on a grilling pan. Click to find my recipe for Chunky Guacamole and Roasted Mexican Potatoes. To make Whole 30 or Paleo compliant omit corn.
Skirt Steak and Grilled Veggies with Guacamole
A delicious and quick gluten, grain and dairy free meal. Meat needs to marinate so allow time for that. You will cook meat and vegetables simultaneously, but start with veggies since they take a little longer.
Keyword:
date night, easy dinner recipe, grilling recipe
Ingredients
Prepare guacamole ahead. If you are making potatoes start them 40 minutes before meat.

links above
For Steak:
1

lb

skirt steak

1/2

cup

extra virgin olive oil

3

tablespoons

freshly squeezed lime juice

3

tablespoons

red wine vinegar

2

cloves

garlic minced

1

teaspoon

chili powder

2

teaspoons

onion powder

1/8-1/4

teaspoon

cayenne pepper (depending on how much kick you want!)

1

teaspoon

Sea salt

1/2

teaspoon

pepper
Veggies:
olive oil

6

green onions, greens trimmed (leave three inches of greens above white onion)

1

small zucchini, diced

1

small bunch asparagus spears, trimmed and cut into 1 inch pieces

1

cob off corn corn removed (use sharp knife to 'shave' kernels off cob, omit corn if living grain free)

1/2

cup

cherry tomatoes

cut in half

Sea salt and freshly ground pepper

to taste

Guacamole: see link above for recipe
Instructions
Steak Prep:
Combine lime juice, olive oil, garlic and dried spices in a glass baking dish. Whisk.

Place skirt steak in a dish, pour marinade over steak, turning to coat both sides. Place covered, in fridge for at least three hours or as long as overnight. The longer, the better!

When you are ready to cook steak preheat grill to 400 degrees and prepare vegetables. Discard marinade and sprinkle steaks with sea salt and pepper to taste. Set aside while you start searing veggies.
Veggies prep:
Heat a cast iron pan on high heat. When pan is hot add olive oil, coating the bottom of pan. When pan and oil are hot add onions and sear for 3 minutes, stirring occasionally.

Add diced zucchini, cut asparagus and corn to pan. (This is when you want to add steaks to grill since they only take 4-6 minutes) Stir and continue cooking till edges of vegetables turn brown, lightly salt and pepper. Turn off heat. Add cherry tomatoes and stir.
Grill instructions: Grill steaks on BBQ at 400 degrees, 3 minutes per side. Or use a grill pan (link above):
Pan Instructions: heat olive oil in pan on high heat, when pan and oil are hot place steak on pan. Grill 3-4 minutes per side. Remove and slice against the grain (see more detail in blog post) Serve with grilled veggies, guacamole and my roasted Mexican potatoes if desired.
MAY I PLEASE ASK A FAVOR?
We small bloggers need all the help we can get. Subscribing and sharing on social media is very appreciated!
Post tags: Gluten free, grain free, dairy free