Another healthy, easy meal brought to you by Sun Basket! These Herbed Chicken Breasts with Asparagus and Mustard Vinaigrette are simple, lovely and easy to make, plus this recipe is paleo, Whole30 and Keto compliant!
(This post contains affiliate links. I may make a commission off sales but your price remains the same.)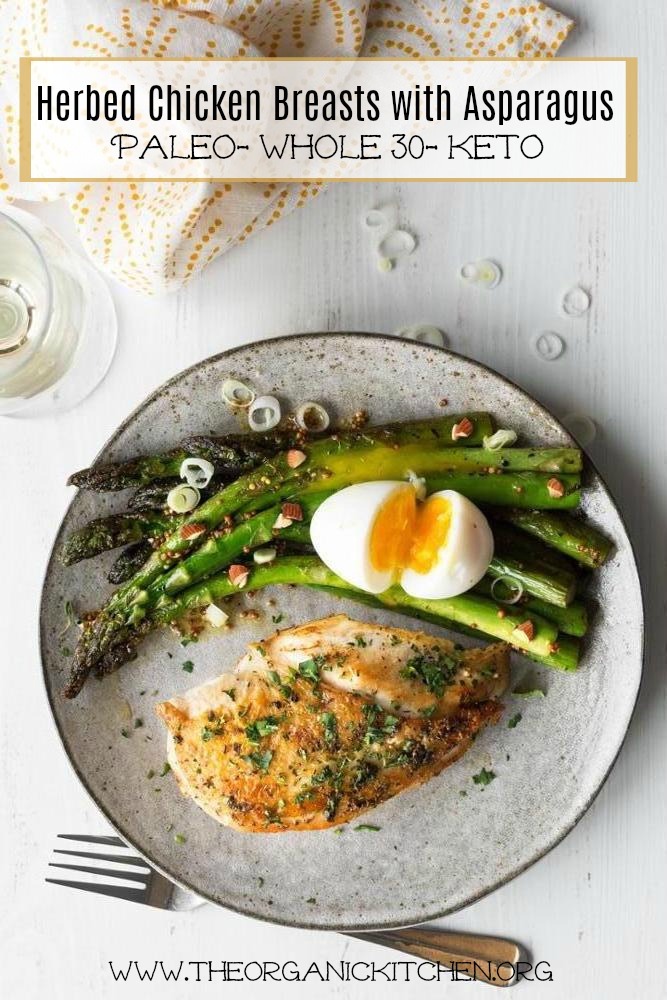 WHAT'S NEW WITH SUN BASKET IN 2018?
New year, new menus! Sun Basket kicked off 2018 with a few fabulous changes that offer more ways to have your Sun Basket, your way. But of course they still have your favorite traditional, Paleo, and Gluten free options available too!
NEW: More recipes: Now, Sun Basket is serving up 18 recipes to choose from every week! Never get bored with eating clean.
NEW: Introducing 3 new meal plans:

Vegan: Going plant-based has never been easier. Enjoy creative meatless recipes with seasonal organic produce, plant-based proteins, and our house-made signature sauces.
Pescatarian: Perfect for those who want to eat a plant-focused diet with a healthy dose of wild-caught seafood. We only use seafood listed as Best Choice or Good Alternative by the Monterey Bay Aquarium Seafood Watch program.
Mediterranean: Modeled after one of the world's healthiest diets, with seasonal produce, lean meat & wild-caught seafood paired alongside whole grains, healthy fats, and fresh herbs.

Let's Talk About This Meal!
A beautiful Mediterranean inspired meal! Eggs with just-set whites and runny, golden yolks create a perfect sauce for this simple and elegant Paleo, Whole 30 and Keto friendly asparagus and herbed chicken dinner.
The Recipe: Herbed Chicken Breasts with Asparagus and Mustard Vinaigrette
Note for Whole 30 friends: be sure to use a wine free mustard.