If you are intimidated by the thought of brining a turkey, let me et you mind at ease. This simple salt brine technique produces the juiciest, well-seasoned and most succulent bird imaginable. And I provide you with step by step instructions on How to Dry Brine and Cook an Herbed Butter Turkey!
(This post contains affiliate links. I may make a commission from sales but your price remains the same.)
How to Dry Brine and Cook an Herbed Butter Turkey!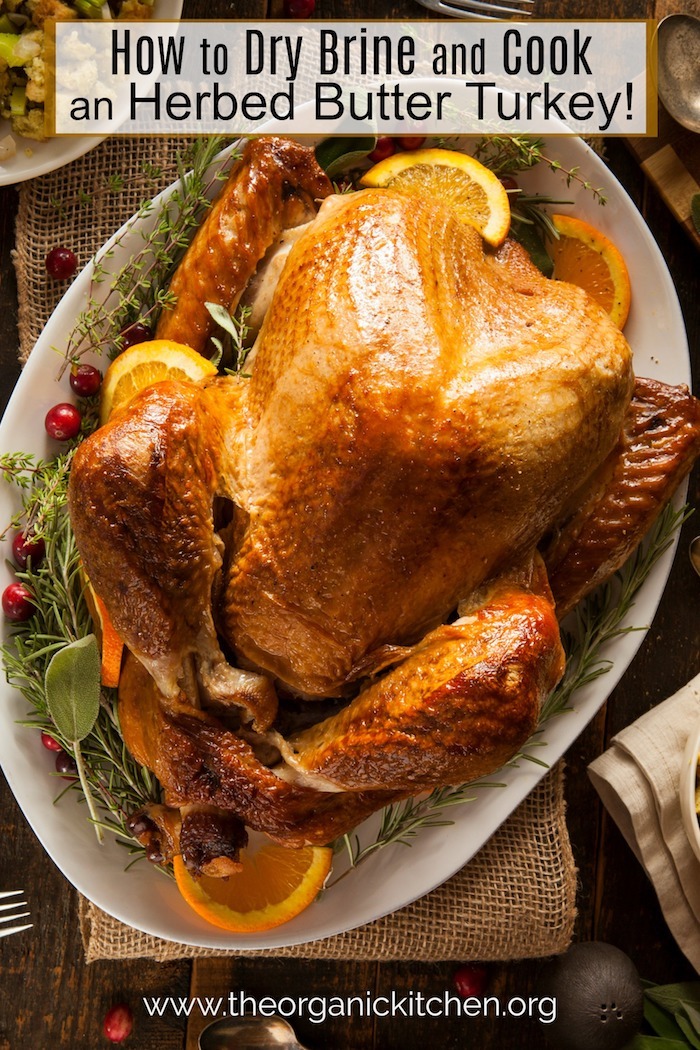 Why Dry Brine Instead of Wet Brine?
It's well known that brining improves a turkey's ability to retain moisture, since the salt helps break down the muscle fibers and season the bird throughout. But while wet brining has long been a traditional way to prepare a turkey — (and there a zillion resources on the web to show you how to do that) — dry brining is arguably the best way. My top reasons:
1) Dry brining is faster.
2) It produces less mess and less cleanup.
3) It's way more delicious than wet brining (and way WAY more delicious than not brining at all).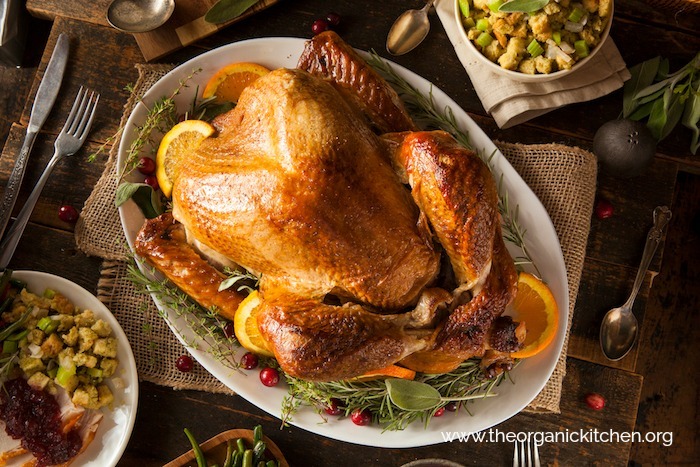 How to Dry Brine and Cook an Herbed Butter Turkey:
To make a dry brine, combine kosher salt, brown sugar, baking powder (this helps produce a crispier skin) and a combination of your favorite spices. I like a blend of crushed coriander, mixed peppercorns, smoked paprika, rosemary, thyme and bay leaf. We also toss in a little citrus zest for good measure. Printable recipe below.
Method:
I like to start by toasting peppercorns and coriander in a pan and then grinding them up. Then I mix those together with the sea salt, brown sugar, baking powder and citrus zest. Pat your turkey dry and sprinkle on your salt and spice mixture. Rub it in to coat it well, stick the bird in a brining bag and place everything in the fridge for a minimum of 12 hours and up to 3 days — the longer, the better.
When you're ready for the big day, remove the bird from the bag and either rinse the mixture off or wipe it clean with a wet paper towel. If you do rinse, make sure to pat dry again. Then, prepare to cook that succulent bird by placing herbed butter under and over the skin!
Timing:
Here is a helpful chart for cooking time.
10 to 12 pounds: 2 1/2 to 3 hours
12 to 14 pounds: 2 3/4 to 3 1/4 hours
14 to 16 pounds: 3 to 3 3/4 hours
16 to 18 pounds: 3 1/4 to 4 hours
18 to 20 pounds: 3 1/2 to 4 1/4 hours
20+ pounds: 3 3/4 to 4 1/2 hours
Note: For best results the turkey breast and thighs must reach different internal temperatures. The breast should read 165ºF and the thigh, 175ºF. Begin testing for doneness about 30 minutes before the total roasting time is reached.
To test the breast: Use an "insta-read" meat thermometer so there's no guesswork. Insert the thermometer into the meatiest part, several inches above the wings.
To test the thigh: Insert the instant-read thermometer away from the bone, alongside the opening of the main cavity underneath the drumstick. This is the meatiest part of the thigh.
Need More Thanksgiving Recipes?
Get everything recipe you need for a delicious Thanksgiving Meal here <—-click!
The Recipe: How To Dry Brine and Cook an Herbed Butter Turkey
What you need: a large brining bag for turkey, an "insta-read" meat thermometer and an inexpensive hand held coffee grinder.
How To Dry Brine and Cook an Herb Butter Turkey
An excellent dry brine that makes for a flavorful and moist turkey! You can brine the turkey from 1-3 days.
Keyword:
easy dinner recipe, holiday recipe, Thanksgiving
Ingredients
For Dry Brine:
1/4

cup

Kosher Salt

2

Tablespoons

brown sugar, if you live sugar free, skip it

2

Tablespoons

baking powder

2

Tablespoon

peppercorns, toasted

1

Tablespoon

coriander seeds, toasted

3

sprigs rosemary

3

sprigs thyme

1

teaspoon

cayenne pepper

3

dry bay leaves

Zest of two lemons

Zest of one orange

1

fresh turkey
Herbed Butter to Cook Turkey:
1

stick

butter, room temp

3

sprigs thyme, chopped

2

sprigs rosemary, chopped

3

cloves

garlic, peeled and chopped

Zest of one lemon

Sea salt and pepper, to taste, be generous

Additional herbs and 1 onion to place in cavity if desired
Instructions
Dry Brine:
Place a pan on medium heat. Add peppercorns and coriander and toast until peppercorns start to pop. While waiting for peppercorns to pop, remove thyme and rosemary leaves from stems

When peppercorns begin to pop, remove from heat. Put peppercorns, coriander seeds, bay leaves, thyme and rosemary into a grinder (I use a coffee grinder) and grind until fine

Use a microplane to scrape the zest off both lemons and orange, only scraping until the white appears, then move to a new area

Mix together all herbs, zest, salt, sugar, and baking powder

Pat turkey dry and sprinkle with dry brine, all over that turkey! Then massage the brine into the skin for a few minutes, place in a big plastic bag, seal it tight and place in the fridge for 1-3 days...the longer the better!
To Cook Turkey: use chart above in blog post to gauge cooking time.
Remove bird from refrigerator, wipe off brine with paper towel and allow turkey to come to room temperature

Finely chop garlic, thyme, and rosemary, and then zest lemon

Add herbs and lemon zest to butter, generously add sea salt and pepper to butter and mix well using a fork

Use your hands to gently separate the skin of the turkey from the meat, then place 2/3 of the herbed butter under the skin, spreading out to cover as much of the turkey as you can. Melt remaining butter and pour over skin.

If desired place additional herbs and one quartered onion into cavity of bird

Preheat oven to 425 degrees, place the turkey in oven and immediately turn heat down to 350 degrees, cook for 2 1/2 - 3 1/2 hours depending on size. A stuffed turkey requires about 15 minutes per pound while unstuffed turkeys require 12-15 minutes per pound. Internal temperature should be between 155-165 degrees (using a meat thermometer takes the guess work out of it) See tips in blog post above for using a meat thermometer.

Allow bird to rest under foil tent for 20 minutes, carve and enjoy your feast!
MAY I PLEASE ASK A FAVOR?
We small bloggers need all the help we can get. Subscribing and sharing on social media is very appreciated!
STANDARD FTC DISCLOSURE and Privacy Policy: In order for me to support my blogging activities, I may receive monetary compensation or other types of remuneration for my endorsement, recommendation, testimonial and/or link to any products or services from this blog. Please note that I only endorse products that are in alignment withThe Organic Kitchen''s ideals and that I believe would be of value to my readers.The Organic Kitchen is a participant in the Amazon Services LLC Associates Program, an affiliate advertising program designed to provide a means for sites to earn advertising fees by advertising and linking to Amazon.com. View The Organic Kitchen's Privacy Policy