An actual conversation between me and my husband years ago:
Him: Shall we BBQ tonight?
Me: Sure, what shall we make?
Him: How about chicken breasts?
Me: Ew. No. Why?
But that was before I learned how to grill perfectly tender and juicy chicken breasts!
This post contains affiliate links from which I may make a commission. Your price remains the same.)
Simple and easy. Pinky Swear!
Grilled chicken breasts are notoriously dry and flavorless, but when prepared the correct way they can be delicious, flavorful and tender. And I promise it's not a lot of work.Today you will learn just how easy it is to achieve tender, juicy flavorful boneless skinless chicken breasts every time to grill. And I will guide you through the process step by step, complete with photos. That's just how nice I am!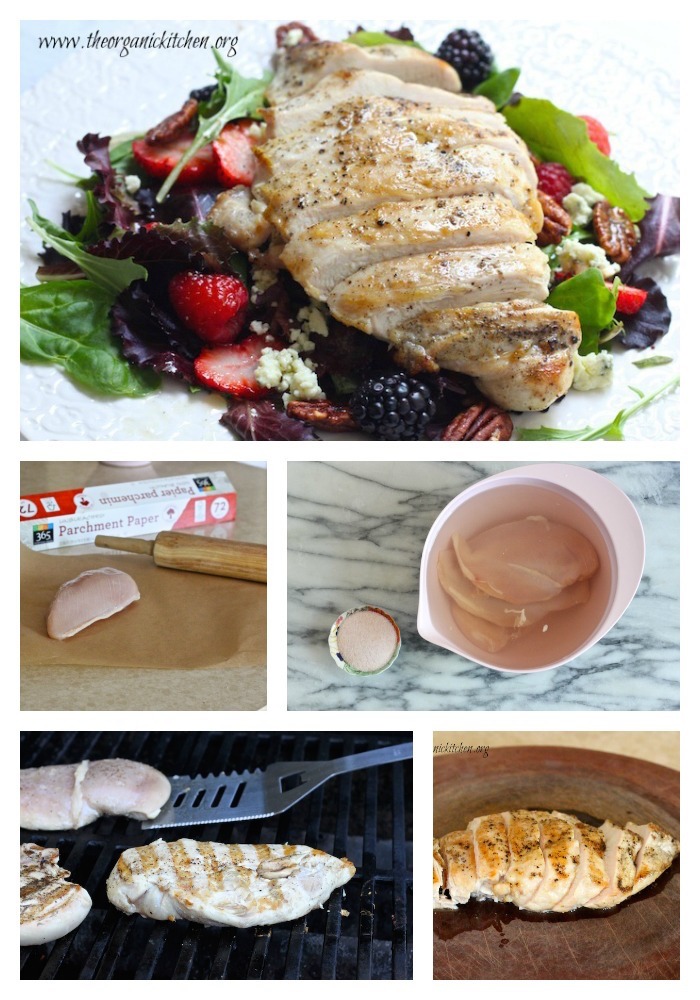 The Step by Step…
One (of several) problems with grilling chicken breasts is that to cook that thick center you have to overcook the ends, leaving the meat dry and 'cardboard-y'. Luckily this problem is easily solved. Simply place the chicken breast on a large piece of unbleached parchment paper, fold the parchment over the chicken and seal the edges by folding a couple of times. Then pound it with a meat pounder or rolling pin until the breast is more even.
Another problem with boneless skinless chicken breast is they have very little fat, and fat is what gives meat flavor and tenderness. Solving that problem is very easy! Simply place chicken breasts in a brine of water and salt (that's it!) and let them soak for a half hour. This makes them moist, tender and juicy. There is a scientific explanation, like the salt water changes the molecular make up of proteins…blah, blah, blah, let's eat! (I use pink Himalayan Salt:
After brining, simply brush with olive oil and season with salt and pepper….
Then throw them on a hot grill. The heat needs to be high to brown and then lowered to finish cooking. Total grilling time is 10-12 minutes. Quick and easy! If you don't have room for a big gas grill may I make a recommendation? Weber makes the handiest table top grill (affiliate link) that is budget friendly and perfect for for those without a big yard. And you can easily take it to the park or beach!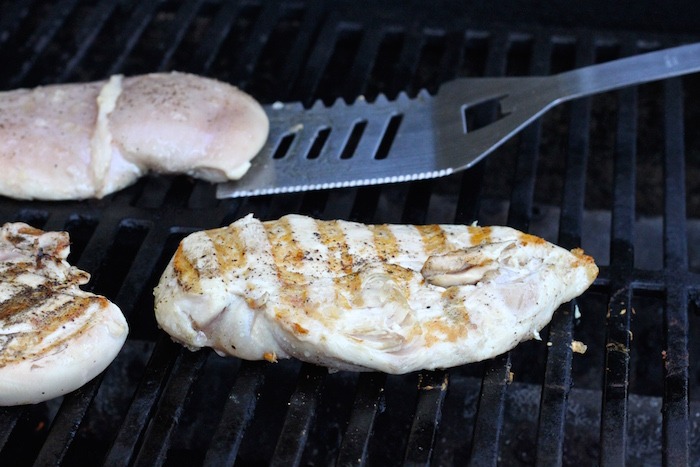 Once grilled to perfection place on a cutting board and slice on a diagonal. Does this chicken breast look dry to you?
Add BBQ Sauce if desired!
Now that you know how to grill the perfect chicken breast you can serve them as is, coat them in my favorite BBQ sauce, or use them in salads or wraps!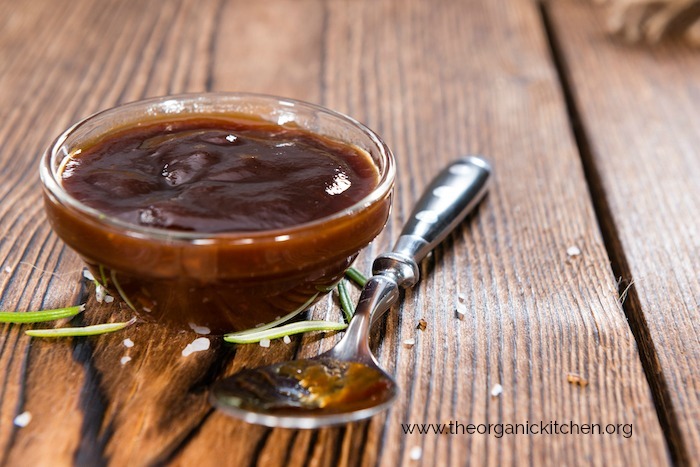 Need Tips for Grilling Hamburgers?
For burger tips visit "The Secrets to Making a Fantastic Burger!" and get three fabulous burger recipes as well!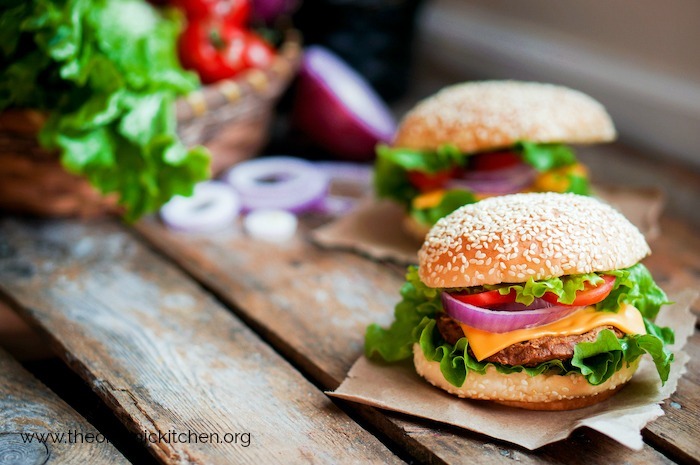 The Recipe: How to Grill Perfectly Tender Chicken Breasts Every Time!
What you need: I use pink Himalayan Salt for brining but you can also use kosher salt.
How to Grill Perfectly Tender Chicken Breasts Every Time!
Perfectly moist grilled chicken breasts, every time! If you would like to make this in the oven, follow the directions below for prep and then bake in oven at 350 degrees for 25-35 minutes depending on the size of breasts.
Keyword:
easy dinner recipe, grilling recipe, how to
Ingredients
6

cups

water

1/3

cup

salt

I use Himalayan sea salt, but you can use Kosher too

4

boneless skinless chicken breasts, pounded and brined

sea salt

pepper

olive oil
Instructions
Place water and salt in a large bowl and stir.

Place chicken breast between folded parchment paper and pound with a rolling pin until uniformly thick.

Place breasts in salt water for 30 minutes.

Remove breasts, pat dry with paper towels.

Brush with olive oil and season with salt and pepper.

Heat grill on high (about 425 degrees)

Place breasts on grill, close lid and cook till nice golden grill marks are established (3-4 minutes)

Turn over and grill till golden on the second side (3-4 minutes)

Turn heat to med/low (about 350 degrees) close lid and cook for five more minutes until just cooked through. Don't over cook!

Remove from grill, cut on the diagonal and serve.
MAY I PLEASE ASK A LITTLE FAVOR?
We small bloggers need all the help we can get. Subscribing and sharing on social media is very appreciated!