Have you ever wanted to make something or for that matter do something and you just never seem to get around to it? You put it off and push it back and when you finally do it, it is so much easier than you thought that you wonder what took you so long? I have. I have wanted to make almond milk for years but just kept putting it off. After reading an article about the dangers of the food additive carrageenan I finally got off my duff and did it! Carrageenan is a thickener used in many dairy and non dairy items and seems to be somewhat controversial. And let's face it…homemade is always better and healthier anyway! Making almond milk is a simple 4 step process… Complete printable recipe below.
(This post contains affiliate links. I may make a commission from sales but your price remains the same.)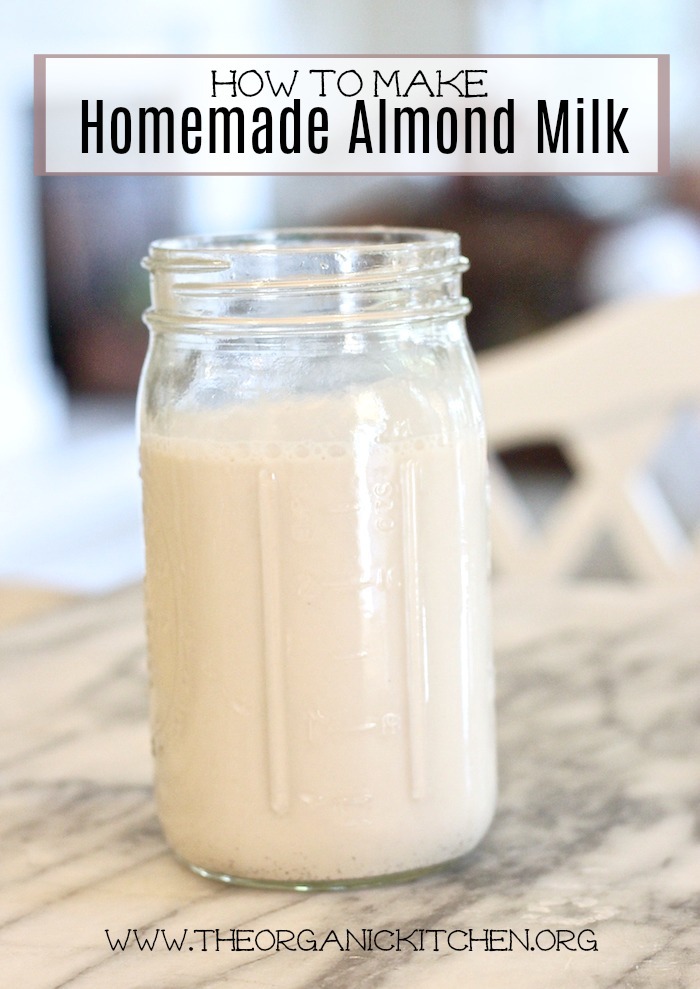 How to Make Almond Milk: Step 1:
Simply soak raw almonds overnight in a bowl or jar with filtered water. Cover the nuts with enough water that there is at least an inch or two of water above the nuts.
Step 2~Strain and Blend:
Strain and rinse nuts in a colander. Discard soaking water. Place rinsed nuts into blender with filtered water and blend.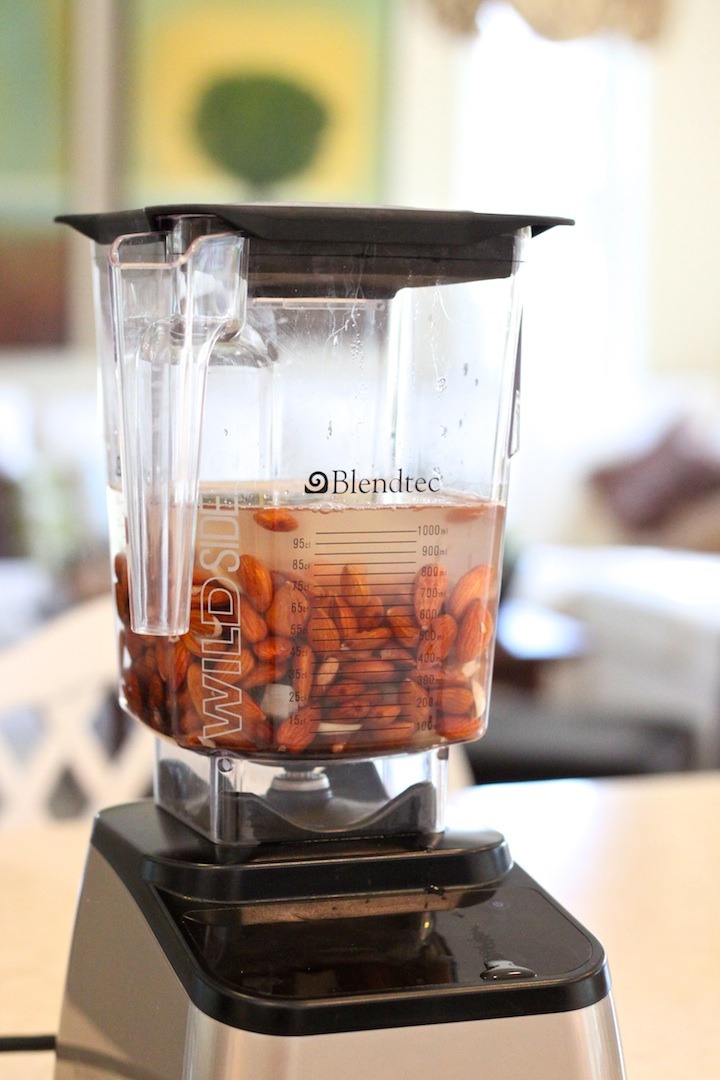 Step 3: The Nut Milk Bag
Pour blended nuts into the nut milk bag (affiliate link) and squeeze milk into a bowl. That is it! That is how easy it is to make almond milk. Literally it takes minutes.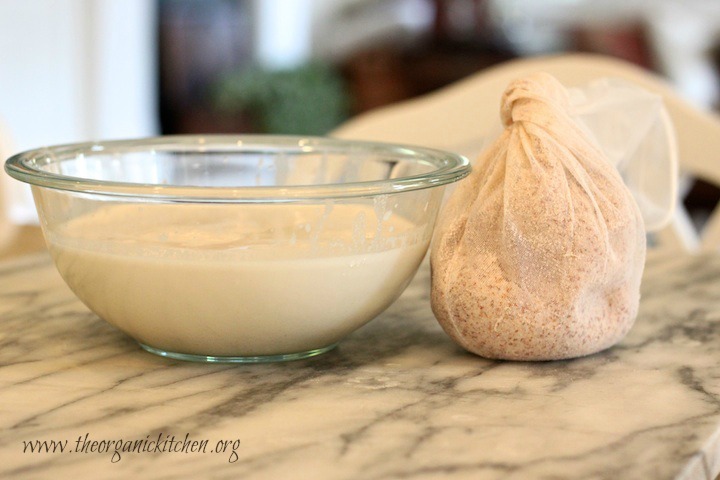 Don't waste that pulp!
I give instructions in the recipe below for making almond meal from the pulp left in the nut milk bag. Almond meal can be used in a variety of recipes as a gluten free flour substitute. I use mine to make this Lemon Ricotta Cheesecake or Orange Upside Down Almond Cake.
Step Four: Flavorings!
Almond milk is naturally slightly sweet but If you want to sweeten it up a little more you can add some honey, maple, stevia drops, or put almond milk back in the blender with a few pitted dates and blend until smooth. My favorite way to flavor almond milk is to add 2-3 dates and some vanilla paste! (affiliate links) I prefer dates over having my almond milk taste like honey or syrup. But that is just my personal preference!
So What About Chocolate Almond Milk?
I would be remiss if I didn't mention that chocolate almond milk is a real treat! Simply add your choice of sweetener, vanilla and some unsweetened cocoa powder to your almond milk and you have a rich, creamy chocolate drink!
Storage!
The recipe below makes 4 cups of almond milk. Fresh almond milks lasts about four days in the fridge. Now that my husband and I are empty nesters we can't use that much in four days, but we definitely don't want to go back to store bought…it's just not the same! So this is what we do, we keep half of our almond milk in the fridge and pour the other half into covered ice cube trays. Then I can take out one or two cubes for my morning Crio Bru as I need it and he can use the fresh in his smoothies, no spoilage, no waste!

The Recipe: Creamy Homemade Almond Milk
Please note that because homemade nut milks have no thickening agents they will separate, so shake well before use. You will need: a nut milk bag and a good quality blender. I use a Blendtec and love it. If you have always wanted a Blentec but it wasn't in the budget, you may wish to consider Blendtec Total Blender Certified Refurbished. If storing in the freezer to avoid waste click to buy covered ice cube trays.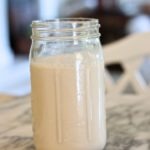 How to Make Almond Milk and Almond Meal
Almond milk is an easy and delicious milk substitute! You can discard the meal or dry it and use it in recipes.
Keyword:
how to, kid-friendly recipes, kitchen tips
Ingredients
2

cups

raw almonds

soaked in water

4

cups

filtered water

1

pinch

sea salt
Flavoring options:
Vanilla paste or extract

if making vanilla almond milk

stevia drops

honey, maple syrup or 2-3 dates for sweetening (optional)

unsweetened cocoa powder

if making the chocolate version
Instructions
Place raw almonds and a pinch of sea salt in a bowl or large jar, cover with filtered water (enough so that water is at least 2-3 inches above nuts) cover and soak over night.

Discard soaking water and rinse almonds in colander.

Place soaked nuts in a blender add 4 cups filtered water. Blend until smooth.

Pour through a milk nut bag in 3rds and squeeze almond milk into a bowl.

Leave plain or add some vanilla paste to taste. Or sweeten with 3 liquid stevia drops, or a teaspoon or two of honey or maple syrup. I prefer using three dates to sweeten my almond milk. To use dates, add milk back to blender with 2-3 soft, pitted dates and blend until smooth. Always double check pits are removed before blending.
Chocolate version:
Add desired amount of fresh sweetened vanilla almond milk back into blender and 1 tablespoon of cocoa powder per cup of almond milk.

* If you would like to make almond meal from left over pulp:

place pulp on a cookie sheet covered with parchment paper and bake in oven at 170 degrees for about 2 hours (depends on where you live). When meal feels dry to touch remove from oven. Allow to cool, place in blender for a quick pulse to break up chunks.
I hope you enjoy homemade almond milk as much as I do. I use it as a milk substitute and as a base for smoothies. ~ Linda Spiker
MAY I PLEASE ASK A FAVOR?
We small bloggers need all the help we can get. Subscribing and sharing on social media is very appreciated!
View The Organic Kitchen's Privacy Policy.