How to Make Chicken, Beef and Veggie Broth on the Cooktop
I roast so many chickens I have no idea why it took me so long to post about making homemade broth! Chicken broth is easy to make, requires little planning and of course it tastes better and is far more beneficial to your health than store bought. It's also cheaper. (Click here for beef broth recipe, veggie broth below)
This is The Cooktop Method, but….
In this post we are discussing how to make broth on the cooktop. If the Instant Pot or Crock Pot is more your style, click!
Health Benefits:
Bone broth is nutrient dense! It contains vitamins and minerals that are easily absorbed by the body including calcium, magnesium, phosphorus, silicon, sulfur chondroitin, glucosamine, and a variety of trace minerals. Bone broth is rich in gelatin which supports healthy digestion. Broth has natural anti-inflammatory properties and inhibits infections…hence it is commonly referred to as "Jewish Penicillin".
There are many recipes for making chicken broth, this is how I do it…I make a roasted chicken and after it's carved and eaten I use the "frame" to make broth. BUT if roasting your own chicken isn't going to happen you can even use a store bought rotisserie chicken if you want! Whole Foods Market has organic free range rotisserie chickens.
I remove almost all the meat from the chickens frame, then I place the 'frame' and any leftover bones from the meal in a large stock pot (or crock pot) with giblets and apple cider vinegar and let sit for an hour.
Then I add carrots, onion, celery, garlic, peppercorns and Herbs de Provence. Herbs de Provence is a combination of savory, thyme, rosemary, lavender and fennel.
I bring the ingredients to a boil, place the lid on, turn the heat down to a very low simmer and I go to bed! When I wake up in the morning I check it and usually let it simmer a few hours more. I let mine simmer anywhere between 18-24 hours. Then I strain it through a screen colander, add sea salt and voila! I have broth. Really not much work since it simmers while you sleep and live your life!
Storage:
After broth is completely cooled I either make soup, drink it, or place broth in mason jars and freeze. I take them out and thaw them as I need them. You can also fill an ice tray with broth and freeze so you have one ounce portions for small jobs. I like the ice trays with lids…I don't like leaving my broth open in the freezer:) Notice how much richer my broth is than store bought.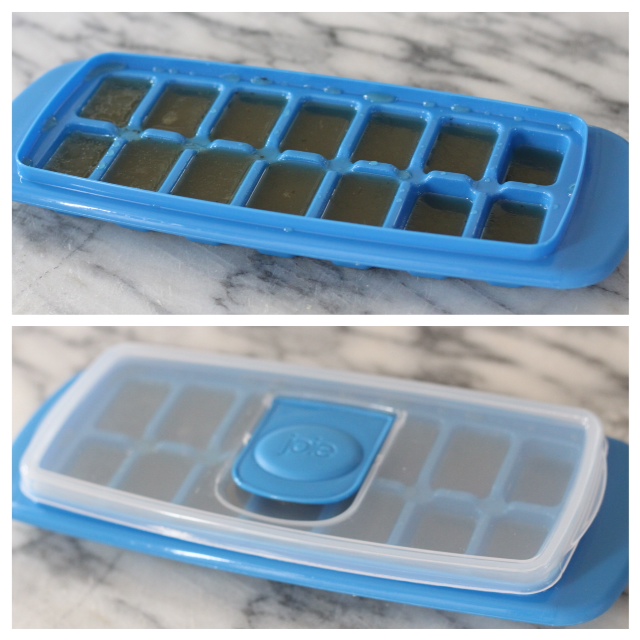 The Recipe: Homemade Chicken Broth and Veggie Stock
You will need: A stock pot , mason jars and ice trays with lids for storage, see below. (Affiliate links)
Helpful hints: Makes approximately 14-16 cups broth. Keep in mind the measurements do not have to be exact. I don't measure the water, I just add it till it completely covers the chicken and is a few inches below the rim of the stock pot. Sometimes I use more or less carrots and celery depending on what I have on hand. Click here to learn to make beef broth. To make veggie broth follow the recipe below using 12 cups water and omit the bones. Instructions for making broth in crock pot below. Keep in mind most crock pots don't hold as much water as a stock pot.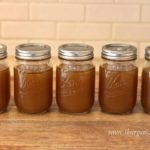 How to Make Chicken and Veggie Broth
I roast so many chickens I have no idea why it took me so long to post about making homemade broth! Chicken broth is easy to make, requires little planning and of course it tastes better and is far more beneficial to your health than store bought. It's also cheaper.

Keyword:
how to, kitchen tips
Ingredients
Note: if making veggie broth, follow the instructions below omitting the chicken bones and apple cider vinegar
1

chicken frame, leftover bones and giblets (from roasted or rotisserie chicken, if using a store bought rotisserie chicken ask butcher for giblets)

filtered water, enough to cover chicken with a few inches over the top

1

T

apple cider vinegar

1

T

whole pepper corns

1

T

herbs de Provence

3

large cloves garlic, peeled

4

carrots, cut into thirds

1

yellow or white onion, peeled and quartered

4

stalks celery. cut into thirds

3

pinches

sea salt
Instructions
(if making veggie broth, leave out the chicken and apple cider vinegar, then follow the rest of the instructions)

After roasting and carving a chicken place chicken frame, leftover bones form your meal and giblets in a stock pot.

Place enough filtered water in the pot to cover the chicken frame with an extra 3-4 inches or so above.

Add 1 Tablespoon apple cider vinegar. Sit down and eat your amazing roasted chicken dinner.

After chicken carcass has soaked in vinegar water for an hour, add vegetables, herbs and spices (except sea salt).

Turn flame on high and bring to a boil, then turn heat to low. Gently simmer with lid on pot. Go to bed and have sweet dreams. In the morning check your pot.

I usually cook my broth anywhere from 18-24 hours. (Note: some people cook it as little as 8 hours or as many as 48. The longer you cook it the richer it becomes.

If you decide to simmer it over 24 hours you may need to add some water if the water evaporates too much)

When you are ready, turn off heat.

Stir and allow broth to cool down a bit. When broth has cooled strain out solids. I like to place a mesh colander in a big bowl and pour broth through mesh strainer.

Discard solids and season with sea salt to taste.

When completely cooled pour into mason jars. If placing in freezer leave at least 2 " of air space at top of jar or it will crack.
MAY I PLEASE ASK A LITTLE FAVOR?
We small bloggers need all the help we can get. Subscribing and sharing on social media is very appreciated!
All photos and recipes are copyrighted by Linda Spiker.
Post tags: Gluten free, grain free, dairy free