Every time we eat at a Mediterranean restaurant we order the Hummus Trio Platter. Not only is a trio platter delicious and healthy, it's just plain fun to have a dipping platter in the center of the table! My Hummus Trio Platter includes traditional, black bean and roasted red pepper hummus.
(This post contains affiliate links. I may make a commission from sales but your price remains the same.)
THE STORY OF HUMMUS:
Hummus is a staple food from the middle east. And like all staple foods it has a history. Back in the day when people had to travel long distances on foot or animal they had to carry their food with them. It needed to be lightweight, nutrient dense and easy to make….dried chick peas, otherwise known as garbanzo beans fit the bill. When travelers arrived to their destination they could soak the dried chick peas in water, mash with olive oil, add a little lemon juice and sea salt and they had a protein packed meal loaded with energy producing healthy fats!
The How To:
Simply place ingredients in a food processor and whirl until smooth. Yup that is it. We are talking less than five minutes to make traditional hummus! But we are making a trio, so we will be adding a roasted red bell pepper and black bean version as well.

Making It a Trio:
To make the trio we make the basic hummus recipe three times and then add a roasted red bell pepper to one, and a can of black beans to the other. Serve all three on a platter with pita bread, chips and veggies. I like to garnish mine with a little tomato and basil but that is totally optional. Food bloggers gotta make everything Pinterest worthy, but you don't! Btw you can use a store bought jarred red bell pepper or roast your own!
Want Different Flavors?
You could also try my Roasted Beet Hummus or Sun Dried Tomato Hummus!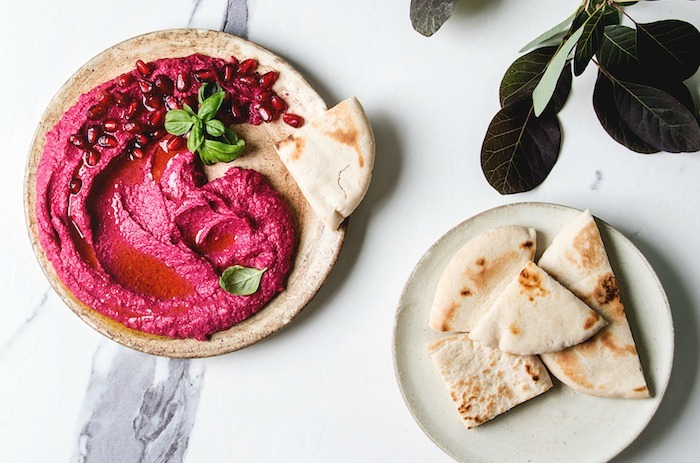 The Recipes: Hummus Trio Platter!
Tips and what you will need: to make hummus easily, use a food processor. If you don't have one you can use a potato masher but it requires a little more elbow grease and a few more minutes. You can use a jarred roasted red bell pepper, or learn to make your own!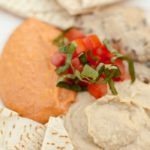 Hummus Trio Platter
A delicious Middle Eastern appetizer or side dish! Because you are making three different versions you will have left overs! Be sure to use them in wraps, sandwiches, salads and for dipping throughout the week!
Keyword:
crowd pleaser, easy appetizer recipe, party recipe
Ingredients
Trio platter:
3

small cloves garlic

peeled

3- 15

oz

cans organic garbanzo beans

rinsed and drained of water

Juice of 1 1/2 lemons

1

cup

give or take extra virgin olive oil (use 1/3 cup for each recipe)

Sea salt

to taste

1

roasted red bell pepper

store bought, or click link above to learn to make your own

1- 15

ounce

cans organic black beans
Garnish:
1

tomato

diced

6

basil leaves
Serve with:
Warm pita bread, fresh veggies, chips or whatever floats your boat
Instructions
Traditional Hummus:
Put 1 peeled garlic clove in food processor and pulse till minced. Add rinsed garbanzo beans and juice of half a lemon. Start processor and while processor is working, slowly add 1/3 cup olive oil (give or take) until hummus is smooth and reaches desired consistency. Add sea salt to taste.
Roasted Red Pepper Hummus
Put 1 peeled garlic clove in food processor and pulse till minced. Add 1 can rinsed garbanzo beans, juice of half a lemon and 1 roasted red bell pepper. Turn on processor, while processor is working slowly add olive oil until hummus reaches desired consistency. Red bell peppers are filled with liquid so you may need less olive oil than you use for traditional hummus. Add sea salt to taste.
Black Bean Hummus
Follow directions for original hummus. When hummus is desired consistency add half a can of black beans and whirl till almost smooth. If you feel like you need more olive oil, add it. Then add more beans and pulse a couple of times. Add remaining whole beans and mix by hand. I leave some of the beans intact so you can clearly see it's black bean hummus. If you make all the beans smooth the hummus just looks grey, which isn't so appetizing yo. 
Garnish: 
If desired, garnish with tomatoes and basil, serve with pita, veggies and chips
To Save: 
Cover and place int he fridge for up to five days. Use in sandwiches, wraps, salads and for dipping all week!
MAY I PLEASE ASK A FAVOR?
We small bloggers need all the help we can get. Subscribing and sharing on social media is very appreciated!