You may have noticed citrus is everywhere. I can't visit Pinterest, Instagram or my favorite cooking websites without seeing brightly colored limes, lemons, grapefruit and tangerines. I am not complaining mind you, I love it! Citrus is a winter delight and since a romantic holiday is looming I thought I should meld citrus and romance into one scrumptious dessert, and this is what I came up with: "Lemon Shortbread Bars with Mascarpone".
(This post contains affiliate links. I may make a commission from sales but your price remains the same.)
Lemon Shortbread Bars with Mascarpone:
These lovely cookies are delicate and crispy, topped with strawberries and slathered in a combination of lemon curd and mascarpone cheese.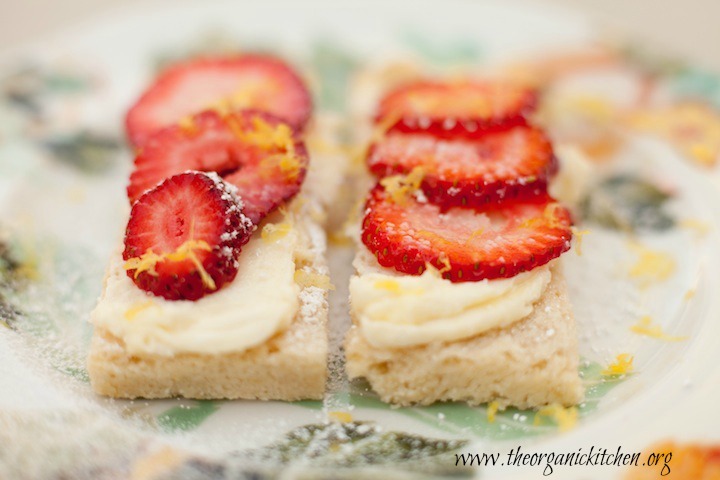 I begin with a traditional shortbread recipe but add lemon juice and lemon zest to the dough for a light, lemony cookie!
Let's Talk About The Topping!
Served plain these are delightful enough but of course I just couldn't leave it as is, so I spread on a mixture of mascarpone cheese and lemon curd (affiliate link). Mascarpone is an Italian cream cheese. Lemon curd is a tart topping for biscuits and scones.
They were beautiful spread with just the mascarpone and lemon curd but because California has berries all year long I added sliced strawberries, but blackberries and blueberries work too.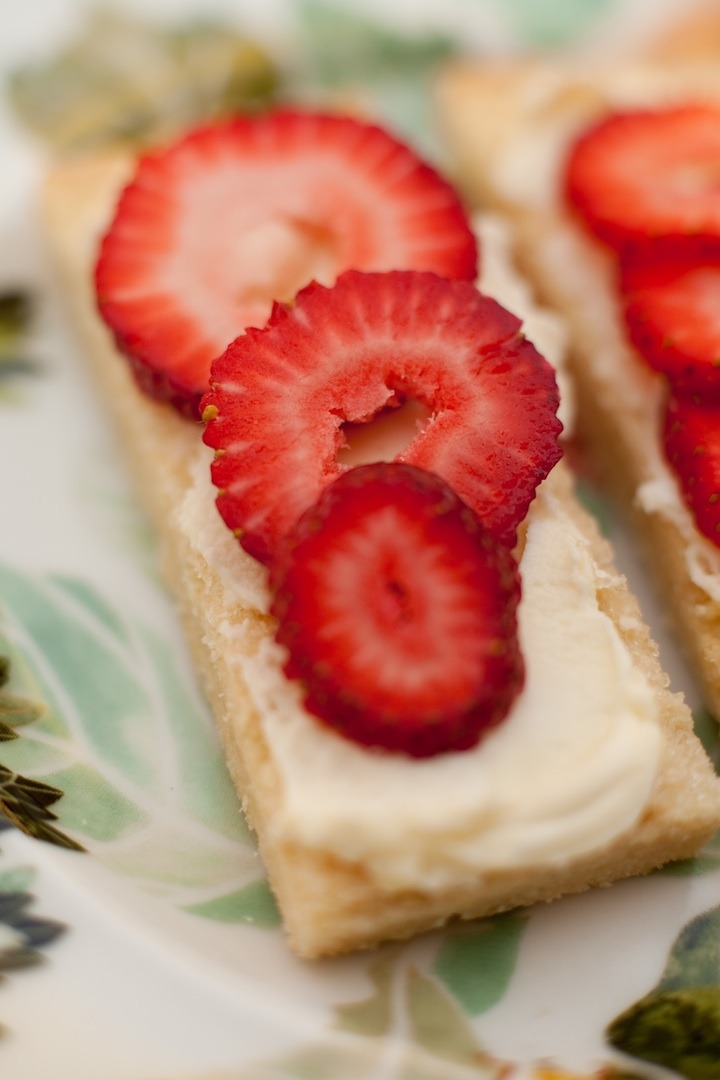 … I finished with a light dusting of powdered sugar…
…and one of my favorite final touches, lemon zest! I always use a microplane to zest citrus. (affiliate link)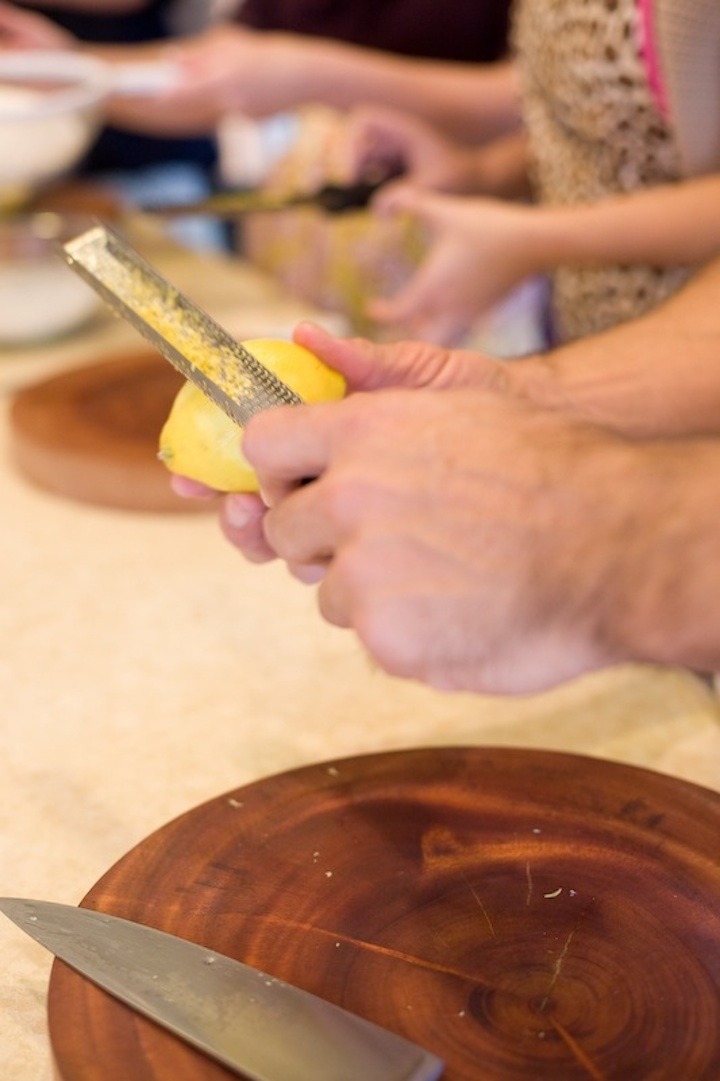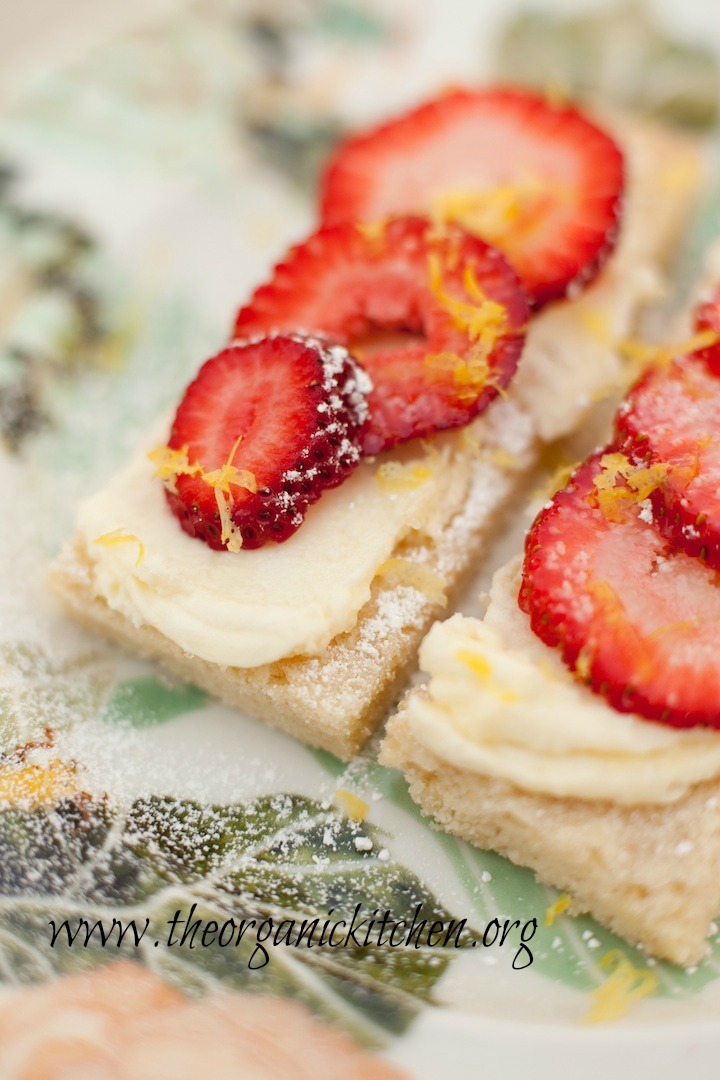 The Recipe: Lemon Shortbread Bars with Mascarpone
Tips and must haves: You will need a  hand mixer or bowl mixer,  a microplane,  an 8 x 8 glass baking dish and unbleached parchment paper. If you would like to make these cookies gluten free, I recommend Jovial GF flour.
Lemon Shortbread Bars with Mascarpone
A light crispy cookie topped with Mascarpone cheese and lemon curd. Top with berries if desired. Gluten free option offered.
Keyword:
easy dessert recipe, holiday recipe
Ingredients
Shortbread bars:
10

tablespoons

butter, room temp, plus a little more for prepping baking dish. (10 T = 1 1/4 sticks)

¼

cup

powdered sugar

1 1/2

tablespoons

granulated sugar, plus more for dusting

¼

teaspoon

salt

1 1/2

cups

all purpose or gluten free flour

2

teaspoons

fresh lemon juice

Zest of 1 large lemon
Mascarpone Topping:
Approx 3oz Mascarpone cheese (or cream cheese)

3

T

lemon curd

6-8

strawberries, thinly sliced (any berry will work, and berries are optional)

Powdered sugar, for dusting

zest of one small lemon
Instructions
Shortbread prep:
Preheat oven to 325 and place rack in center of oven.

Line an 8x8 glass baking dish with parchment paper.

Use a paper towel to spread a thin layer of soft butter on paper.

Using a hand mixer or bowl mixer, mix butter and sugars in a large bowl until well blended.

Add salt, lemon juice and lemon zest and mix till well incorporated.

Add flour and mix. At first the dough will crumble and fall apart.

Remove dough from bowl and set on a cutting board or counter and gently knead with hands until dough forms a ball.

Place dough in prepared 8x8 baking dish and press till dough is evenly distributed in the pan from edge to edge. Dough will only be about ¼ inch thick.

Sprinkle dough with granulated sugar and bake for 25- 30 minutes or until dough is cooked and slightly golden.

Remove from oven and let cool for 10-15 minutes. Cut into bar shapes while still slightly warm. Gently remove first bar with a knife and then use a spatula to remove the rest. Place on a rack to cool.
Mascarpone prep:
Use a fork to blend lemon curd and mascarpone.

Very gently spread mascarpone mixture on each lemon bar.

Place berries on top.

Using a screen colander dust cookies with powdered sugar.

Then sprinkle with lemon zest! Yum!
If you enjoyed this post please subscribe to my free weekly newsletter (upper right sidebar) and share on social media. Thank you ~ Linda Spiker
MAY I PLEASE ASK A FAVOR?
We small bloggers need all the help we can get. Subscribing and sharing on social media is very appreciated! 
 View The Organic Kitchen's Privacy Policy
post tags: dessert, vegetarian, fruit