Maple Pumpkin Spiced Popcorn
When I was a little girl (about a million years ago) we made popcorn on the cook top. It was delicious salted buttered goodness. Perfectly wonderful in it's simplicity! But with fall in the air…(ok I am lying, fall is no where near the air in Southern California but I hear of mythical places where the leaves turn colors and temperatures cool down).. I bring you Maple Pumpkin Spiced Popcorn!
(This post contains affiliate links. I may make a commission from sales but your price remains the same.)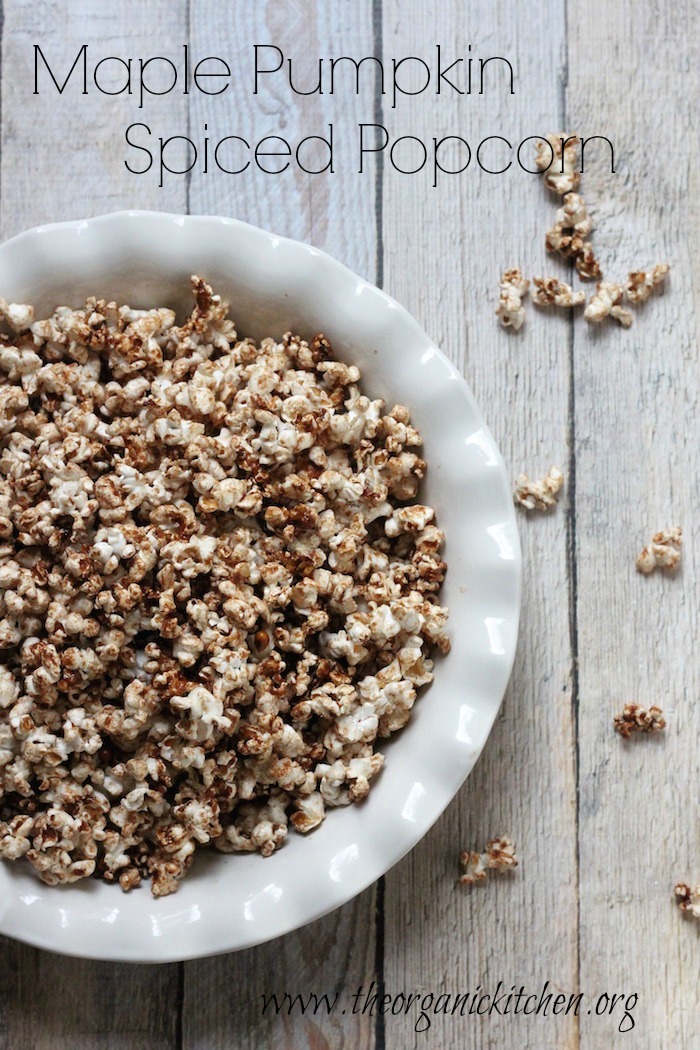 How We Make it!
This popcorn is made the way we made popcorn when I was a kid, on the cooktop with real, natural ingredients. No rancid oils, no genetically modified corn, no toxic plastic microwave bags. Just real corn, real butter from grass fed cows, flavorful spices and real maple syrup. This seasonal dessert will made my house smell heavenly……and it tasted like heaven too. I should know. I ate a little. Okay, I ate it all. Don't judge me. How could I resist the perfect combination of sweet maple, pumpkin spice and sea salt?
Love Popcorn and need more recipes?
To see my Lime Chili or Parmesan Popcorn just click!
The Recipe: Maple Pumpkin Spiced Popcorn
You will need: Coconut Oil, a big pot, popcorn kernels (preferably NON GMO like these), real maple syrup (PLEASE no fake stuff), pumpkin pie spice, good sea salt (I like Maldons) .
Maple Pumpkin Spiced Popcorn
A delightful fall treat!
Keyword:
easy snack recipe, kid-friendly recipes, party recipe
Ingredients
3

Tablespoons

Coconut Oil

1/3

cup

popcorn kernels

1/4

cup

real butter

1/4

cup

real maple syrup

1

Tablespoon

plus 1 teaspoon pumpkin spice

sea salt, to taste
Instructions
For butter mixture:
Melt, butter in saucepan, remove from heat. Add maple syrup and spices. Whisk, set aside,

NOTE: If your pot does not have a long handle you will need oven mitts to shake safely.

Place large pot on stove on med/high heat. Place coconut oil in pot. Drop three corn kernels in oil. Place lid on pot. When kernels pop, pour ⅓ cup of kernels into the oil, replace the lid back on and shake pot continuously until kernels are done popping. Immediately remove from heat and allow to cool for two minutes. Pour popcorn in bowl, drizzle with melted butter mixture while stirring with knife. Sprinkle with sea salt while stirring. Serve
Enjoy fall my friends where ever you may be!
Post tags: gluten free