Any sweet potato fans in the house? If so, you will love my Maple Sweet Potato Casserole! If you aren't a fan… you will still love my Maple Sweet Potato Casserole because there is nothing not to love. Sweet potatoes whipped up with fresh pasture butter, real maple syrup with a hint of vanilla, all sprinkled with a crumbly pecan topping. (This post contains affiliate links. I may make a commission from sales, your price remains the same)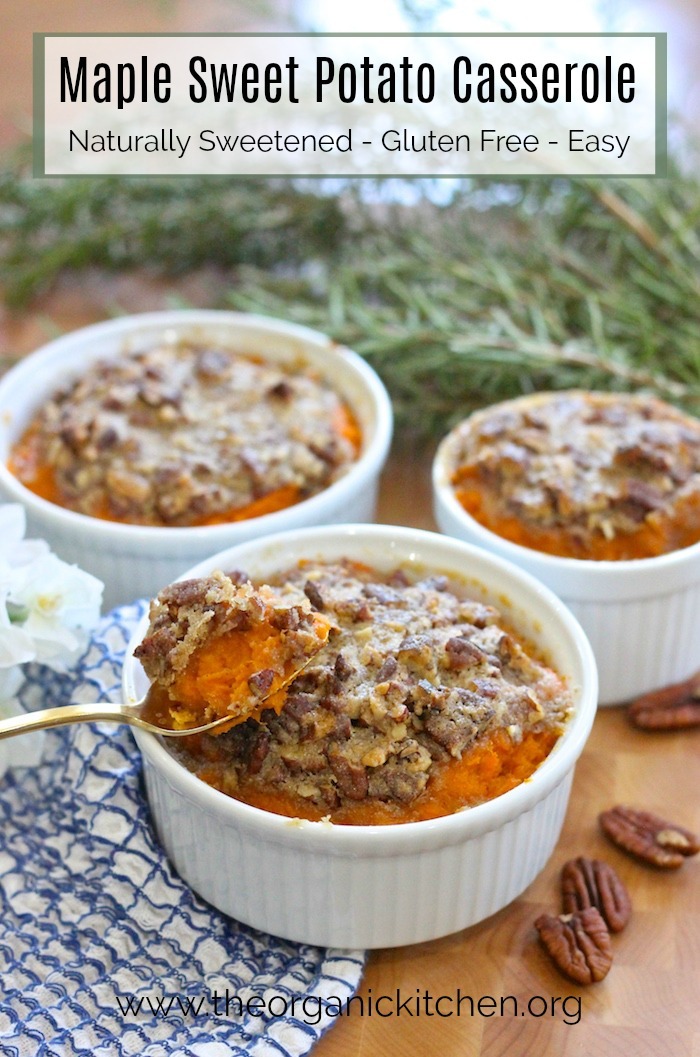 Ruth's Chris Has Nothing On Me! Except a Lot of Sugar…
We love the sweet potato casserole at Ruth's Chris Steak House. Like, really, really love it. We also really, really love my sweet potato casserole. Especially since we skip the refined sugar and use maple instead for a naturally sweet flavor! It's less expensive too…wink, wink.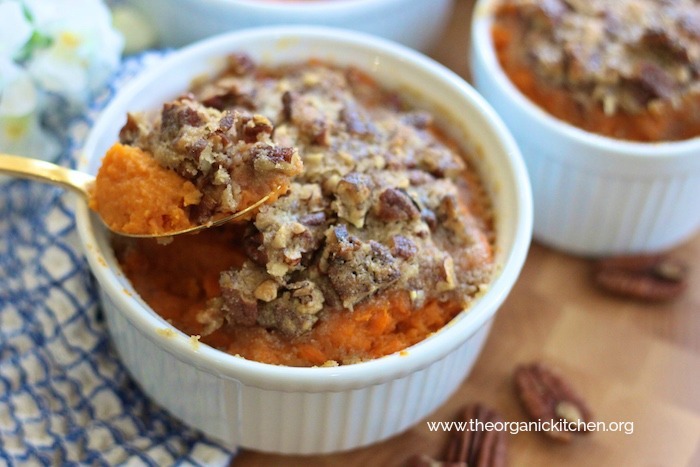 Easy to Make Y'all!
Believe it or not this casserole is a cinch to make. Just boil potatoes until soft, whip with some butter, maple, vanilla and sea salt then bake. You can use ramekins for individual servings or a ceramic baking dish for the whole group.
That Pecan Topping!
For that oh so good crunchy topping I chop pecans, drizzle in pasture butter, maple and stir with gluten free flour!
Baked to crumbly perfection!
You can share with a friend, or eat it all yourself. I won't judge you, because I have been known to over indulge on this recipe myself!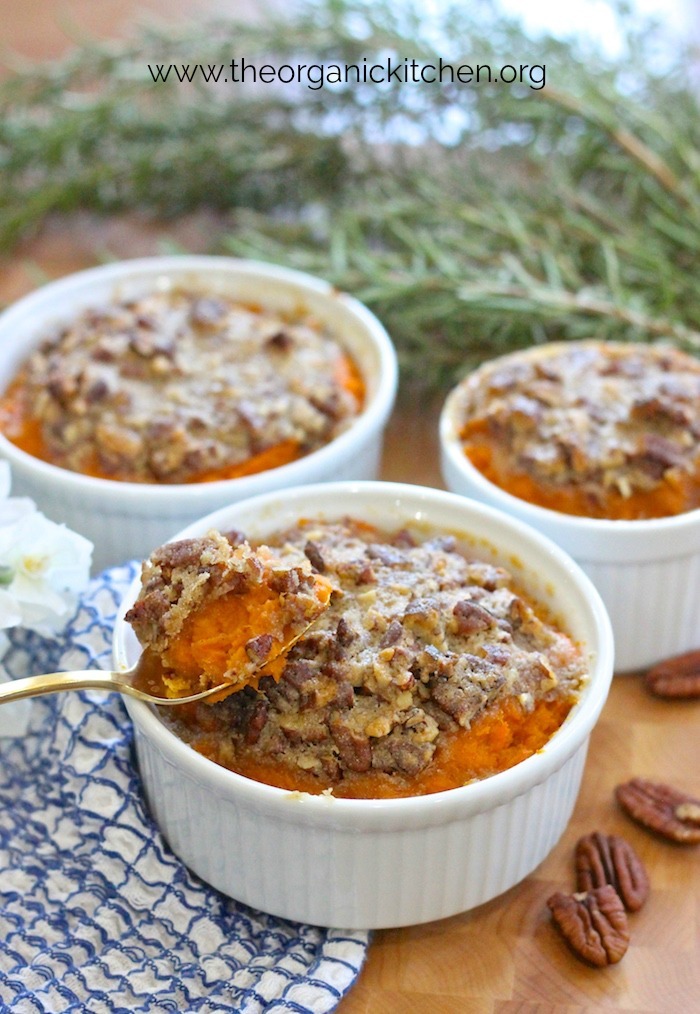 The Recipe: Maple sweet Potato Casserole
Tips and what you will need: Did you know sweet potatoes are often mislabeled as yams? If you see an orange/garnet 'yam' on the grocery shelf, it's really a sweet potato. For more information see link at bottom of post. To make this casserole you will need a stock pot, a mixer, 4 – 12 ounce ramekins or a baking dish and vanilla paste. I buy the quart, it's a money saver! If you are living gluten free, use your favorite GF flour.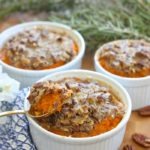 Maple Sweet Potato Casserole
Keyword:
easy side dish recipe, holiday recipe, Thanksgiving
Ingredients
Sweet Potato Filling:
4

large sweet potatoes, peeled and cubed

1/3

cup

butter

1/3

cup

real maple syrup

1

teaspoon

vanilla paste, extract works to but I always prefer paste

1

teaspoon

sea salt
Crust Topping Mixture:
1

cup

chopped pecans

1/3

cup

real maple syrup

1/3

cup

melted butter

1/4

teaspoon

cinnamon

1/4

cup

all purpose flour, gluten free friends, use your favorite GF flour
Instructions
Preheat oven to 350 degrees. Start a large pot of water to boil.

Peel sweet potatoes and cut into 1"cubes. When water is boiling, carefully add potatoes.

Boil for 10 minutes or until a fork goes in easily. (check often)

While potatoes boil combine all topping ingredients and stir until well mixed. Set aside.

When potatoes are soft, strain into a colander.

Place potatoes in mixing bowl. Add butter, sea salt, maple syrup and vanilla paste.

Mix well. Spoon into ramekins or baking dish, then add topping.

Bake for 25 minutes. Potatoes should be firm and topping browned. Serve.
Friends I hope you love this recipe! If you do, please share on social media or let me know in the comments below. And now as promised….The difference between a yam and sweet potato!
MAY I PLEASE ASK A FAVOR?
We small bloggers need all the help we can get. Subscribing and sharing on social media is very appreciated!
Vegetarian, gluten free option