One of the things I love most about Sunbasket Food Delivery is that it not only helps you learn to cook, but broadens your horizons by teaching you to cook recipes you may not have otherwise attempted! Like this gorgeous Mexican Meatball Soup with Butternut Squash and Cilantro. (Complete printable recipe below)
This recipe is brought to you courtesy of Sunbasket!
This soup is gorgeous, hearty, nutritious and Paleo/Whole 30 compliant. Cooked with spices and garnished with herbs it's a flavorful addition to your fall/winter menu plan!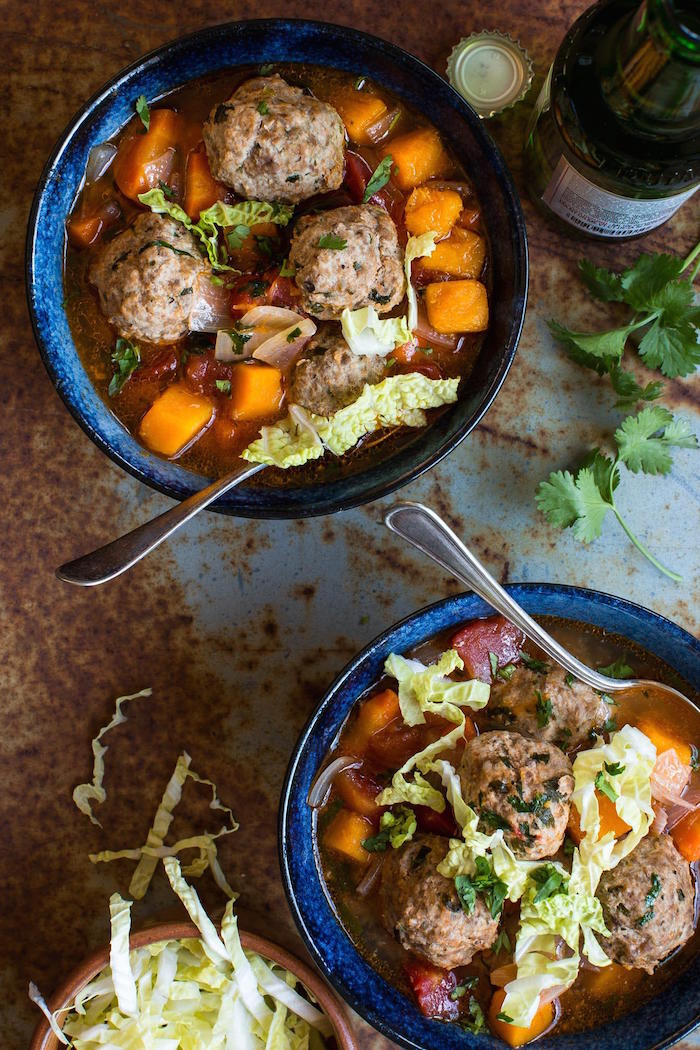 Why I Use Sun Basket Meal Delivery:
Sunbasket delivers all the ingredients for three meals to your door for about $11.49 a meal. The food is organic and non-GMO, with Paleo/Gluten Free and Vegetarian options!
The food is pre-measured so all you have to do is a little food prep and cooking and in about 30 minutes you have a gorgeous healthy meal and you didn't even have to go to the grocery store!
Look at this gourmet goodness! And Sunbasket offers my followers a special deal.
Get $30 off your Sun Basket order! Organic ingredients from the best West Coast farms and easy, healthy recipes delivered weekly.
The Recipe: Mexican Meatball Soup with Butternut Squash!
Tips and what you will need: You can buy butternut squash that is already peeled and diced in the produce section of your grocery store, or learn to do it yourself here. I also hear this soup gets even better when served the next day...I never have leftovers so no personal knowledge there. This recipe is gluten free, grain free, dairy free and Paleo and Whole 30 Compliant!
Mexican Meatball Soup with Butternut Squash!
Known as albóndigas, Mexican meatballs simmered in broth are a popular comfort food around the country—each region has its own recipe. Here, a mix of pork and beef combine for added richness. Be sure not to overmix the raw meat; gentle handling leads to tender meatballs.
Keyword:
classic recipe, easy appetizer recipe, easy dinner recipe
Ingredients
1

yellow onion

1

carrot

2

Tablespoons

Fresh cilantro

1

lime

½

pound

peeled butternut squash

diced 1/2 "

¼

pound

Napa cabbage

1

tablespoon

tomato paste

1

cup

diced tomatoes

1

cup

chicken stock

5

ounces

ground beef

5

ounces

ground pork

1

pasture-raised organic egg
Meatball spice blend:
2

tsp

dried oregano

3/4

tsp

cumin

1/4

tsp

coriander

1/2

tsp

garlic powder

sea salt

pepper

olive oil
Instructions
Prepare veggies:
Peel the onion and cut it into ½-inch pieces.

Scrub the carrot and peel, if desired. Cut in half lengthwise, then crosswise into ¼-inch-thick half-moons.

Finely chop the cilantro.

Cut the lime into wedges.

Peel and dice butternut squash

Cut the cabbage into thin strips.

Combine meatball spices and set aside.
Start the soup:
In a pot over medium-high heat, warm 2 tablespoons oil until hot but not smoking. Add the onion, carrot, and squash. Season with salt and pepper and cook, stirring occasionally, until the vegetables start to soften, 6 to 8 minutes.

Add the tomato paste, stirring to coat the vegetables. Add the diced tomatoes, chicken stock, and 2 cups water. Bring to a boil, then reduce to a simmer, and cook until the flavors have developed, 2 to 3 minutes.

While the soup cooks, start the meatballs.
Make the meatballs:
Drain the ground beef and ground pork on a paper-towel-lined plate.

In a bowl, beat the egg with the meatball spice blend and half the cilantro. Add the beef and pork and season generously with salt and pepper. Using wet hands, mix until well combined, then form the mixture into 2-inch balls.
Finish the soup:
Add the meatballs to the soup. Return to a boil, reduce to a simmer, cover, and cook until the meatballs are cooked through, 5 to 7 minutes. Remove from the heat and season to taste with salt and pepper.
Serve:
Transfer the soup to individual bowls and top with the cabbage and remaining cilantro. Serve with the lime wedges.
Get $30 off your Sun Basket order! Organic ingredients from the best West Coast farms and easy, healthy recipes delivered weekly.