Salads are a bit of a passion of mine. So are homemade salad dressings. Once you start making your own, you will never go back to bottled. I usually make three dressings at one time…as long as you are pulling out the olive oil and vinegars why not make enough to last all week so you can grab them when needed? It's a real time saver. So let's get to it, here are My Favorite Fall/Winter Salad Dressings!
(This post contains affiliate links, see full disclosure at bottom of page)
Homemade Salad Dressing: Better, Healthier, Delicious and Quick!
Store bought dressings are usually made with processed, tasteless, odorless, flavorless oils, not to mention preservatives, colorings and flavorings. Homemade salad dressing can be made in minutes and in my humble opinion fresh is always best! I think you will agree once you taste these vinaigrettes. Each of these recipes is grain free, gluten free and dairy free.
My Three Favorites:
For this post I chose the three dressing I use most during fall and winter: Pomegranate, Creamy Lemon, and Apple Vinaigrette. Each can be made ahead of time and kept in the fridge for up to a week.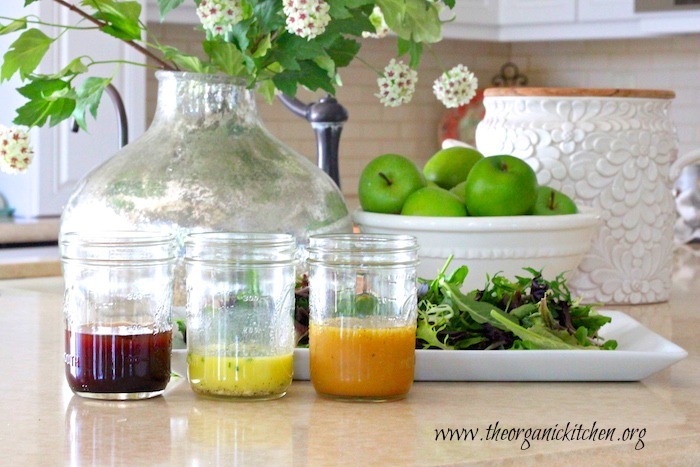 THE FORMULA FOR A GREAT DRESSING:
Salad dressing actually has a formula: two parts healthy oil to one part acid. 'Acid' is either fruit juice or vinegar. For those of you that don't get the "part" thing…this means you use twice as much oil than vinegar or fruit juice. Example: 1/2 cup olive oil and a 1/4 cup vinegar. Or 4 Tablespoons avocado oil and 2 Tablespoons fruit juice. Got it? Good! Then you add flavor enhancers such as: honey, mustard, tahini, sea salt, freshly ground pepper, chili powder, chives, garlic, or green onions and voila! A healthy, delicious salad dressing in just a few minutes!
Need Some Salad Recipes?
To learn the secrets to making an amazing salad, click!~ Linda Spiker
The Recipes: My Favorite Winter Salad Dressings: Pomegranate, Creamy Lemon and Apple Vinaigrette!
What you will need for Pomegranate Vinaigrette: You can reduce your own pomegranate juice to make a syrup or save time buying by buying antioxidant rich Pomegreat Pomegranate Syrup (12 oz or save money with the 24 oz).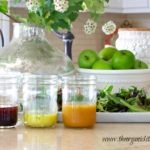 My Favorite Fall Winter Salad Dressings: Pomegranate, Lemon and Apple Vinaigrette! 
Three favorite salad dressings for fall/winter
Keyword:
easy lunch recipe, light recipe
Ingredients
POMEGRANATE VINAIGRETTE: A beautiful, brightly colored, antioxidant rich salad dressing made with reduced pomegranate juice. You can reduce your own or buy it already reduced and save some time. See link above. I love this dressing on many salads. Its perfect with an assortment of greens and seasonal winter fruits like persimmons, apples, and pomegranate seeds.
½

cup

extra virgin olive oil

¼

cup

Pomegranate juice reduction*

to make your own see instructions below

2

teaspoons

finely minced shallots

2

tablespoons

champagne vinegar

juice of half a lemon

2

teaspoons

honey

optional, if you are living sugar free omit

pinch

of sea salt
Lemon Vinaigrette: A creamy, light, lemony salad dressing with a touch of garlic. Perfect for greens with any vegetables you wish.
1/3

cup

good quality extra virgin olive oil

3

tablespoons

freshly squeezed lemon Juice

1/2 -1

small clove garlic, peeled and minced (garlic can be used to taste)

1

teaspoon

honey

pinch sea salt

freshly ground pepper, to taste

1

Tablespoon 

freshly chopped chives
Apple Vinaigrette: a delicious tangy apple salad dressing perfect for many fall and winter salads.
1/2

cup

extra virgin olive oil

6

tablespoons

frozen organic apple juice concentrate (reseal with plastic and a rubber band and place back in freezer to avoid waste)

4

tablespoons

apple cider vinegar

1

teaspoon

Dijon mustard

2

teaspoons

 fresh lemon juice

2

teaspoons

honey

1 pinch sea salt

1/2

teaspoon

freshly ground pepper
Instructions
Pomegranate Vinaigrette:
Combine all ingredients in glass container. Shake! Can be kept refrigerated for one week.

*To reduce pomegranate juice, simply simmer 1 cup pomegranate juice in small sauce pan until it is reduced to a ¼ cup. I measure after 15 minutes and every few minutes after that. Just be sure not to forget about it! After it is reduced to a ¼ cup, allow to cool before using.
Creamy Lemon Vinaigrette:
(If you do not have a blender, whisk vigorously until emulsified) Place everything except chives in a blender and blend till smooth and creamy. Add chives and whisk. Can be stored in the fridge in an air tight container for up to a week.
Apple Vinaigrette
Combine all ingredients in a bowl and whisk. Save extra dressing in covered container in the fridge for up to a week.
We small bloggers need all the help we can get. Subscribing and sharing on social media is very appreciated!
All photos and recipes are copyrighted by Linda Spiker.
Whole 30, grain free, gluten free, dairy free, paleo