I know I said this last time I posted a roasted chicken recipe….and I know I will probably say it the next time I post a roasted chicken recipe…but this is my new favorite roasted chicken!
This beautifully browned bird, roasted rainbow carrots and caramelized pears are made in one pan! Yup, easy clean up my friends. And the combination of sweet honey, spicy ginger and sea salt on the vegetables is pure heaven!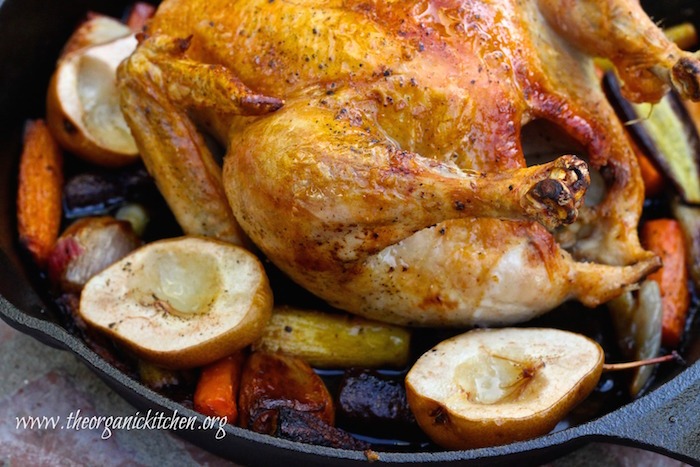 I use Forelle pears in this recipe. They are tiny pears that really pack the flavor. If you can not find them simply use your favorite variety, quartered instead of halved.
The Recipe: Skillet Roasted Chicken with Honey Ginger Carrots and Pears
Tips and must haves: a medium sized cast iron skillet (I use a 12″ for this recipe), a good knife (my fave is on sale!), a microplane and sea salt.(Affiliate links.) For convenience when working with chicken I use a battery operated pepper grinder. That way I can handle the chicken with one hand and grind pepper with the other. No risk of cross contamination and it's a time saver! You will also need to know how to carve a chicken (video tutorial so you don't trash the beautiful bird you just made!) And don't forget to make homemade broth with the leftover chicken frame and giblets!
Roasted Skillet Chicken with Honey Ginger Carrots and Pears
A delightful whole chicken roasted with shallots, carrots and pears in a honey ginger glaze. Serve alone or with a side salad or simple rice.
Keyword:
comfort food, easy dinner recipe
Ingredients
5

Tbsp

extra virgin olive oil

1- 4

lb

chicken

1 1/2

lbs

rainbow carrots

peeled and cut into 3" pieces. If really thick, cut widthwise too.

4

shallots

peeled and cut in half

2

Forelle pears

halved and seeded (or 1 of your favorite variety of pear, quartered)

1/2-1"

fresh ginger

peeled and grated with microplane (use 1/2" for mild, 1" for stronger flavor)

2

Tbsp

honey

sea salt

pepper
Instructions
If possible, remove bird from fridge an hour before prepping. This allows for more even cooking

Preheat oven to 425 degrees, place rack in lower third of oven.

Wash bird and pat with paper towels to dry.

Sprinkle inside and out with sea salt and freshly ground pepper. Set aside.

In a small bowl, whisk together 4 Tbsp olive oil, honey and fresh ginger. To peel ginger, use the edge of a spoon, grate with microplane.

Place prepared veggies and pears in bowl and gently toss with glaze.

Sprinkle lightly with sea salt and freshly ground pepper. Toss. Set aside.

Place medium size cast iron skillet on med/high heat.

When pan is hot add 2 Tbsp olive (or enough to coat bottom of skillet) and place bird breast side down in pan.

Allow to brown nicely (3-4 minutes) and use tongs to gently turn bird on it's side, being careful not to tear skin. Brown and turn again, and again, until all four sides of bird are golden brown. (total browning time about 15 minutes)

Carefully remove bird from skillet and set on a plate.

Remove the pears from bowl, set aside. Pour glazed vegetables into hot skillet. Toss for a minute. Then place chicken on top of vegetables breast side up and place in oven. Set timer for 30 minutes.

When timer goes off, place pears around chicken and roast another 45 minutes or until an instant read thermometer inserted into thickest part of thigh reads 165 degrees. (Total cooking time usually 1 hour 10 minutes for a 4lb bird)

Remove from oven and allow chicken to 'rest' for 10 minutes before carving.

After carving place chicken, vegetables and pears on platter, pour the drippings from the pan over and prepare for a blissful dining experience!
This meal is perfect for any holiday, special occasion or simply for a good old fashioned Sunday dinner! If you liked this recipe please subscribe to my free weekly recipe newsletter (just under my picture, upper right sidebar) and share on social media. Thanks ~ Linda Spiker
MAY I PLEASE ASK A LITTLE FAVOR?
We small bloggers need all the help we can get. Subscribing and sharing on social media is very appreciated! 
Gluten free, grain free, dairy free, one pan meal