OH. MY. GOODNESS.
Sometimes a combination of flavors just sends me right to food heaven. These Salted Caramel Brownies are just such a combination. Browned butter, dark chocolate, buttercream frosting, caramel and sea salt! (This post contains affiliate links via my association with Amazon.com)
Now I am going to tell you something amazing…
….these brownies are completely grain free!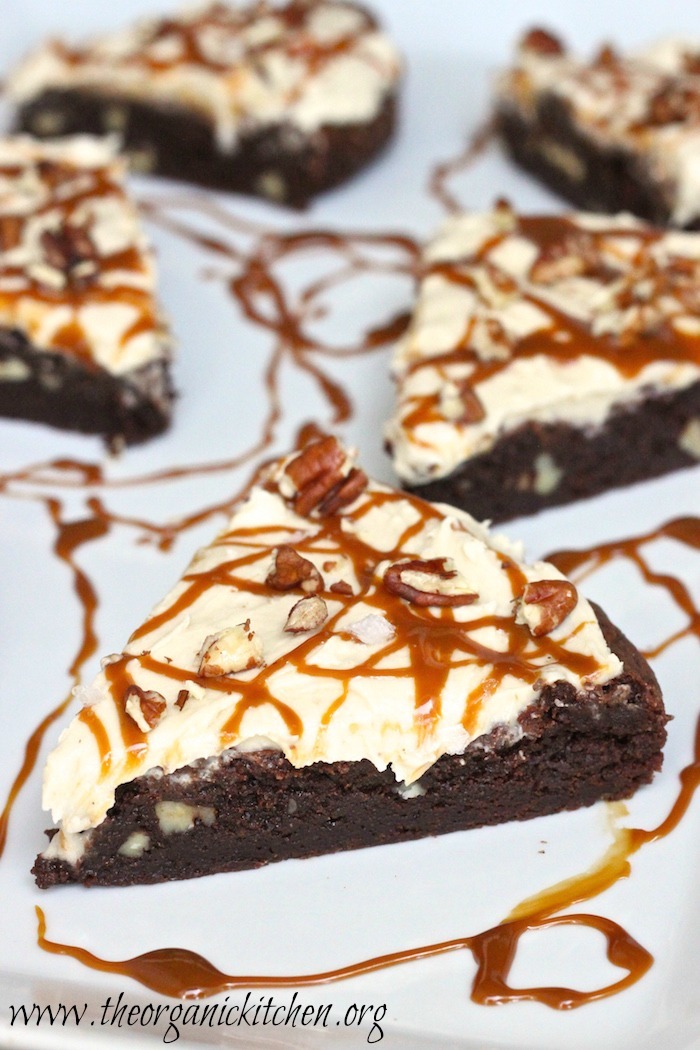 You Can Make Them Two ways!
I made these rich, decadent brownies using Otto's Cassava Flour. Cassava flour looks like flour made from wheat, it cooks like flour made from wheat and holds together like flour made from wheat but it is completely grain and nut free! Cassava flour is made from 100% yuca root and is the best option I have run across for people that need to avoid gluten and grains!
Because it is so new, Cassava flour isn't in most stores yet but it is available online. Of course you can make this recipe using regular flour. I just love to offer my friends with food intolerances an awesome option! Not only is cassava flour a fabulous grain free alternative but it is a resistant starch, which means it's fabulous for digestion. Win/win!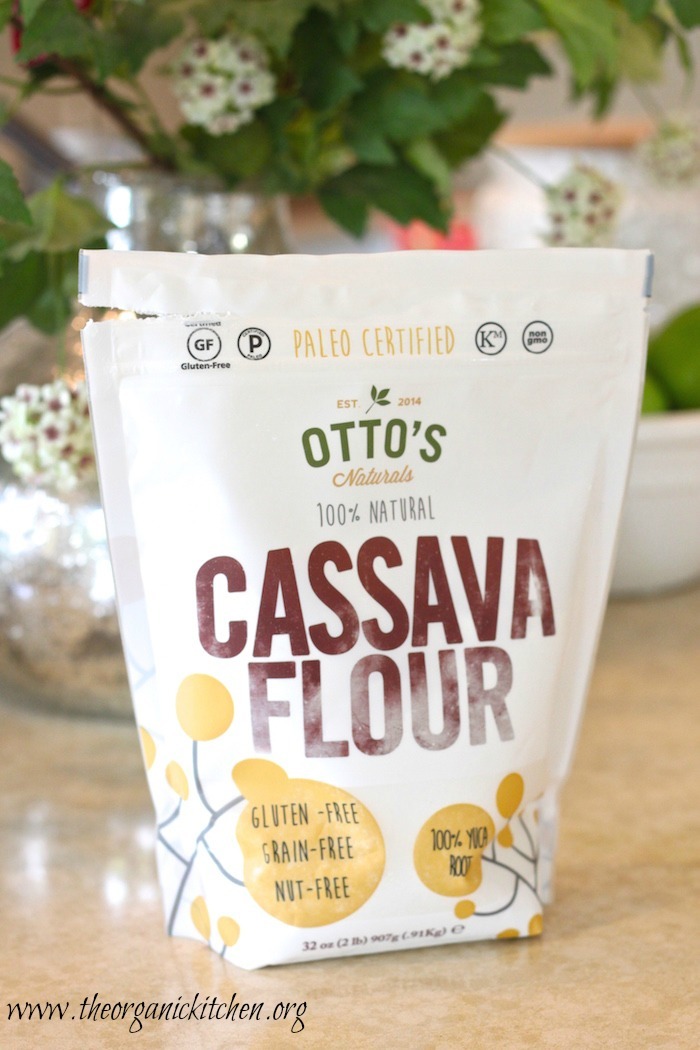 So let's talk about the recipe, you may recognize it! I use my Browned Butter Brownie with Macadamia Nuts recipe, replacing the macadamia nuts with pecans…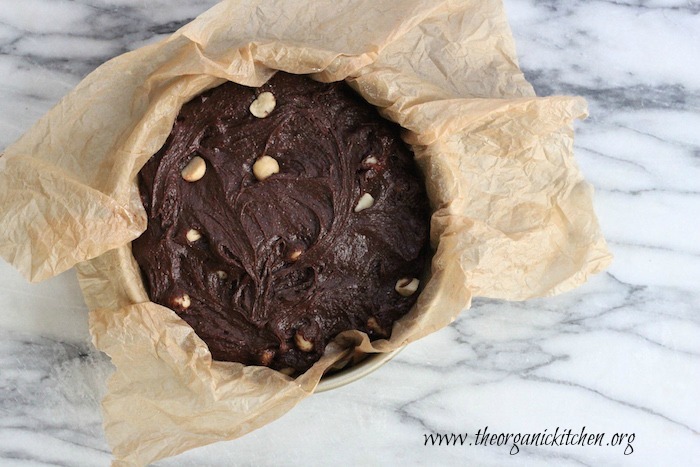 … then frosted the brownies with buttercream icing, drizzled them with caramel and sprinkled them with flaked sea salt! An older recipe with an amazing new twist. SWOON!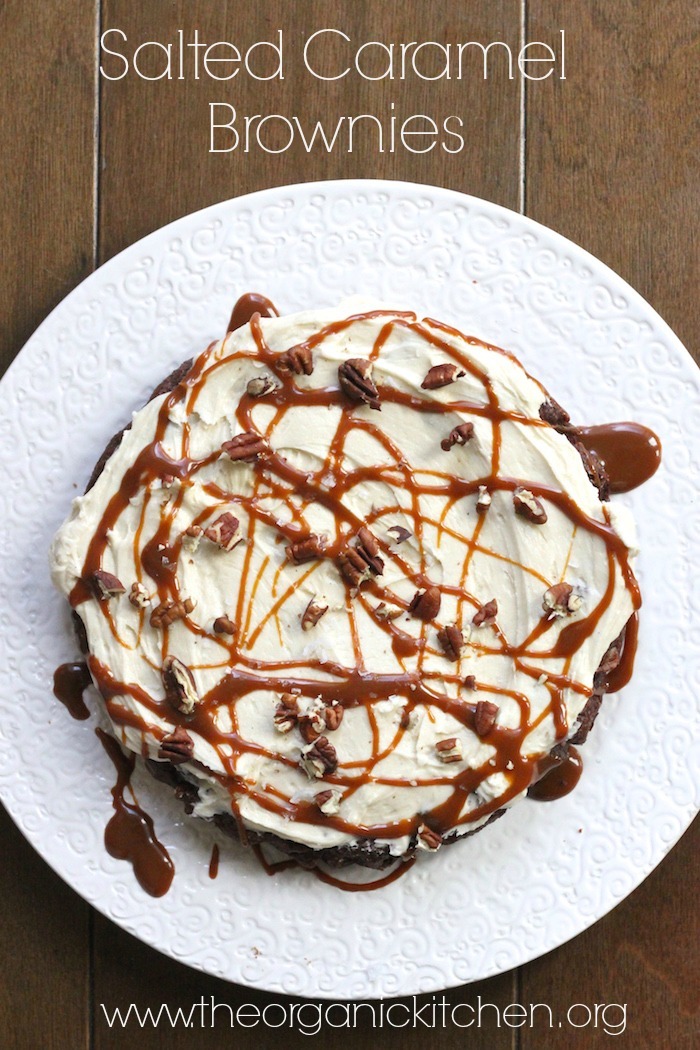 The Recipe: Salted Caramel Brownies
Tips and what you will need: Check out my Browned Butter Brownie with Macadamia Nuts recipe for a visual on browning butter. You can buy organic caramel sauce or you can make homemade caramel sauce by following this recipe. Variations: of course you can use your favorite regular flour, gluten free flour, or for the grain free version. I use Otto's Cassava Flour. I like to use an 8″ round cake pan and parchment paper. 
Salted Caramel Brownies!
An amazing browned butter brownie recipe with buttercream frosting and salted caramel! I offer a regular, gluten free and grain free option!
Keyword:
easy dessert recipe, holiday recipe, party recipe
Ingredients
For Brownies:
1

Tablespoon

soft butter for pan preparation

1

stick salted butter

browned

1 ¼

cup

organic sugar

¾

cup

natural unsweetened cocoa powder

¼

tsp

salt

2

large eggs

2

tsp

vanilla paste

or 1 tsp vanilla extract...but trust me on the paste!

1

T

milk

or almond milk or water

½

cup

all purpose flour

gluten free flour, or Otto's grain free flour

1/2

cup

pecans

roughly chopped (reserve a little for garnish)
Buttercream Frosting:
Make sure butter is soft or the icing will be clumpy

1 1/2

cups

powdered sugar

3/4

stick butter

room temp

1-2

Tablespoons

heavy cream

start with 1 and if more is needed, add the second

1

tsp

vanilla paste
Salted Caramel:
Buy caramel sauce at the store or follow the link above to make my recipe!
Instructions
Brownie Prep:
Position rack in bottom third of the oven and preheat to 325.

Cut a square of parchment, wad it up with your hands and run under water.

Squeeze out water and use your hands to rub it flat. Dry well with a paper towel.

Line the round cake pan with paper, leaving several inches of overhang so you can lift the brownies out later. Use a paper towel or napkin to wipe bottom and sides of parchment with soft butter. Set aside.

To brown butter: Melt butter in saucepan over medium heat, stirring occasionally and continue cooking till butter bubbles, then foams and turns a light brown (about 5-7 mins). It may seem like nothing is happening but eventually the butter will erupt with a caramel colored center!

Remove from heat.

Place sugar, cocoa powder and salt in a large bowl.

Add browned butter to bowl with sugar, cocoa, and salt.

Whisk until well mixed and allow to cool for a few minutes.

Add eggs, one at a time. whisking after each addition.

Add vanilla paste and milk, almond milk or water, whisk.

When batter looks shiny add your choice of flour, stir till really well blended.

Fold nuts into batter.

Pour into prepared pan.

Bake until a toothpick inserted in the center comes out clean (about 30-35 minutes)

Remove from oven and allow to cool. Keep brownies on parchment for frosting and drizzling with caramel.
Frosting Prep:
Place soft butter and sugar in mixer and beat on medium speed till combined. Add vanilla paste and whipping cream. Mix till light and fluffy.

When brownies are cool, frost with buttercream icing. Depending on how thick you like the icing you may have leftover frosting. Usa a spoon to drizzle brownies with caramel, allowing some caramel to drizzle onto parchment first and then onto the brownies. This avoids big pools of caramel on the brownies. Sprinkle lightly with sea salt and reserved chopped pecans.

Cut into pie shapes and serve.
Check Out More Of My Chocolate Dessert Recipes:
Molten Lava Cakes
Triple Layer Naked Chocolate Cakes
Chocolate Salted Caramel Cake
Chocolate Covered Popcorn
Spiced Hot Chocolate
Chocolate Banana Bites
Oatmeal Pecan Chocolate Chip Cookies!
Enjoy! ~ Linda Spiker
 May I Please Ask A Favor?
We small bloggers need all the help we can get. Subscribing and sharing on social media is very appreciated!