I love the look of a really beautiful Christmas cookie. But I am going to let you in on a little secret…I am not good at making them. I am better at cookies that look, um, how shall we say…"rustic". These Vanilla Shortbread Cookies with Salted Caramel are more my style!
(This post contains affiliate links, see disclosure at bottom of page)
Light, flaky, slightly sweet cookies frosted with mascarpone icing and drizzled in caramel, then sprinkled with a hint of sea salt! I love that crunchy little 'bite' of sea salt!
The reason shortbread cookies are so flaky is because the dough is heavy on butter. After mixing, the dough will look crumbly. This is perfectly fine. You use your hands to form it into a ball, then press into a disk shape.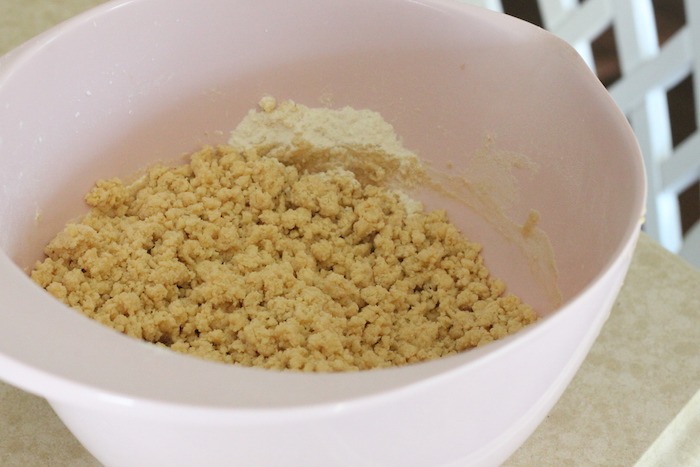 Then you roll it out, leaving it thicker than a traditional sugar cookie.The dough is definitely softer than a sugar cookie too. Because of this I recommend flatter wider cookie cutters like stars and trees rather than thinner shapes like candy canes.
Once baked, carefully ice and sprinkle with some 'glitter flakes' for a little holiday shimmer!(I got my glitter flakes at Williams Sonoma, color: white birch)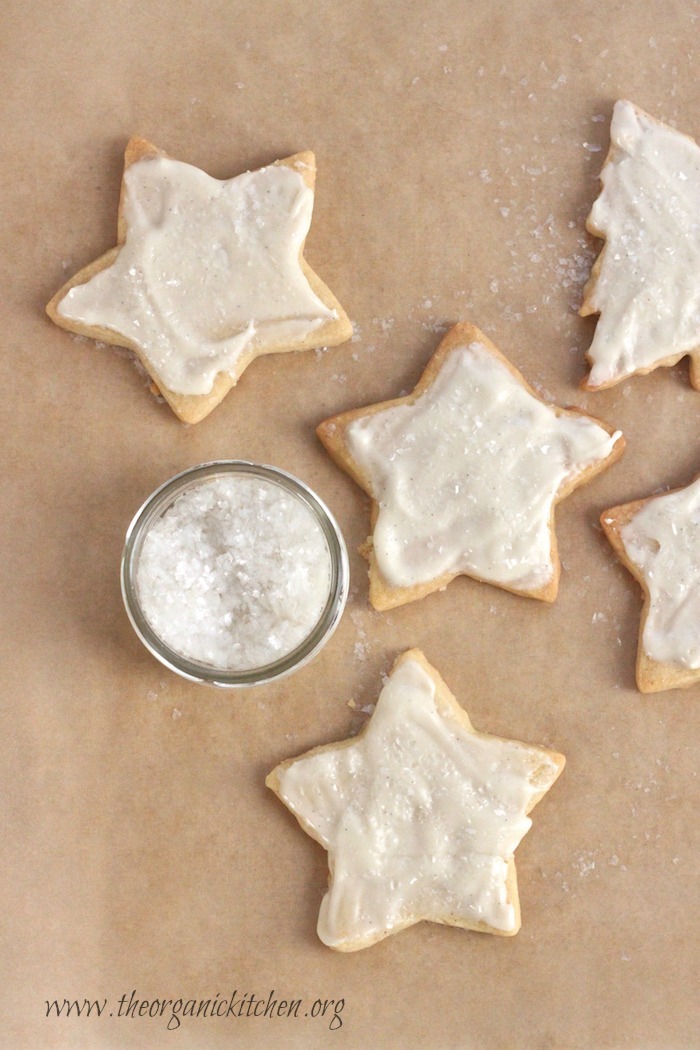 The secret to the caramel drizzle is allowing the caramel to run onto the parchment first and then the cookie.
Sprinkle lightly with a pinch of sea salt and enjoy this flaky, sweet salty cookie!
The Recipe: Vanilla Shortbread Cookies with Salted Caramel
Tips and what you will need: Mascarpone is an Italian cream cheese and can be found in most supermarkets. Shortbread dough is very soft, be careful not to overwork it. After baking allow to cool before handling, the cookies are crispy and can break easily. You will need cookie cutters, parchment paper, a cookie sheet (no rim), vanilla paste, sea salt (I like Maldons flaked sea salt and buy the tub to save money), and a mixer. You can use my homemade caramel sauce recipe or have organic caramel sauce delivered to your door. I have another shortbread recipe: Lemon Shortbread Bars with Strawberries.
Vanilla Shortbread Cookies with Salted Caramel
A light crispy shortbread cookie, iced with mascarpone, drizzled with caramel and then sprinkled with sea salt. You can make your own caramel sauce (see my link above) or use store bought caramel sauce. Because shortbread dough is very soft I recommend wider flatter cookie cutter shapes like stars and trees rather than thinner shapes like candy canes.
Keyword:
easy dessert recipe, kid-friendly recipes
Ingredients
Shortbread dough:
2 1/2

sticks

butter

soft (1 and a 1/4 cups)

1/2

cup

powdered sugar

3

tablespoons

light brown sugar

1/2

teaspoon

salt

3

cups

all-purpose flour

1

tsp

vanilla paste

or extract but I prefer paste
Mascarpone Topping:
4

oz

Mascarpone cheese

or cream cheese

1

cup

powdered sugar

1

tsp

vanilla paste or extract

the paste gives you beautiful flecks of vanilla bean

1/2

cup

caramel sauce

see my link for homemade above or use store bought

Sea salt

preferably flaked for garnish

cookie "glitter" if desired
Instructions
Shortbread prep:
Preheat oven to 325 and place rack in center of oven.

Line cookie sheet with parchment and set aside.

Using a hand mixer or bowl mixer, mix butter and sugars in a large bowl until well blended.

Add salt and vanilla paste (or extract)

Add flour and mix. The dough will look very crumbly.

Use hands to gently form dough into a ball, then flatten into a disk shape.

Dust counter top with generous amount of flour, place disk in center, dust top of dough.

Use a rolling pin to roll dough 1/4 " thick. Shortbread cookies are thick.

Cut dough with cookie cutters. Form the left over dough into a disk again, roll and cut more cookies.

Bake on parchment covered cookie sheet for 12-13 minutes.

Remove from oven, slide parchment off cookie sheet and onto a wire rack, allow cookies to cool. When cool frost and sprinkle with "glitter flakes" if desired.

To drizzle with caramel: heat caramel, place cookies on parchment, drizzle caramel onto parchment first then onto cookie to prevent caramel from pooling on cookie. Then lightly sprinkle each cookie with sea salt by taking a small pinch and grinding between thumb and index finger.
Mascarpone frosting prep:
Use a mixer to blend mascarpone, vanilla and powdered sugar till smooth.
My Traditional Christmas Sugar Cookies and White Chocolate and Cranberry Cookies are also delicious! ~ Linda
MAY I PLEASE ASK A LITTLE FAVOR?
We small bloggers need all the help we can get. Subscribing and sharing on social media is very appreciated!
Linda Spiker owns all rights to recipes and photographs.