Egg salad. It is so simple, and so good. And such an easy summer staple. Whether served by itself, on a bed of lettuce, or on a hearty artisan bread, it makes a delicious, high protein meal loaded with healthy fats.
This recipe is brought to you by Chosen Foods!
The Eggs:
Interestingly, when it comes to boiling eggs, older eggs work best, conversely when poaching, fresh eggs are preferred. For perfectly boiled, easy to peel eggs simply place the eggs in a pot cold water, bring to a rolling boil, turn off heat and let them sit to 12 minutes. Then place eggs in ice water and allow to cool. This method makes peeling a snap!
The Mayo:
For a good egg salad we have to start with a great mayonnaise. Most of the mayonnaise you see on the store shelves is made with genetically modified soy, canola or corn oils. I always recommend using mayo made with avocado or extra virgin olive oil. It's simply the healthier option. For this recipe I used Chosen Foods Avocado Oil Mayonnaise made with cage free eggs and a touch of honey! Chosen Foods Avocado Oil Mayo is high in Omega 9 (heart protective) fats and it tastes great. (Where to Buy Chosen Foods Mayo)
I add a bit of grainy mustard, chives, sea salt, and pepper to the mayo and then garnish with microgreens. That's it! Then mix with chopped eggs you have a beautiful, simple egg salad.
Keep It Paleo….or Don't…
If you serve this salad by itself or on a bed of lettuce it is Paleo compliant.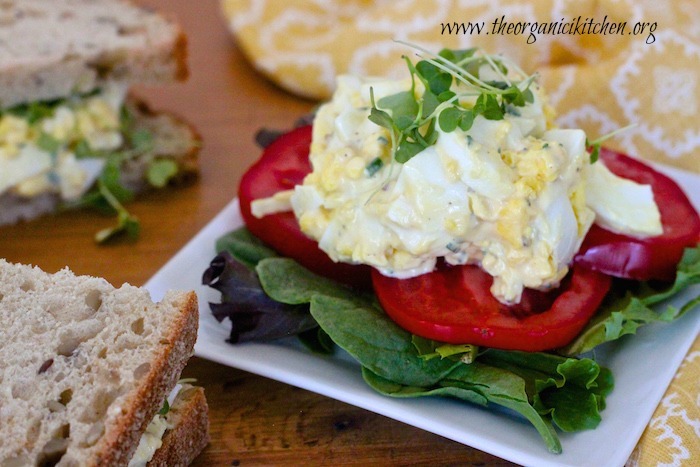 But of course for my non Paleo friends, an egg salad sandwich is always an option!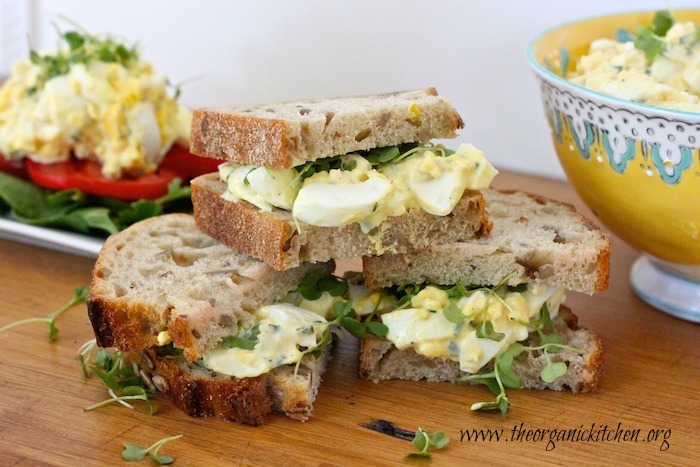 The Recipe: Simple Egg Salad
Tips and what you will need: follow boiling instructions for best results. Use a good quality mayonnaise made with avocado oil or olive oil as they are healthier options. I used Chosen Foods Avocado Oil Mayonnaise.
Simple Egg Salad
A very simple egg salad. Serve alone, on a bed of lettuce and tomatoes or on your favorite artisan bread!
Keyword:
classic recipe, easy lunch recipe, light recipe
Ingredients
10

small eggs

1/2

cup

good quality mayonnaise

1

teaspoon

grainy mustard

1

tablespoon

chopped chives

two pinches sea salt

several turns of freshly ground pepper

microgreens

for garnish
Instructions
Place eggs in a pot. Fill with cold water, water should be at least an inch or two above the eggs. Bring to a rolling boil. Turn off heat and let eggs sit for 12 minutes. Fill a bowl with ice water. Remove eggs from hot water with slotted spoon and gently set in ice water until cool enough to handle, 15 minutes should do it. Peel and dice eggs.

Mix mayo, mustard, herbs and spices with a whisk. Give it a taste adjusting salt, pepper, mustard, if desired. Gently stir mayo into eggs.

Serve alone, on a bed of lettuce and tomatoes or as a sandwich.
Enjoy my friends! ~ Linda Spiker
MAY I PLEASE ASK A FAVOR?
We small bloggers need all the help we can get. Subscribing and sharing on social media is very appreciated!