I am always so happy when my Sunbasket Box arrives because I know inside that recyclable box are the ingredients for three meals that look like this! Fortunately, Sun Basket has generously shared this recipe for Spiced Lamb Patties and Cauliflower Tabbouleh with The Organic Kitchen. Lucky me/lucky you!
(This post contains affiliate links. See full disclosure at bottom of post)
Why Do I Recommend Sun Basket?
Easy, Delicious Recipes
The food is delicious! You choose 3 recipes for 2 or 4 people at $11.49 per meal
Customize with Paleo, Gluten–Free, and Vegetarian options. Most recipes take about 30 minutes to prepare.
Certified Organic, Non GMO and Sustainably Sourced
Just how I like it! Ingredients are seasonal (better for you and the planet) and pre–measured – less hassle, less waste!
Skip the grocery store and discover new products and flavors that are hard to find on your own. Plus you become a better cook!
Convenient Delivery
Weekly delivery to your door. Ingredients are shipped in an insulated box so they stay fresh. Recyclable and reusable packaging materials are used and Sun Basket provides free pick up of packaging.
Sun Basket delivers to AL, AZ, CA, CO, CT, DC, DE, FL, GA, ID, IL, IN, KY, MA, MD, ME, MI, MS, NC, NH, NJ, NV, NY, OH, OR, PA, RI, SC, TN, UT, VA, WA, WV, VT, & parts of AR.

Oh and let me reiterate… the meals look like this and they taste incredible too.
The Recipe: Spiced Lamb Patties with Cauliflower "Tabbouleh"
Tips and what you will need: This quick meal incorporates two Paleo/Whole 30 compliant takes on Middle Eastern classics. Finely minced cauliflower is used in place of bulgur wheat in the tabbouleh. The ground lamb is seasoned with baharat, a classic Middle Eastern spice blend. You will need a microplane to zest lemon and a good knife or food processor for cauliflower. TIME SAVING TIP Trader Joe's sells fresh cauliflower already chopped into "rice" or in this case tabouleh!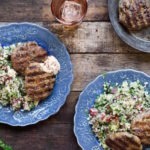 Spiced Lamb Patties with Cauliflower "Tabbouleh" from Sun Basket!
An incredible paleo take on Middle Eastern Food. Trader Joe's sells fresh cauliflower already chopped into "rice" or in this case tabouleh. It's a real time saver!
Keyword:
easy dinner recipe, Paleo recipes
Ingredients
Tahini Dressing
1/3

cup

tahini

1

clove

garlic

minced

Juice of one lemon

2-3

tablespoons

warm water or olive oil for thinning

Pinch

sea salt

a few turns freshly ground black pepper
Tabbouleh:
10

ounces

cauliflower

or buy fresh cauliflower rice at Trader Joe's

1 to 2

Persian cucumbers

1 to

mato

2

Tablespoons

fresh curly-leaf parsley

1

lemon

2

Tablespoons

fresh cilantro

olive oil
Lamb Patties:
10

ounces

ground lamb

2

teaspoons

baharat powder

½

teaspoon

Marash chile flakes

optional
Instructions
Tahini dressing:
Combine ingredients in a small bowl, whisk till smooth, adding liquids as needed for thinning. Adjust seasonings to taste. Set aside.
Make the tabbouleh:
Using a chopping knife or a food processor, chop the cauliflower into rice-size pieces.

Cut the cucumber into ¼-inch cubes.

Chop the tomato.

Pick and chop the parsley leaves; discard the stems.

Zest and juice the lemon.

In a pot over medium heat, warm 1 tablespoon olive oil until hot but not smoking. Add the cauliflower and cook, stirring occasionally, until the cauliflower starts to soften, 2 to 4 minutes. Transfer the cauliflower to a mixing bowl. Add the cucumber, tomato, and parsley, and lightly toss to combine. Add the lemon zest and juice, and 1 to 2 tablespoons oil. Season to taste with salt and pepper, and toss lightly to coat.
Make the lamb patties:
Chop the cilantro.

In a mixing bowl, combine the cilantro with the ground lamb and baharat. Season generously with salt and pepper, and gently mix until just combined. Shape the lamb mixture into patties about ½ inch thick.

In a large frying pan over medium-high heat, warm 1 to 2 teaspoons oil over medium heat until hot but not smoking. Add the lamb patties and cook until browned, 3 to 4 minutes per side for medium.

Transfer the lamb patties to individual plates. Drizzle them with the tahini dressing and sprinkle them with as much of the Marash chili flakes as you like. Serve with the cauliflower tabbouleh and any remaining tahini dressing on the side.
Enjoy and thanks for stopping by! ~ Linda Spiker
Post tags: gluten free option, dairy free, paleo