When it comes to steak, Filet Mignon is definitely a top contender on my favorites list. And when it comes to preparation, I am all about cooktop seared, oven finished Steak au Poivre (Peppered Filet Mignon)!
(This post contains affiliate links. I may make a commission from sales but your price remains the same.)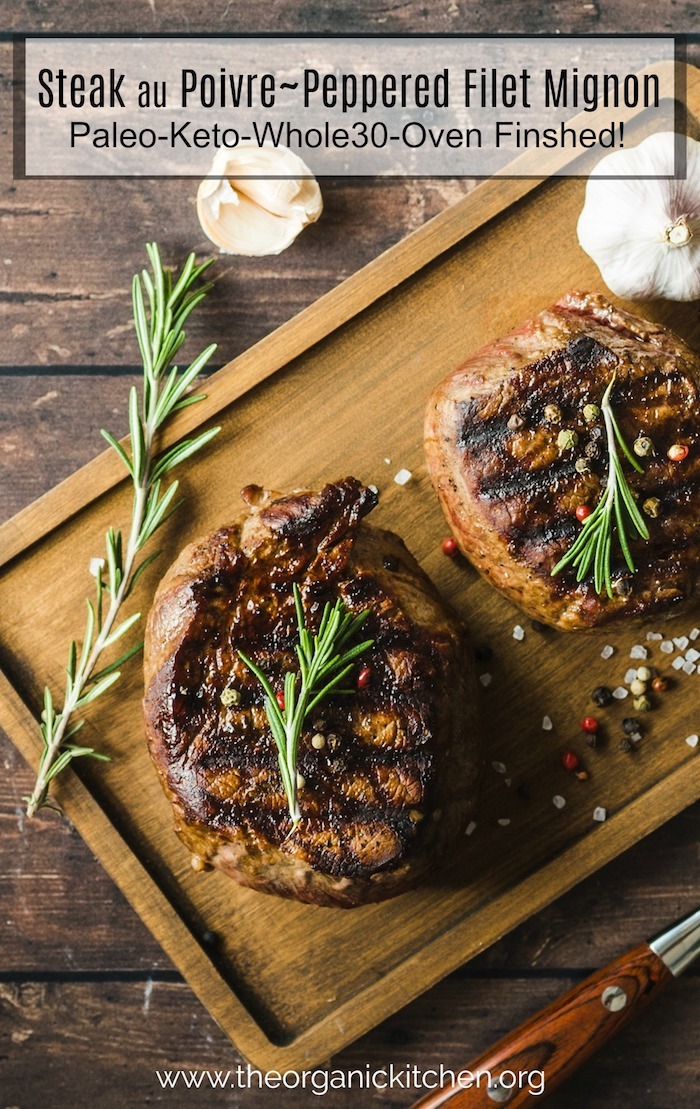 How to Make Steak Au Poivre (Peppered Filet Mignon)
"Steak au Poivre" is simply a steak seasoned generously with ground peppercorns and sea salt. It's actually very easy to make, so don't let the French make you think otherwise. Fancy doesn't have to be difficult or require any special skill.
Let's Talk Steak:
Filet Mignon is the most tender cut of beef there is. So, a simple seasoning of ground peppercorns and sea salt is all that's needed to add superb flavor. But if you want to enhance this recipe a little more, I offer the option to top with garlic chive butter.
Tips for Cooking the Perfect Filet!
Before cooking allow filets to rest on the counter for 30-60 minutes so they can come to room temperature
Allow the pan to heat for several minutes so that it is very hot when steaks are placed. You should hear the pssshhhhhh sound when that meat hits the pan!
Sear on the cooktop until solid grill marks form then finish in the oven to perfection! I will give you the timing for perfect 'done-ness' in the recipe below.
Allow to rest for five minutes once removed from the oven. This allows the juices to redistribute.
The Pan I Use:
I use either a cast iron grill pan or my Anolon Tri-Ply Clad 12" Deep Ground Grill Pan. Both generate enough heat to create that caramelized finish you see in the photos below and both are safe non toxic options!
The Recipe: Steak Au Poivre ~ Peppered Filet Mignon
Tips and what you need: a cast iron grill pan or Anolon Tri-Ply Clad 12" Deep Ground Grill Pan. I love Maldon Sea Salt and buy the tub to save money, You will need either a rolling pin or a coffee grinder (nothing fancy and totally cheap) to grind pepper corns.
Steak Au Poivre~ Peppered Filet Mignon
Tender, flavorful filet mignon seared on the cooktop and finished in the oven to perfection!
Keyword:
beef, filt mignon, keto, Paleo, steak, whole30
Ingredients
2

tablespoons

whole peppercorns (ground in coffee grinder or crushed with rolling pin until some are roughly ground and others are finely ground)

2

6-8 ounce

filet mignon steaks

sea salt, to taste

1-2

tablespoons

olive oil
Optional for Chive Butter Sauce
4

tablespoons

soft butter (or ghee)

1

small clove garlic, peeled and minced

1

tablespoon

chives, chopped
Instructions
If possible, remove steaks from fridge 30-60 minutes before cooking and allow to come to room temp. When ready to cook, preheat oven to 425 degrees and place oven rack in center position.

Grind peppercorns in a coffee grinder (or use a rolling pin to grind them) until you have some finely ground and some partially ground peppercorns. Place pepper on plate in a thin layer. Press filets into pepper, turnover and press other side. If you love pepper, don't be afraid to use a lot. If you are not a huge pepper fan, still use more than you ordinarily would. These are thick cut steaks and you will lose some pepper during cooking.

Sprinkle filets on each side with sea salt, to taste.

Heat an oven safe pan on cook top on high heat for 4 minutes. (To sear the steak the pan needs to be really hot. When you place the steak on the pan, you should hear the pppsssshhhh sound.)


When pan is hot, pour a good layer of olive oil into pan. Lower heat to medium high. Add steaks to pan and sear for 5 minutes on first side. Using tongs, gently turn steak over, sear for one minute. Then put pan in preheated oven.
How to get the right 'done-ness'
Let steaks cook in oven for 5 minutes for rare, 7 minutes for medium rare, or 8-9 minutes for medium. (note: this is a general guideline. Every oven cooks differently, altitude matters as does what kind of pan you use. Your time may vary, but once you figure out what works in your oven, you'll have it mastered!)

(optional) While steaks are in oven, make chive butter sauce by using a fork to mash butter (or ghee) with garlic and chives

When steaks are ready, remove from oven, plate and top with chive butter sauce. Let rest for 5 minutes to redistribute juices. (note: steaks continue to cook while resting, so trust the process and try not to cut into steak to check 'doneness'. Serve!
MAY I PLEASE ASK A FAVOR?
We small bloggers need all the help we can get. Subscribing and sharing on social media is very appreciated!