This is a meal my family begs for. They love it! And so do I. They love it because it's light, lemony and the chicken is oh so tender. I love it because it takes about 15 minutes to prep and cooks in 15 minutes! Yep, basically this Easy Chicken Piccata is prepped and cooked in 30 minutes or less!
(This post contains affiliate links, I may make a commission from sales, your price remains the same)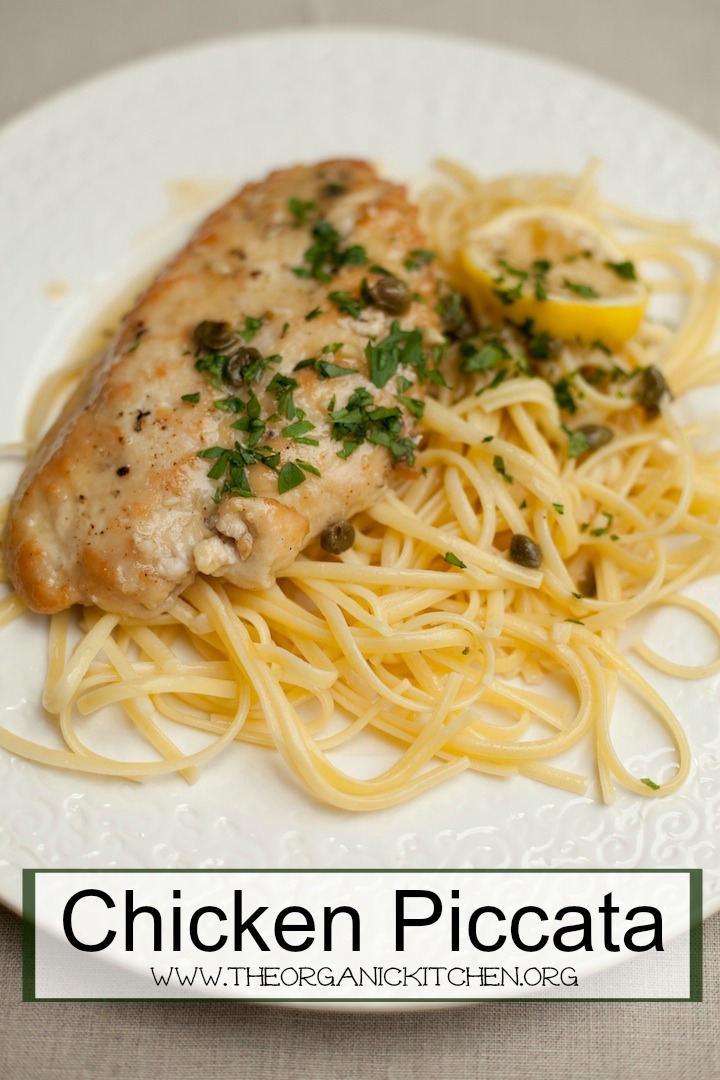 How to Make Chicken Piccata
1. Make the Cutlets:
Chicken Piccata is made with a chicken breast prepared as a cutlet. Some stores carry prepared cutlets. To make your own, slice the breast so it is half as thick as it was, place between plastic or parchment and pound with a rolling pin.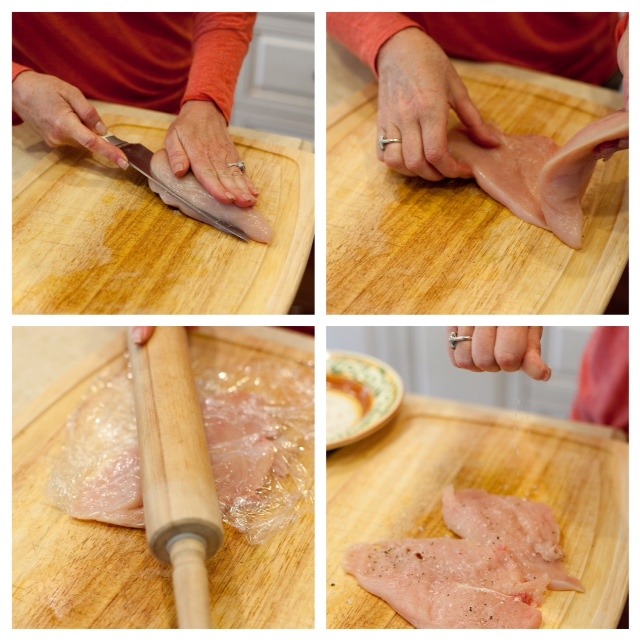 2: Season, Dredge and Cook!
Sprinkle lightly with Maldon flaked sea salt, a little freshly ground pepper and then dredge with flour. I love my battery operated pepper mill because I can grind pepper with one hand which is important when handling raw chicken! Then brown chicken and make a sauce of butter, lemon juice, chicken stock and white wine. It looks fancy, but anyone cam make it, even a novice in the kitchen! It should be part of every home cook's repertoire.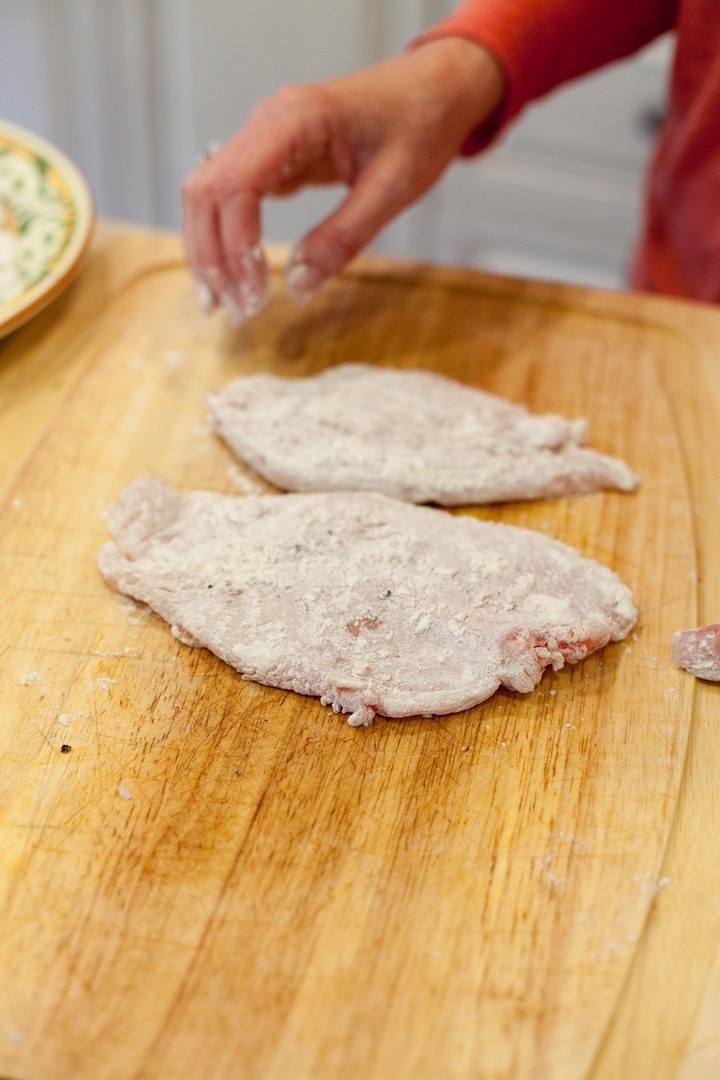 Garnish!
Lastly, we add the garnish, fresh parsley and salty capers!

Pasta Cooking Tips:
When cooking pasta there are only a few things to remember.
Follow pasta box cooking instructions, they usually are right on.
Salt the water for flavor.
To keep pasta from sticking be sure to have lots of water in your pot, at least several inches above the pasta and stir frequently. Putting oil in the water does not keep pasta from sticking. You have heard the saying oil and water don't mix right? Well it's true, oil just floats on top of the water having no effect on the pasta.
After pasta is cooked, strain in a colander (do not rinse) and then drizzle with olive oil and toss to prevent sticking.
MAKING THIS MEAL GLUTEN FREE AND JUST AS GOOD!
If you live without gluten you don't have to miss out on exceptional pasta! Jovial Foods makes the best gluten free pasta and flours around. I am lucky enough to live by a store that carries it, but if you aren't you can order it here!
The Recipe: Chicken Piccata
What you will need: a good knife (my favorite) and a good pan.
Chicken Piccata
A light lemony chicken and pasta dish! Can serve 2-4 depending on appetites.
Keyword:
easy dinner recipe, easy pasta recipe, kid-friendly recipes
Ingredients
16

ounces

pasta, cooked according to package instructions

2

organic chicken breasts made into four cutlets

.

sea salt and pepper to taste

1

cup

flour (we use Jovial gluten free)

2

Tablespoon

extra virgin olive oil

1/3

Cup

white wine

2

cloves

garlic, peeled and minced

2/3

Cup

chicken broth

1

lemon, juice one half, slice other half

1

Tablespoon

capers, drained of water

3

Tablespoons

butter

2

Tablespoons

Chopped fresh parsley, for garnish
Instructions
If using pasta, start a large pot of water and bring to a boil, cook pasta according to package directions. While waiting for water, prepare all ingredients
To make cutlets:
Cut a chicken breast in half so it is half as thick as it was (they don't have to be perfect so no worries if one half is a little thicker than the other) then place between plastic wrap or parchment paper and pound with a rolling pin till chicken is about 1/4 inch thin.

Sprinkle each cutlet, front and back, lightly with our sea salt and a little freshly ground pepper and then dredge with flour. Set aside.

(just a reminder to start pasta when water is boiling:)

Place a large pan on med/high heat, add olive oil to coat bottom of pan

When pan and oil are hot, add cutlets.

Sauté for 3 minutes or until golden in color, turn and cook other side for 3 minutes.

Remove chicken from pan, place on a plate and cover (they do not need to be cooked through)

Turn heat off. Add wine to pan.

Turn heat back on to medium, bring wine to simmer and scrape pan with rubber spatula to loosen any browning and chicken bits.

When wine simmers, add minced garlic.

Simmer for about two minutes, being careful not to burn the garlic, then add broth, butter, lemon juice, lemon slices and capers, stir

Return to simmer and add cutlets to pan. Cook for a minute or two on each side. (do not overcook).

Check chicken to be sure it is cooked through.

When pasta is al dente, pour into a colander (do not rinse) drizzle with a little olive oil and toss.

To plate: place pasta on each dish, top with chicken and sauce.

Garnish with parsley and serve.
I hope your family loves this recipe as much as we do! ~ Linda Spiker
We small bloggers need all the help we can get. Subscribing and sharing on social media is very appreciated! 
All photos and recipes are copyrighted by Linda Spiker.