Special occasions need to be celebrated. And there is no occasion more special than welcoming a new baby into the world!
I recently threw my daughter a baby shower. The party was lovely. We had perfect weather, delightful company, delicious food, and the drinks were festive, colorful and refreshing! I call this 'The Citrus Sparkler'. It is the quintessential non alcoholic party drink: bubbly, cold, sweet, and take a look at that color!
This post is sponsored by Reeds Inc.
How to Make a Citrus Sparkler!
These beautiful sparkling drinks are made with only three ingredients: Sonoma Sparklers, sorbet, and fruit for a garnish. It's that simple. Sonoma Sparklers are refreshing, non-alcoholic, sparkling juices with champagne qualities and a light, crisp taste! You can find Sonoma Sparklers at Rite Aid locations Nationwide.
Our party was held in mid February. In California that means the end of winter and the beginning of spring. So I chose two flavor combinations: a spring Citrus Sparkler made with Sonoma Sparkler's Organic Sparkling Lemonade and Raspberry Sorbet and a winter combination of Blood Orange Sonoma Sparkler and Pomegranate Sorbet! I offer more suggestions below so you are covered no matter time of year you throw a party.
Simply spoon sorbet into glasses.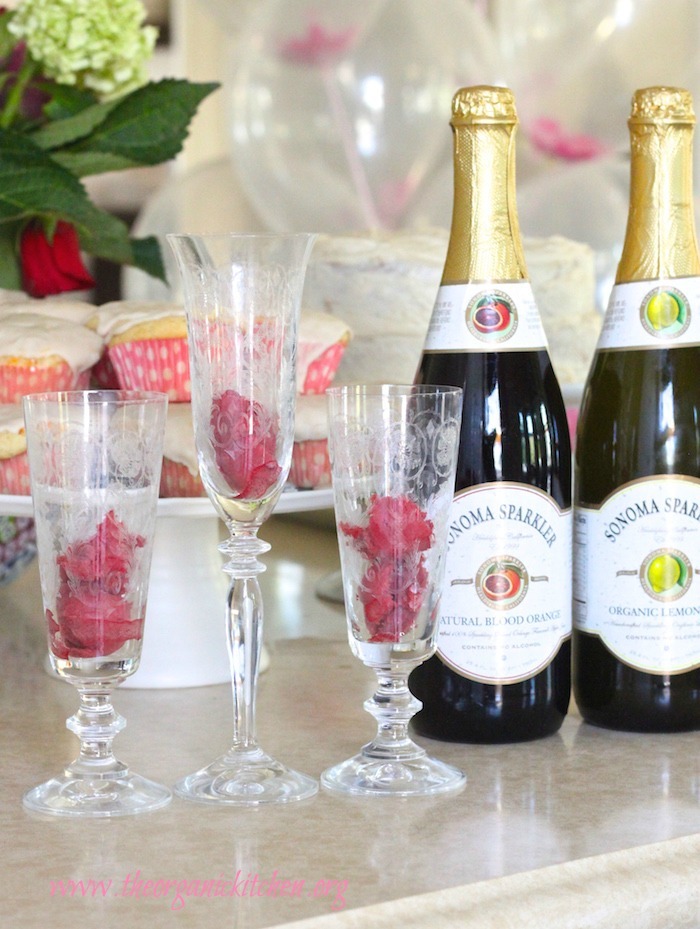 Then pour the sparkling drink over the sorbet!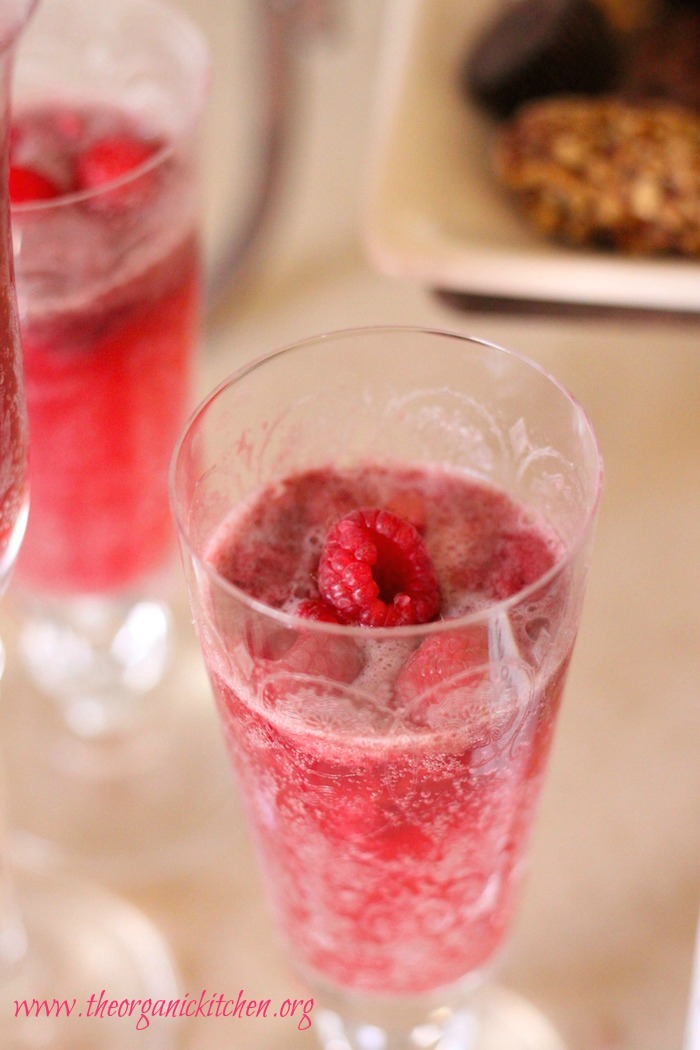 Garnish with fresh or frozen fruit and you have a gorgeous party drink everyone will enjoy!
Sonoma Sparklers are spectacular served straight out of the elegant bottle too.
The Recipes: Citrus Sparklers and Pomegranate Sorbet
Tips, variations and what you will need: You will need a sparkling lemonade and a good quality blood orange sparkling drink. I use Sonoma Sparklers. You can find Sonoma Sparklers at Rite Aid locations Nationwide. Be sure to use a great quality sorbet. Pomegranate sorbet can be tricky to find, so I included a homemade recipe below. Variations: in summer how about combining the Natural Peach Sparkler with Peach Sorbet with fresh sliced strawberries as a garnish? Or the Natural Pear Sparkler with Pineapple Sorbet…the possibilities are delicious!
The Citrus Sparkler!
Two refreshing delicious sparkling party drinks. Non alcoholic. Use a great quality raspberry sorbet. Pomegranate sorbet is harder to find so I include a recipe below. Serve the Sparkling Raspberry Lemonade in spring, summer and early fall. Serve the Blood Orange Sparkler in late fall and winter.
Homemade Pomegranate Sorbet
Tips and what you will need: Because Pomegranate sorbet is a little tricky to find I am including an easy to make recipe. I use this Cuisinart Ice Cream Maker and love it. Sorbet in 20 -25 minutes!
Homemade Pomegranate Sorbet!
Serve alone or use in a Citrus Sparkler! By using castor or 'baker's' sugar you eliminate the need to make a simple syrup. I love a time saver!
Keyword:
easy dessert recipe, kid-friendly recipes, summer recipe
Ingredients
3

cups

cold pomegranate juice

1/2

cup

baker's or castor sugar

super fine sugar

juice of one lemon
Instructions
Whisk ingredients together and then pour onto ice cream maker. Allow to churn until sorbet thickens. Serve!
If you are looking for a less formal party drink try the absolute best Root Beer Float served in chocolate dipped mason jars! Click to see view the entire Baby Shower menu. May life offer plenty of opportunities to celebrate! ~ Linda Spiker
MAY I PLEASE ASK A LITTLE FAVOR?
We small bloggers need all the help we can get. Subscribing and sharing on social media is very appreciated! 
Post tags: Gluten free, grain free, dairy free