I know, I am a food blogger not an interior design blogger. But after sharing my Mini Kitchen Makeover that snowballed into a not so mini makeover, I felt I should follow up. That snowball continues to roll three years later, right into the breakfast nook and living room. WHICH in all fairness are connected to the kitchen…which explains that it is not at all my fault this project keeps expanding. That's my story and I'm sticking to it.
(This post is sponsored by The Shade Store)

After 15 Years The Gold/Tan Walls Are Gone!
After 15 years of having gold/tan paint on the walls of our house we were ready for a change. We wanted to shift toward the cooler tones that are so popular right now but because the kitchen, breakfast nook and living room are all connected the challenge here was finding a color we loved that still worked with our warm kitchen counter tops. It only took 497,003 trips to the paint store to find the perfect color.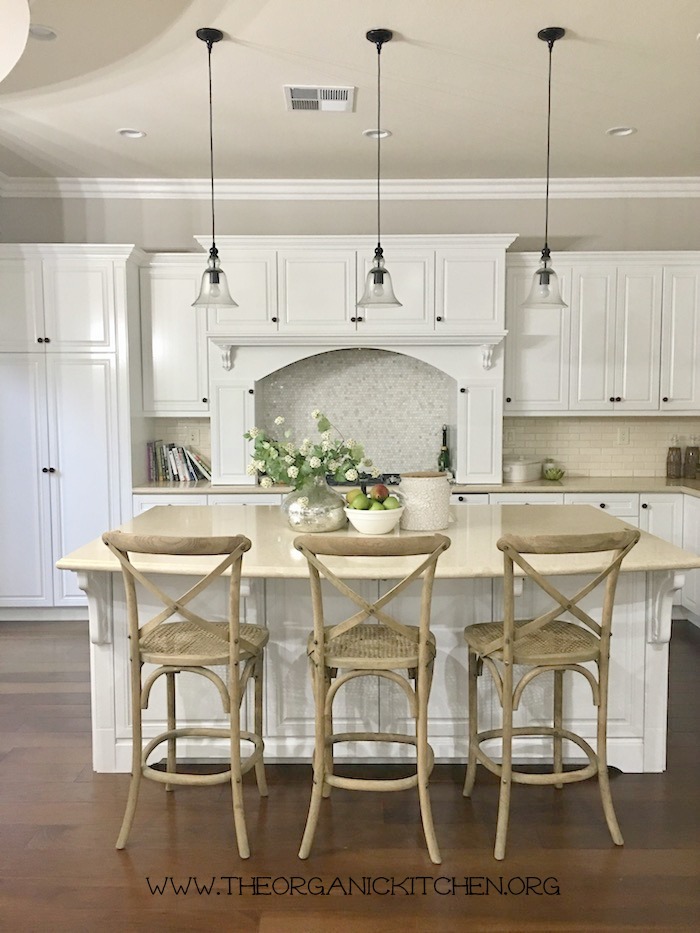 Fifty Shades Of "Greige"
Ok, 497,003 trips might be a little bit of an exaggeration but I did come home with at least 50 shades of 'greige' (that's a combo of gray and beige) and only one hit the nail on the head: Edgecomb Gray by Benjamin Moore. It is the perfect neutral! While most of the grays I tested on the walls fought with the counters, this one did not. And it had that super soft, serene feel that we were looking for. We painted this color in the kitchen, living room, breakfast nook and hallways and couldn't be happier with the change!
Let's Talk Window Treatments:
I wanted something casual, functional and understated for the windows. I headed to The Shade Store in Pasadena. They have a fantastic selection of fabrics and are super helpful. They come out to your home to measure the windows, answer all your questions, have a two week turnaround (so fast!) and install for you. I chose a classic Roman shade in a gray Diane Von Furstenberg floral for the living room and an off white woven for the nook. I love them both.
The Art: Always the Biggest Challenge For Me!
Let's face it, choosing art is difficult, at least for me. The space above my sofa is rather large and the ceilings are ten feet high, so I had to get something that filled the space, worked with the room and the color palette. I searched. For two months I searched. Everything I came home with either didn't fit the space, didn't work with the colors or I just plain didn't love it. Then I emailed my artist friend Jody Hewitt! She is an artist that works with bees wax and pigment to create the most beautiful and interesting pieces! She custom made these four pieces just for my room and I LOVE them. She also has ready to go pieces in her Etsy shop!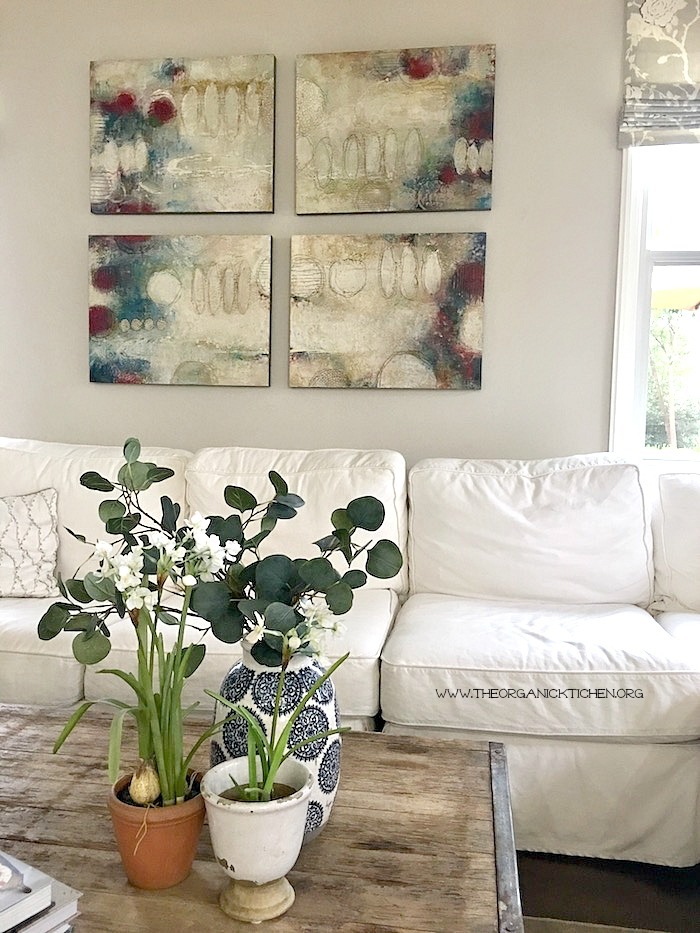 The Rug: One of My Favorite Elements of the Room
I am in love with Loloi area rug. It is excellent quality and because it's a significant purchase I bought it through Monger.com. Monger is a very interesting company. Monger applies 40% of the cost of your purchase toward a student loan of your choice allowing you to pay down your debt while you shop! Yep, get what you want and pay down your debt. Win/win!
I feel like the room came together beautifully. It is comfortable, tranquil and functional. The colors, the window treatments, the art, and the wall color all work so well together and the best part? No more gold!
MAY I PLEASE ASK A FAVOR?
We small bloggers need all the help we can get. Subscribing and sharing on social media is very appreciated!