Did you know that food sensitivities can cause inflammation which can result in aches, pains, joint swelling, puffiness, headaches, sinus pressure, fatigue, mood swings, irritability and more? That's right, food sensitivities aren't just about the belly, in fact many people with food sensitivities don't experience belly problems. I am one of those people!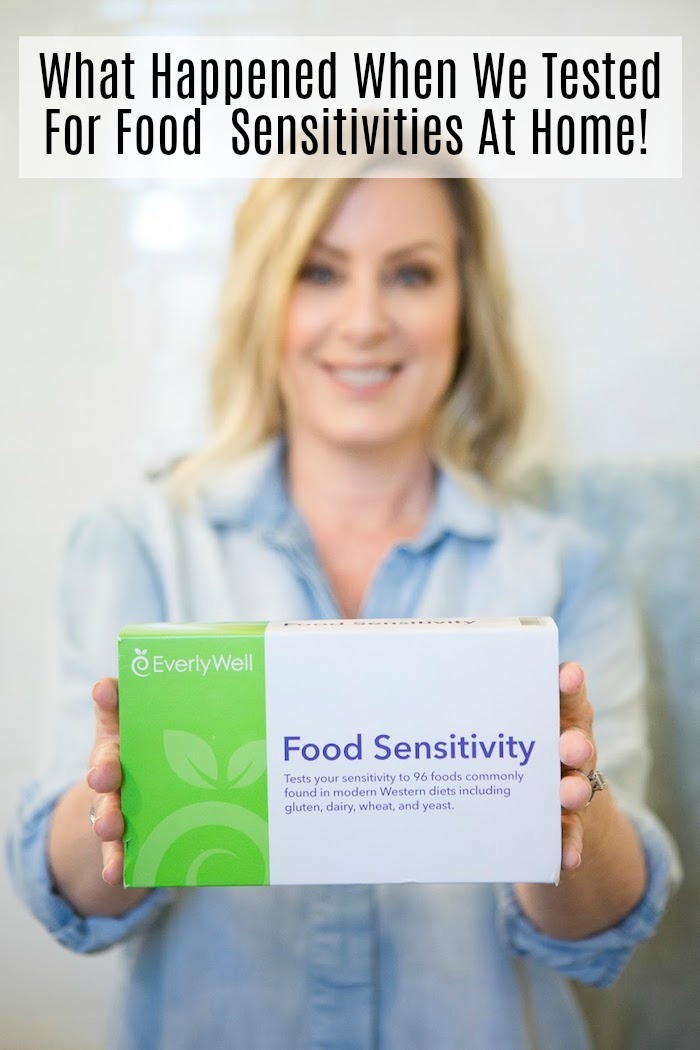 It used to be to that if you suspected you had a food sensitivity you had to make a doctor appointment, schedule blood work, wait for results and then interpret those results. Those days are over thanks to EverlyWell Home Health Testing. EverlyWell sent me a free kit to test my food sensitivites and I bought additional kits for two of my adult children. I was super excited to see the results, I thought I knew what foods were causing our issues, but we had some surprises! Get 12% off EverlyWell's At-Home Health Tests using code EVERLY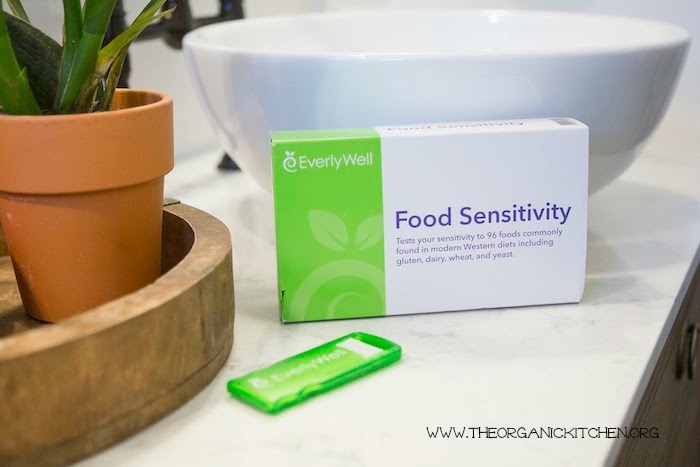 What is Food Sensitivity Testing?
Do you ever feel like you may have certain symptoms related to foods, such as headaches, stomach pain, joint pain, fatigue, or just in general just don't feel well? Do you feel you may want to try eliminating possible triggers, but you are not sure where to start?
The EverlyWell Food Sensitivity test measures your body's IgG immune response to 96 foods that are commonly found in western diets.
One of the tricky parts about figuring out inflammation triggers, is that it's very difficult to know where to begin. Foods need to be eliminated for a long time and then reintroduced one at a time with at least three days in between reintroductions. That takes time, organization and discipline! Plus you will probably only eliminate the most common inflammation triggers like soy, wheat, dairy etc…With EverlyWell Home Health Testing rather than randomly eliminating foods over many months and assessing your change in symptoms, you can have a directed elimination plan. An antibody IgG immune response can offer guidance on what foods may be the best to eliminate.
Food can trigger an immune response which may manifest itself in physical symptoms such as:
Dry and itchy skin
Other miscellaneous skin problems
Food intolerance
Feeling bloated after eating
Fatigue
Joint pain
Migraines
Headaches
Gastrointestinal (GI) distress
Stomach pain
Why Test at Home?
Food sensitivities don't just make you feel unwell, they trigger inflammation which can lead to disease. If you don't know what foods trigger that inflammation it's hard to avoid them. The convenience of home testing can't be beat and it's so simple to do. Your kit comes in the mail, you prick your finger, let five drops of blood free fall onto a card provided for your use, seal into a packet and ship to the lab in the regular ol' US mail. EverlyWellwill contact you by email when the kit arrives at the lab and about a week later you have your results!
Get 12% off EverlyWell's At-Home Health Tests using code EVERLY
Your test results are easy-to-read and include actionable insights to improve your wellness. Your results will always be available to you online via your secure EverlyWell dashboard. Never worry about hounding the lab or doctor's office for your results again.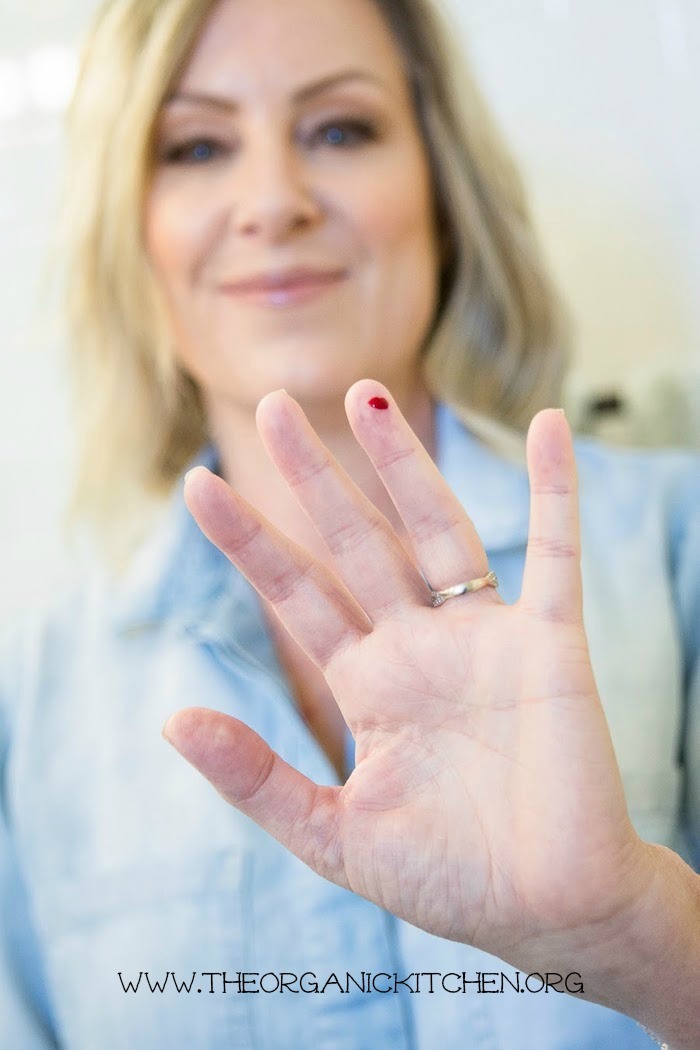 All of the  EverlyWell laboratory partners are certified by the Clinical Laboratory Improvement Amendments (CLIA) and many have additional accreditations. EverlyWell  works with a physician network to ensure that your test requisition is authorized by a board certified physician in your state and that your results are reviewed and released by a physician prior to you receiving them. Get 12% off EverlyWell's At-Home Health Tests using code EVERLY
So What Were Our Results?
Three members of our family took the test; me, my 25 year old son Luke and his wife. Both my son and his wife had health issues related to food: many belly problems, eczema, fatigue etc. but they just weren't sure what to avoid. I, on the other hand have very few belly problems but know I am sensitive to dairy because whenever I eat more than moderate amounts I get sinus headaches. That said, we all had some surprises. The test results are divided into 'high reactivity', 'moderate reactivity', 'mild reactivity' and 'low reactivity'. Luke and his wife had some 'high reactivity' some 'moderate' and a laundry list mild reactivity! I am just posting the highest two because these are the most important foods for them to avoid:
Luke and Brooke's Results:
I am sharing a combination of their results, because it would have just been too long to post all of them. This is Brooke's "High Reactivity" result. Luke had high reactivity to mozzarella cheese.
This is Luke's "moderate"  results, but sadly both he and Brooke had reactions to eggs, gluten and barley, she had the addition of kelp, black walnut and green peas.

Here Are My Results!
Fortunately, I faired better than my son and his wife in that I had no 'high reactivity' but did have way more 'moderate reactivity' and 'mild' than I expected! The dairy was not a surprise of course, but what is great about this test is it showed me specifically what dairy to avoid! Before I avoided all dairy, now I know which I can eat and which to avoid. I am so happy about that! The gluten and wheat were not really surprising either, but the yeasts and malt, were a surprise. Fortunately by avoiding wheat, I also avoid a lot of gluten and yeast. The real surprises came on the 'mild list', take a look…
Holy Moly!
Kale? Ginger? Almonds? Pineapple? Those things are 'supposed' to fight inflammation, not cause it! And that is why blood work is so important. I never would have known that kale and ginger were things I react to. Not to mention white potatoes, walnuts, and pineapple! Now you might say, "well you only have moderate and mild reactivity to these things", but if I eat many of these foods frequently (and I do, almost daily!) it's enough to cause me inflammation (hello headaches, stiff joints and afternoon energy slump!)
So Now What?
Now we move forward with knowledge, and knowledge is power! No more wondering why I feel like crap I mean unwell on days I eat wheat and dairy. No more adding ginger and kale to my smoothies, and now that I know white potatoes are triggers for me I will gladly stick to sweet potatoes! I hope you learned something today, I know I did. This experience has been so enlightening and even though I have done elimination diets I would never have been able to figure all this out, and it was so easy! If you are interested please take advantage of this offer while it lasts:  Get 12% off EverlyWell's At-Home Health Tests using code EVERLY
Note:  this test is not a food allergy test, which measures severe allergies that can be life threatening conditions. Food allergy tests measure IgE antibodies and can't be currently taken at home. This test also cannot diagnose Celiac Disease.
MAY I PLEASE ASK A FAVOR?
We small bloggers need all the help we can get. Subscribing and sharing on social media is very appreciated!