There is nothing like a homemade pizza and I love mine loaded with veggies. The Organic Kitchen's Grilled Veggie Pizza is a vegetable lover's delight!
(This post contains affiliate links from which I may make a commission. Your price remains the same.)
Before We Talk Pizza, Let's Talk Dough:
For this recipe you can use my home made dough. I highly recommend it. But you may also use store bought fresh dough. Whole Foods market and Trader Joe's both sell fresh dough, so feel free to take the short cut if you wish!
THE TOOLS:
There are a few items that make pizza making a whole lot easier: a rolling pin, a ceramic pizza stone, a pizza paddle, corn meal and a pizza slicer. (affiliate links)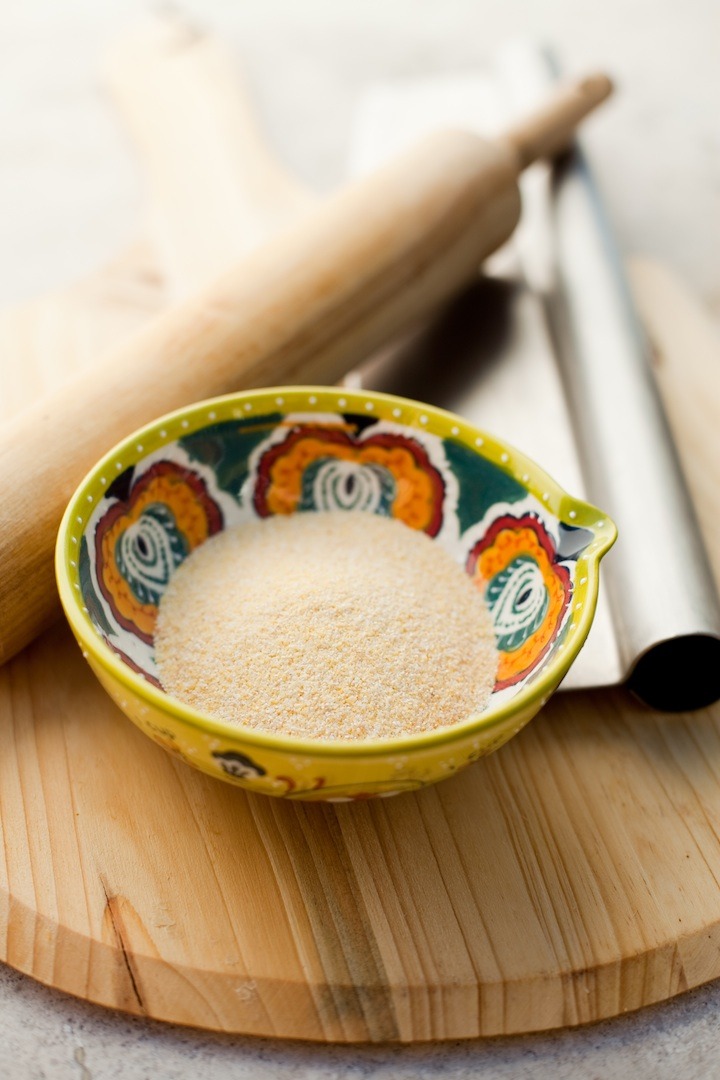 Why corn meal you ask?
Good question! Once your dough is rolled you sprinkle cornmeal on top of the paddle for easy transfer of dough onto the pizza stone. Placing a layer of corn meal on the paddle allows your pizza to slide right onto the stone with a little back and forth motion.. If you forget this step you will be very sorry!
Now the fun begins! Pizza Making:
After choosing your dough, we roll! Then top with you favorite pizza sauce and cheese…
…and then add the grilled veggies!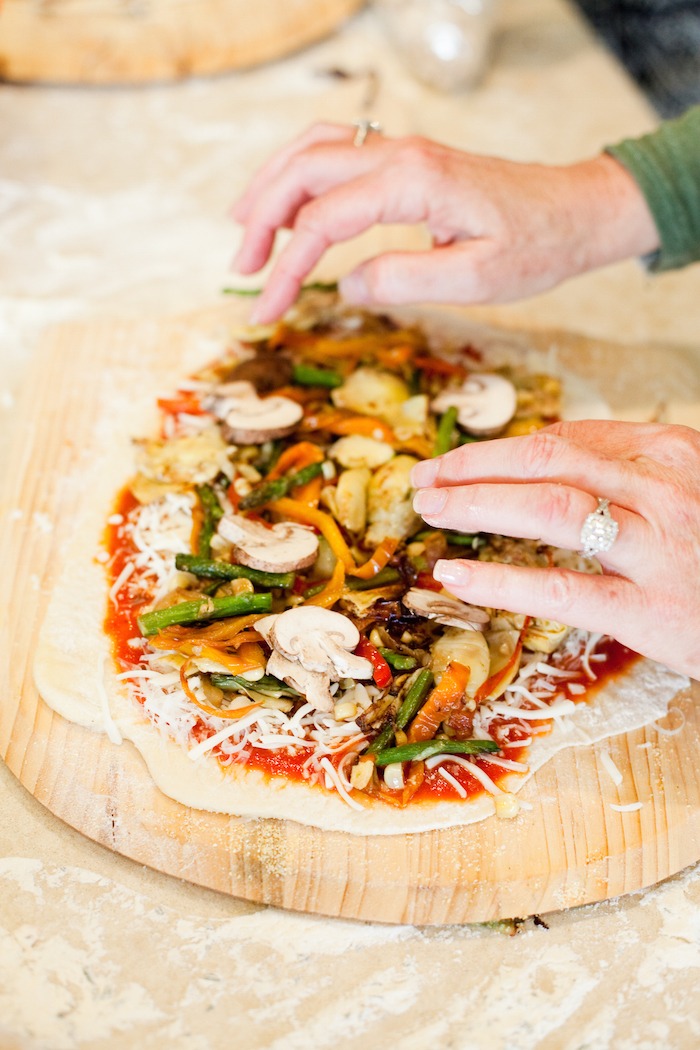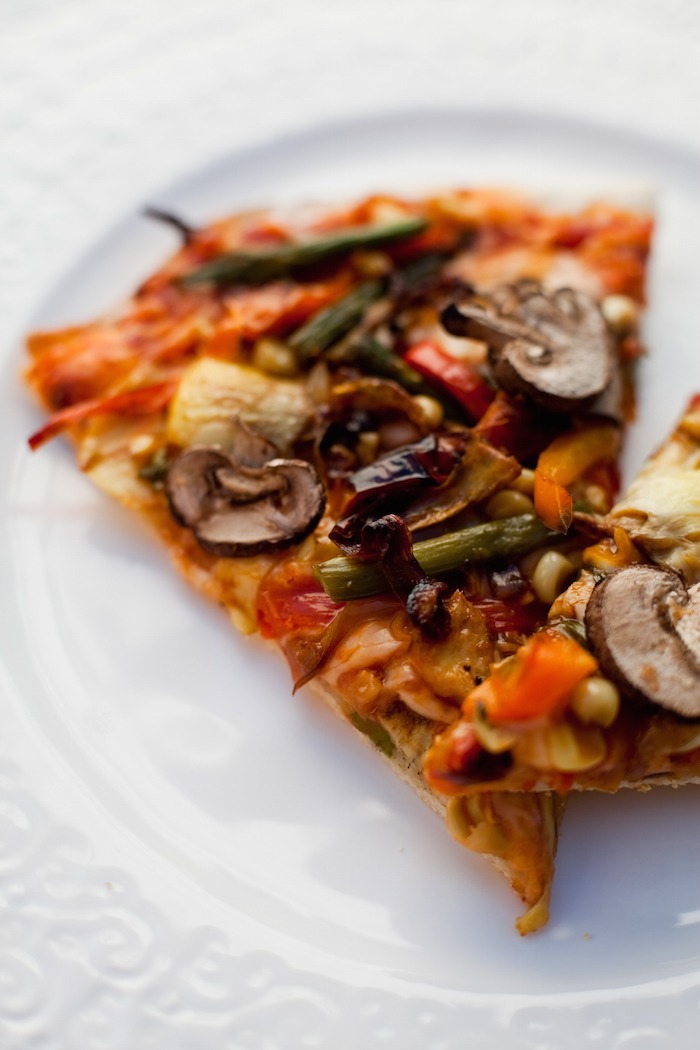 The Recipe: Grilled Veggie Pizza
Tips: There are a few things you need for really great pizza, a rolling pin, a ceramic pizza stone, a pizza paddle, corn meal and a pizza slicer. (affiliate links)
Homemade Grilled Veggie Pizza
Once dough is ready, top with grilled veggies, tomato sauce and cheese!
Keyword:
easy dinner recipe, kid-friendly recipes, party recipe
Ingredients
Enough pizza dough for 2 nine inch pizzas (see recipe linked above for homemade dough)

¾-1

cup

of your favorite tomato sauce

1

cup

good quality mozzarella cheese

1

zucchini

diced

1

large shallot

thinly sliced

Corn kernals

removed from one fresh cob

½

orange bell pepper

thinly sliced

6

asparagus spears

cut into 1 inch pieces

6

artichoke hearts cut in half

packed in water or frozen and thawed, quartered

1-2

mushrooms

thinly sliced

Sea salt and freshly ground pepper

to taste

Parmesan cheese

freshly grated with a microplane (affiliate link)

corn meal, for transferring pizza from paddle to stone)
Instructions
Remove prepared pizza dough from the refrigerator and place on counter for 30 minutes before using and place pizza stone in cold oven with oven rack in bottom position. Turn heat to 450 degrees and allow stone to heat for at least a half hour before placing dough on stone.
Prep all ingredients.
Add 2 T olive oil to large frying pan on med heat.

Add shallot and bell pepper. Saute for 5 minutes, stirring occasionally.

Turn heat to med/high and add asparagus spears artichoke hearts (if packed in water, place between two paper towels and press out excess water)

Saute for 3 more minutes, then add corn. Stir and continue cooking till edges of vegetables turn brown, lightly salt and pepper. Turn off heat.
Pizza prep:
Remember the dough recipe above makes two 9" pizzas so use half the ingredients on each pizza.

Roll out pizza dough on floured surface, the shape doesn't need to be perfect.

Spread a thin layer of corn meal on paddle. Place dough on pizza paddle.

Spread a thin layer of tomato sauce on dough. Sprinkle with a layer of Parmesan cheese then a layer of mozzarella cheese, add grilled veggies, bake on preheated pizza stone for 9 minutes.

To transfer dough onto stone: Place tip of paddle toward the back of the pizza stone. Then use sort of a jerky back and forth motion to slide the pizza off paddle and onto the stone. This can take a little finesse, but you'll get it.

Use pizza paddle to remove, allow to rest for one minute, slice and serve.
MAY I PLEASE ASK A FAVOR?
We small bloggers need all the help we can get. Subscribing and sharing on social media is very appreciated!
Post tags: Main course, vegetarian,