I am in heaven. I just made a big batch of these Whole 30 Potato Wedges with Ranch Dressing and it felt like such a delicious, decadent treat! Crispy home fries dipped in yummy, creamy, herby ranch…life is good!
(This post contains affiliate links. I may make a commission from sales but your price remains the same.)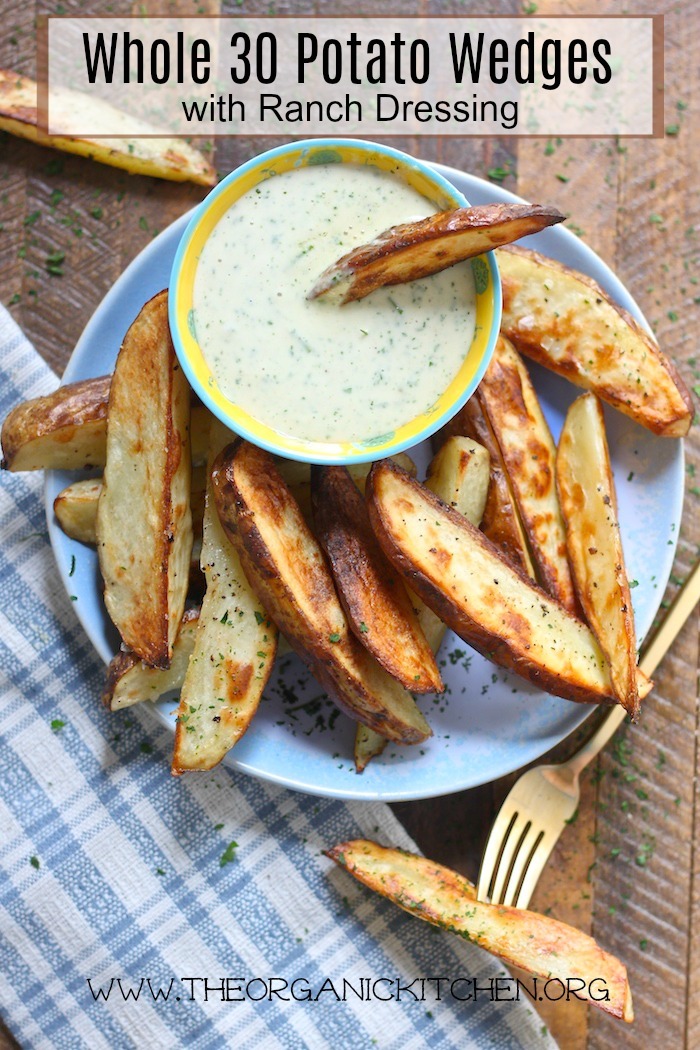 Ummmm…Those Crispy Whole 30 Potato Wedges with Ranch Dressing!
I used medium size russet potatoes for this photo, and they are my husband's favorite. BUT I frequently use sweet potatoes because they are my favorite. A combination of sweet and white keeps us both happy! These fries are so easy to make, simply: cut potatoes into wedges, drizzle with olive oil, sprinkle with sea salt and pepper and roast in the oven. The key to getting crispy taters is a really hot oven and placing close to the heating element. Crispy perfection!
That Creamy Ranch- homemade or store bought, it's up to you!
Who doesn't love ranch dressing on a salad or for dipping? Unfortunately most store bought brands are loaded with crap artificial colors, flavors, fillers, preservatives etc…we can't put that into our bodies! I have a homemade version that is delicious and can be made quickly. The creamy texture comes from soaked cashews blended with water. If you eat dairy, you can use straight up buttermilk. Either way, this ranch is totally 'dip worthy'! That said, if you prefer to use a store bought ranch there are healthy options: I love Tessemae's or Primal Kitchen's Ranch Dressing and Primal Kitchen's Ranch Dressing's, both are Paleo and Whole 30 approved.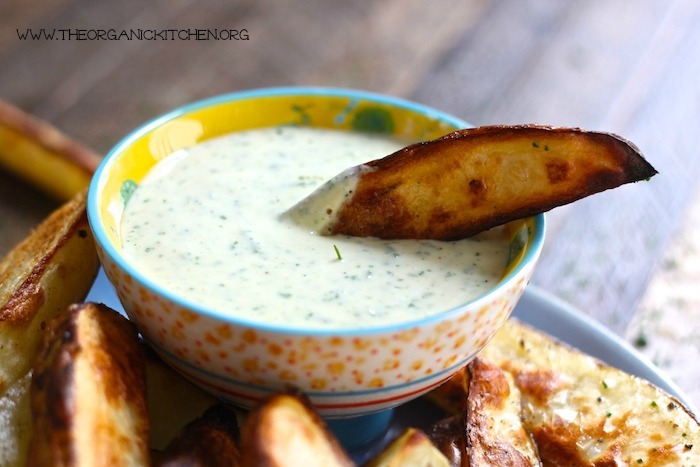 How to Make the Ranch from Scratch:
I start by making a mayonnaise base. It's really easy but it is important to follow all the directions I give you in the recipe. Skipping any of them can cause your mayo to not set up. It's happened to me and it's a bummer. I know some people have success using a regular blender to make mayo, I do not. I use an immersion blender. So here is how it's done:
Place room temp egg, lemon juice and extra light olive oil or avocado oil into a jar with a wide enough opening for an immersion blender to fit in.
Keep the blender at the bottom of the jar and whirl. Immediately you will see the oil and egg thicken up…it's mayo magic! Once it's 'set' you can move the blender up a down a couple of times to mix in the oil at the top.
Then add the cashew cream, herbs and spices and voila! Homemade dairy free ranch that is both Whole 30 and Paleo compliant!
Who knew, right?
Whenever I show someone how quick and easy it is to make homemade mayo/ranch, their jaws drop. And homemade dressing is made with healthy fats, fresh herbs and flavorful spices. Of course you can adjust the seasonings to your liking.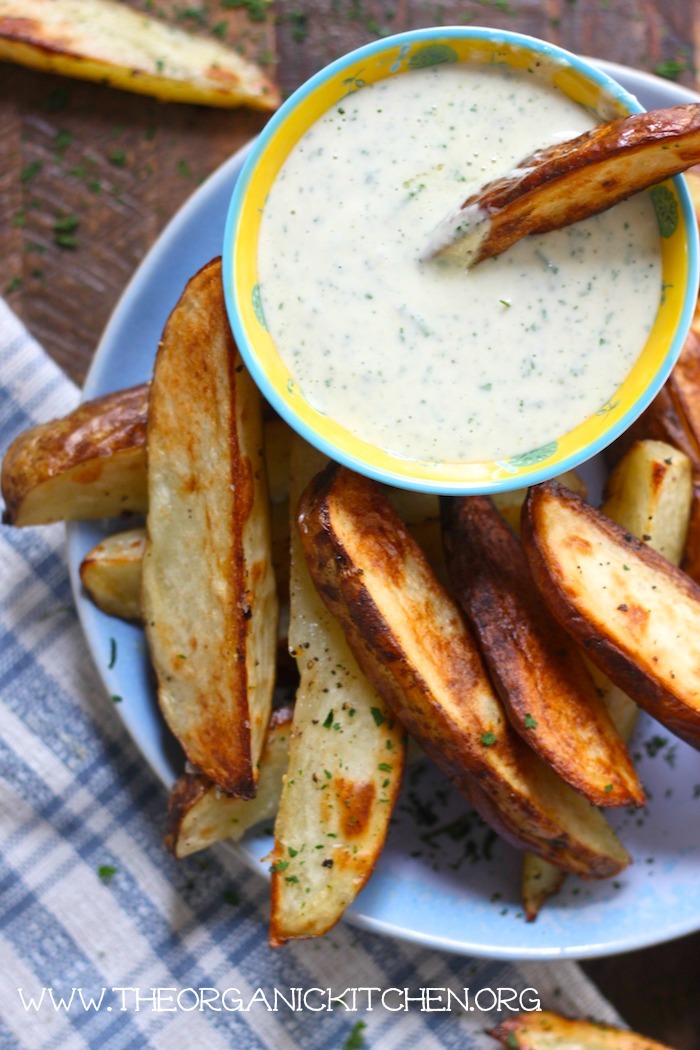 The Recipe: Whole 30 Potato Wedges with Ranch Dressing!
What you need: a rimmed cookie sheet, unbleached parchment paper, and if you're making your own ranch dressing you'll need an immersion blender and a good knife! This recipe is Whole 30 and gluten and dairy free.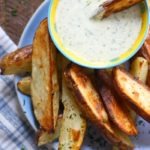 Whole 30 Potato Wedges with Ranch Dressing!
These delicious 'fries' will have you swooning ! Especially when dipped in my homemade ranch dressing.
Keyword:
easy side dish recipe, kid-friendly recipes, whole30 recipes
Ingredients
Allow 3-4 hours to soak cashews to make cashew cream*

I usually soak them the night before.

For cashew cream

if not living dairy free you can skip this step and use buttermilk

1/2

cup

raw cashews

1/2

cup

filtered water
For Potatoes:
4

medium russet or orange sweet potatoes

or a combination of the two (as oval and uniform looking as you can find)

2

Tablespoons

ish olive oil

sea salt and pepper

to taste
Ranch Dressing Ingredients:
1

cup 

light olive oil or avocado oil

2

large

eggs

the second is back up ( both eggs need to be room temp, very important!)

Juice of half a lemon

room temp

1/2

cup

cashew cream

If you aren't on W30 you could use buttermilk

2

tablespoons

cilantro

chopped

2

tablespoons

chives

chopped

3/4

teaspoon

sea salt

1/2

teaspoon

freshly ground black pepper

1 1/4

teaspoon

onion powder

1 1/4

teaspoon

garlic powder
Instructions
Cashew Cream:
Bring 1 cup water to boil, turn off heat and pour 1/2 cup cashews into hot water. Soak for 3-4 hours or overnight. Strain and rinse. Place into blender with a half cup of filtered water and blend until smooth. Store in fridge until ready to use (expires in 4 days)

Preheat oven to 425 degrees and place oven rack in upper third of oven. Place parchment on rimmed cookie sheet
The Potatoes:
Wash, then pat potatoes dry. Cut into wedges so the thick side (the skin side) is no more than 1/2" thick. I like to cut the potatoes in half lengthwise, then cut each half into quarters (or thirds depending on size)

Place wedges on parchment covered cookie sheet, toss in olive oil until potatoes are evenly coated. Sprinkle with sea salt and pepper to taste

Place in the preheated oven and roast for 35-40 turning once, halfway through cooking time. Remove when edges are golden and crispy.

Garnish with extra chives and cilantro for dressing if desired
While Potatoes Cook, Make the Dressing:
Place a room temp egg (have a second egg as back up) and olive in a narrow jar that is wide enough to accommodate an immersion blender. The egg must be room temp. If you forget to take the egg out of the fridge in time, you can place it in a bowl of hot water for 10 minutes to bring it to room temp.

Add the juice of half a room temp lemon.

Place an immersion blender into jar with the blender touching the bottom. Turn on immersion blender keeping it at the bottom of the dish. In about 30 seconds or less you will have mayonnaise! Stop blending. If mayo doesn't set up, use that second egg. Add it to the jar and mix again, it almost always saves the day. Add chopped herbs, spices and cashew cream (or buttermilk) and give one more quick blend to incorporate herbs and spices! Ta-da!

Place in a small dish and dip those fries to your heart's content!