Print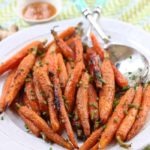 Roasted Baby Carrots with Honey and Ginger
Fresh ginger adds a little bit of zing and natural anti-inflammatory health benefits to these delicious, slightly sweet baby carrots! If you can not find genuine baby carrots, use full grown carrots, peeled and cut into 3" pieces. I love this recipe using rainbow carrots too!
Preheat oven to 425. Place rack in upper third of oven.

Mix olive oil, honey, and grated ginger in a small bowl. Toss well with baby carrots. Sprinkle with seas salt and freshly ground pepper.

Place carrots on burner grill or parchment covered cookie sheet.

Roast for 40-50 minutes or until carrots are cooked and edges are browned.