Print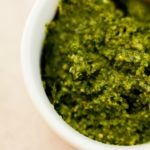 Fresh Basil Pesto!
Toss with 16 oz pasta or use on any of the recipes in this post!
2

cups

fresh basil leaves, packed

1/3

cup

extra virgin olive oil

1/3

cup

pine nuts

3

small garlic cloves, peeled

sea salt and freshly ground black pepper to taste

¼

cup

freshly shredded Parmesan cheese

toss with 16oz pasta, or use on any of the suggestions above (in blog post)
Pulse garlic in food processor. Add basil leaves, pine nuts and parmesan. Puree in processor, slowly adding olive oil till desired consistency is achieved. Add a generous pinch of sea salt and a few turns of fresh pepper, scrape down sides of processor and process again adding more olive oil if necessary. To save extra pesto, just place in a small dish, drizzle with olive oil to prevent oxidation and cover with lid or plastic. Keep in fridge for up to 5 days. This makes enough pesto for 16oz of any pasta you choose.