Fritters. It's fun to say, and fritters are fun to eat. The term fritter pretty much refers to any grated vegetable mixed with an egg, herbs and flour that is shaped into a patty and cooked until crispy and golden. These Zucchini Fritters with Lemon Ricotta (with Gluten and Grain Free Option) are a great way to use the over abundance of zucchini from your summer garden!
(This post contains affiliate links. I may make a commission from sales but your price remains the same.)
How to Make Zucchini Fritters with Lemon Ricotta (with Gluten Free Option)
Zucchini Fritters are an excellent side dish because they go with just about any main course. As always, I recommend making extra and reheating for breakfast the next day. The process of making a fritter is really simple. Start by using a food processor or box grater to grate zucchini, then allow it to "rest"…
"Resting" Makes All the Difference:
Place zucchini in a colander and toss a teaspoon of sea salt, allow to sit for ten minutes. Why so much salt?! Don't panic, the salt draws the moisture out of the zucchini, and boy does it work like a charm! BUT THEN we lose a lot of that salt when we either press between paper towels or wring in a clean cloth till excess moisture is gone. This is an important step as it will prevent your fritter from being soggy. Because no one likes a soggy fritter! After removing the excess water, you simply mix with eggs, herbs and your choice of flour, form into patties and fry in butter or olive olive. I like a cast iron pan for this job. (affiliate link)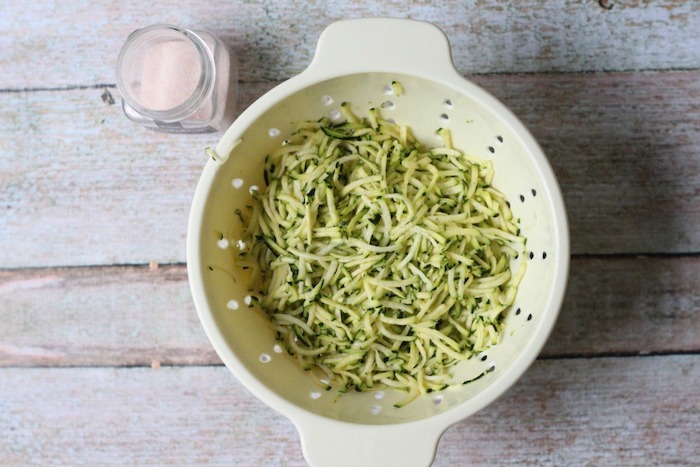 The Lemon Ricotta Topping:
You can serve as is, or top with a mixture of ricotta and lemon zest. I use a microplane (affiliate link) for this job. Always scrape just until the white is exposed and move to a new area. I love this job because the zest smells heavenly.
When fritters are crispy and brown, top with ricotta and serve!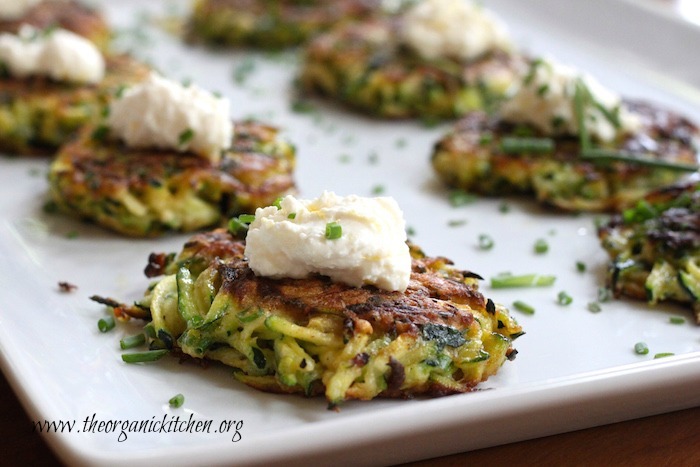 MAKING This Recipe GLUTEN or Grain FREE AND JUST AS GOOD!
Not all gluten free flours are created equal. I recommend Jovial Gluten Free Pastry Flour for GF baking. The grains aren't just gluten free, they are soaked for easier digestion! If you prefer a grain free option I recommend Otto's Cassava Flour. Cassava flour looks like flour made from wheat, it cooks like flour made from wheat and holds together like flour made from wheat but it is completely grain and nut free! Cassava flour is made from 100% yuca root and is the best option I have run across for people that need to avoid gluten and grains!
Want more zucchini recipes?
Try these Zoodles with Almond Pesto and/or Easy Zucchini and Corn Grilled Naan Pizza!
The Recipe: Zucchini Fritters with Lemon Ricotta
You will need: A food processor or box grater to grate zucchini. I use microplane to zest the lemon.
Zucchini Fritters with Lemon Ricotta (Gluten Free Option)
An easy and healthy side dish. Always save extra for the next days breakfast. Just reheat in pan and serve with eggs!
Keyword:
easy breakfast recipe, easy side dish recipe
Ingredients
3

large zucchini, grated (about 5ish cups, doesn't have to be spot on)

1

teaspoon

sea salt

1

large egg

1/4

cup

Flour of your choice (see gluten and grain free options above)

1

tablespoon

arrowroot powder or cornstarch

1/2

teaspoon

freshly ground pepper

4

Tablespoons

chives, chopped and divided

zest of one small lemon

3

tablespoon

butter or olive olive oil
Lemon Ricotta Topping (optional):
1/2

cup

whole fat ricotta

zest of one small lemon
Instructions
Using a box grater or food processor, grate zucchini and place in colander. Sprinkle with sea salt and stir well. Place colander in sink and allow to sit for 10 minutes.

While zucchini sits, prepare other ingredients:

Zest the lemon. Use a fork to combine cheese and lemon zest, set aside. Whisk the egg and chop the chives

After zucchini rests, place between paper towels and squeeze out excess moisture (or wring out in a clean dish towel) The more moisture you eliminate the crispier your fritter will be, so squeeze!

Place zucchini in a large bowl.

Add egg, your choice of flour, arrowroot or cornstarch, pepper, lemon zest and 3 tablespoons of chives (reserving one 1 T for garnish). Mix well.

Take a third of a cup at a time and form into patties with hands

Heat a pan on high heat for one minute. Add 1 Tablespoon butter or olive oil, coat pan evenly. When butter or oil is very hot add zucchini patties. Turn heat to medium high.

Cook until golden brown (about 3-4 minutes) gently turn.

Cook second side until golden brown. (turn down heat if needed)

Work in batches, carefully wiping down pan between and adding more butter or oil for next batch.

Top with lemon ricotta. Garnish with remaining chives. Serve
MAY I PLEASE ASK A LITTLE FAVOR?
We small bloggers need all the help we can get. Subscribing and sharing on social media is very appreciated!