Why do I cook fish for dinner? Just for the halibut.
I know, I know… awful joke. But you didn't come here for the jokes, you came here for the food! The delicious, healthy, colorful, amazing food.
This is Lemon Butter Halibut with Zoodles and you can make this gorgeous dish in 15 minutes! Both the halibut and the zucchini noodles, or zoodles as they are called, take less than 5 minutes to cook. And the prep is about ten minutes. Super easy, no refined carbs, plenty of protein, and my favorite healthy fat, grass fed butter! (or clarified butter for my Whole 30 friends!)
To make zoodles you will need a spiralizer (affiliate link) and if you are going to get one you may as well get a cookbook (affiliate link) because once you start using a spiralizer you are going to get hooked!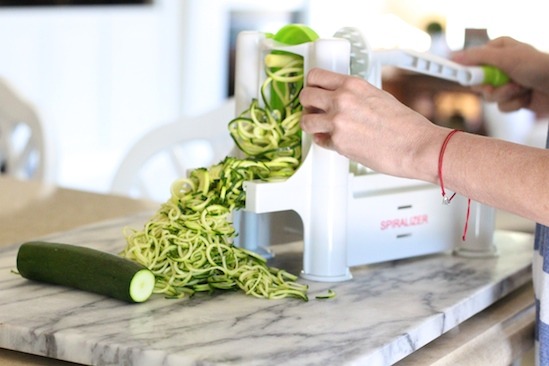 BEFORE WE GET TO THE RECIPE, LET'S TALK ABOUT BUYING FISH:
Halibut is in season from mid April to October. When it is out of season this recipe works really well using frozen halibut.
1. It's best not to buy fish wrapped in plastic. You should be able to smell the fish you are buying. I always buy mine from a fishmonger I trust. If he is handling it, cutting it etc… he will know if it's not fresh.
2. Always buy fish the day you plan on making it.
3. When selecting fish, always point to the piece you want. In stores the freshest fish is placed in the front of the window, closest to you, and the fish from the day before is placed in the back, closest to the fishmonger. So when you are looking at the fish closest to you and ask for it, he pulls it from the back. It doesn't mean there is anything wrong with that fish from the day before, it's just not the freshest…and you want the freshest!
Now that you are an astute fish buyer let's talk grilling fish:
You do not need to spray your grill with chemicals to get fish not to stick. Before turning on the grill just wipe down the rack with coconut oil (affiliate link). Coconut oil works just as well as spray without the toxins. You want to turn your grill on high heat (I use a Weber grill, affiliate link) this also keeps the fish from sticking. Once grill is about 425 degrees add fish to rack. The high heat makes the meat contract, making it less likely to stick. Fish, especially halibut, cooks very quickly and if you overcook it it will be dry. So don't overcook it. That is really all you need to know. And if you do it right it will look like this…
The Recipe: Lemon Butter Halibut and Zoodles
Tips and what you will need: sea salt, coconut oil for grill, a fish spatula for gentle turning of fish and a grill (I use a Weber grill) and by the way, we love our mini grill! We take it to the park and the beach. Affiliate links VARIATIONS: when the BBQ isn't an option you make this in the oven. See instructions in recipe below.
Lemon Butter Halibut with Zoodles
Grilled halibut and zoodles with a lemon butter sauce. Both the fish and zucchini cook really fast so have all ingredients prepped before starting any cooking. I cook the fish and zoodles at the same time since they both take 4-5 minutes to cook. If you are not a good multi-tasker, cook the fish first and then the zoodles. If you cook the zoodles first they will end up soggy. If the BBQ is not available, place pan on cooktop on med/high heat. Melt enough butter, ghee or clarified butter to cover bottom of pan, brown each side (3 minutes each side) place in oven at 350 degrees for 5 minutes!
Keyword:
easy dinner recipe, gluten-free recipe, grilling recipe
Ingredients
2

skinless halibut filets

6 oz Fresh, or frozen and thawed.

3

medium zucchini

spiralized

2

large cloves garlic

peeled and minced

4

tablespoons

clarified butter

ghee or butter

2

tablespoons

olive oil

juice of one small lemon

3

tablespoons

chives

1/2

cup

roasted pine nuts

sea salt

pepper
Instructions
Prepare all ingredients.

Wipe grill down with coconut oil, turn on high heat.

Pat fish with paper towel to absorb any extra liquid (especially if frozen)

Generously season with sea salt and freshly ground pepper.

Once the grill is at 425 degrees, turn heat down to medium, add fish. Close lid. Cook three minutes, turn fish, cook two minutes, remove from grill. (I cook the zucchini while fish is cooking.)

Place butter, olive oil, garlic and lemon juice in pan, turn on med/high heat. Saute for two minutes.

Pour half of the sauce into a small bowl, reserve for later. Add zucchini to pan and toss in butter garlic mixture. If zucchini seems a little dry add a bit more olive oil.

Add about 1/2 of the chives. Toss. Cook for 3-4 minutes, tossing here and there. Don't overcook or zoodles will get mushy.

Sprinkle with sea salt, pepper and pine nuts. Toss.

Plate zoodles and place fish on top. Spoon reserved garlic butter sauce over fish. Garnish with remaining chives.
Happy grilling my friends! ~ Linda Spiker
May I Please Ask A Favor?
We small bloggers need all the help we can get. Subscribing and sharing on social media is very appreciated!