Autumn is my favorite season…
"Autumn is a second spring when every leaf is a flower" ~ Albert Camus
I love fall. California doesn't have much of a change of seasons but this recipe for Autumn Chicken with Roasted Butternut Squash and Barley tricks my senses into thinking it does: chicken browned on the cooktop, finished in the oven and set atop a bed of barley, kale, roasted butternut squash, dried cranberries, and pecans with just a hint of cinnamon…it makes the house smell heavenly and the rich fall flavors make me want to put on boots and a sweater even though it's 78 degrees outside!
(This post contains affiliate links. I may make a commission off sales but your price remains the same.)
Fantastic! Don't you agree?
 The Chicken:
We begin with a whole organic chicken, quartered with the backbone removed. You can do it yourself or have your butcher do it. Whole Foods Market always does a great job for me. Remember to save the backbone, giblets and leftover bone scraps for making broth! Waste not, want not…(weird how my mom sometimes comes out of my fingertips as I type)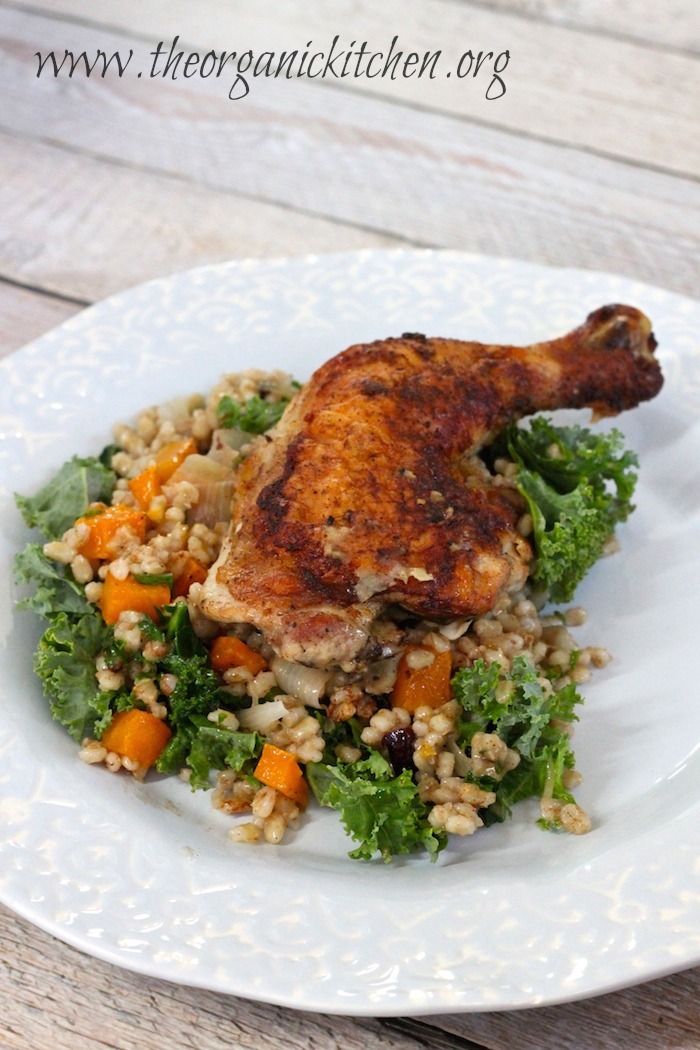 I brown the chicken in a cast iron skillet and then place it in the oven to bake. All the while the barley is cooking away on the stove. Did you know barley is a super food? It is a low glycemic grain, high in insoluble and soluble fiber and is a great source of vitamins B, E and niacin! Those of you who can not eat barley can substitute with rice. Those you living grain free can place your chicken and shallots on top of this!
 Working with Butternut Squash:
Working with butternut squash can be easy or the hardest thing you will ever do in the kitchen. It depends on the tools you use. You absolutely need a 'Y' peeler and a sharp knife. Peel, cut in half, scoop out the seeds (a la Halloween pumpkin) and dice!
To roast, simply place squash on a parchment covered rimmed cookie sheet, drizzle lightly with olive oil, sprinkle with sea salt and pepper, toss and place in oven, upper third rack, until edges are golden. I serve roasted butternut squash as a side dish all the time.
Time saving tip: Always roast more than you need to have with eggs the next day.
THE RECIPE: Autumn Chicken
You will need: a "Y" peeler, a good knife (rimmed cookie sheet and a 12″ cast iron skillet. (affiliate links) Grain free option…set the chicken and shallots on this.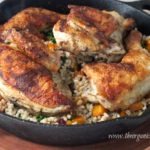 Autumn Skillet Chicken with Butternut Squash and Barley
A whole fryer cut into four pieces, browned on the cooktop and finished in the oven, served over barley, sauteed kale and roasted butternut squash. Of course you may sub the barley for rice or any grain of your choice. You can either cut up the fryer yourself or have the butcher do it. Whole Foods Market does mine. Be sure to save scraps, backbone and giblets to make broth.
Keyword:
easy dinner recipe, fall recipes
Ingredients
1 1/2

cups

pearl barley

cooked to package instructions

3

cups

Butternut Squash

1/2" cubes, roasted

olive oil or butter

sea salt

freshly ground pepper

garlic powder

1 4-5

lbs

organic fryer

backbone removed and quartered

1/3

cup

flour

your favorite kind

3

large shallots

peeled and quartered

3

T

butter

2

cups

chopped kale

1

tsp

cinnamon

handful dried cranberries

1/3

cup

chopped pecans

extra kale for Garnish
Instructions
Preheat oven to 425 degrees. If you have a double oven, place racks in upper third of each oven and roast butternut squash in one oven and chicken in the other. If you have a single oven, place one rack in the upper third and the second in the lower third of oven. Start butternut squash on upper rack and chicken on the lower rack. Switch them when you turn chicken over at 30 minutes.
Barley:
Cooked to package instructions. Barley usually takes about an 1 hour and 15 minutes to cook, so you can take your time preparing the rest of the meal.
While barley cooks:
Peel and cut butternut squash, place on parchment covered cookie sheet and drizzle with olive oil and sprinkle with sea salt and pepper. Toss. Place in upper third of oven.

Season both sides of chicken with sea salt, pepper and powdered garlic, dredge chicken in flour of your choice, set aside.

Place a cast iron skillet on cooktop on med/high heat. Add butter or olive oil. Use enough so bottom of skillet is well coated.

When butter is melted and pan is hot, add chicken skin side down to pan. You want to hear a pshhhhhh sound.

Cook for six minutes or until chicken is nicely browned.

Add shallots to skillet.

Place in oven (on lower rack if you have a single oven, upper rack if you have a double oven). Set timer for 30 minutes.

When timer goes off, turn chicken skin side up (and if using a single oven place skillet on upper rack moving butternut squash to the lower rack.) Set timer for 15 more minutes.

When timer goes off remove skillet from oven and place on stovetop. Be careful, it's hot!

Check butternut squash. If it's starting to brown, remove from oven, if not leave it in while you finish the meal.

Remove the chicken from the skillet and set aside. Place skillet on cooktop on med/high heat. Bring chicken juices to a simmer scraping pan with a spatula or wooden spoon to separate browned bits from pan. Add kale to simmering juices. Sautee, stirring for one minute. Add barley to pan, stir mixing juices, shallots and kale. Add dried cranberries, pecans and cinnamon, stir. Sprinkle with sea salt and pepper to taste. Add butternut squash to skillet, gently folding into barley mixture.

Either return chicken to pan and let people serve themselves or plate by placing and layer of fresh kale (optional) on plate then topping with barley. Set chicken on top!
MAY I PLEASE ASK A FAVOR?
We small bloggers need all the help we can get. Subscribing and sharing on social media is very appreciated!