Hello Friends! This new recipe came about when I had to get creative with what I had in the pantry and fridge…because neither of us wanted to go to the store. And if you know me you know the holy trinity of the pantry is olive oil, sea salt, and lemon. So I was set there, thankfully I had pasta, Parmesan and broccoli, and from that a meal was born! This recipe is easy, beautiful, delicious, budget friendly and made in about 20-25 minutes. It can be a main course or served as a side to protein, I call it One Pot Pasta with Broccoli and Parmesan…because that's exactly what it is:)
(This post contains affiliate links. I may make a commission from sales but your price remains the same.)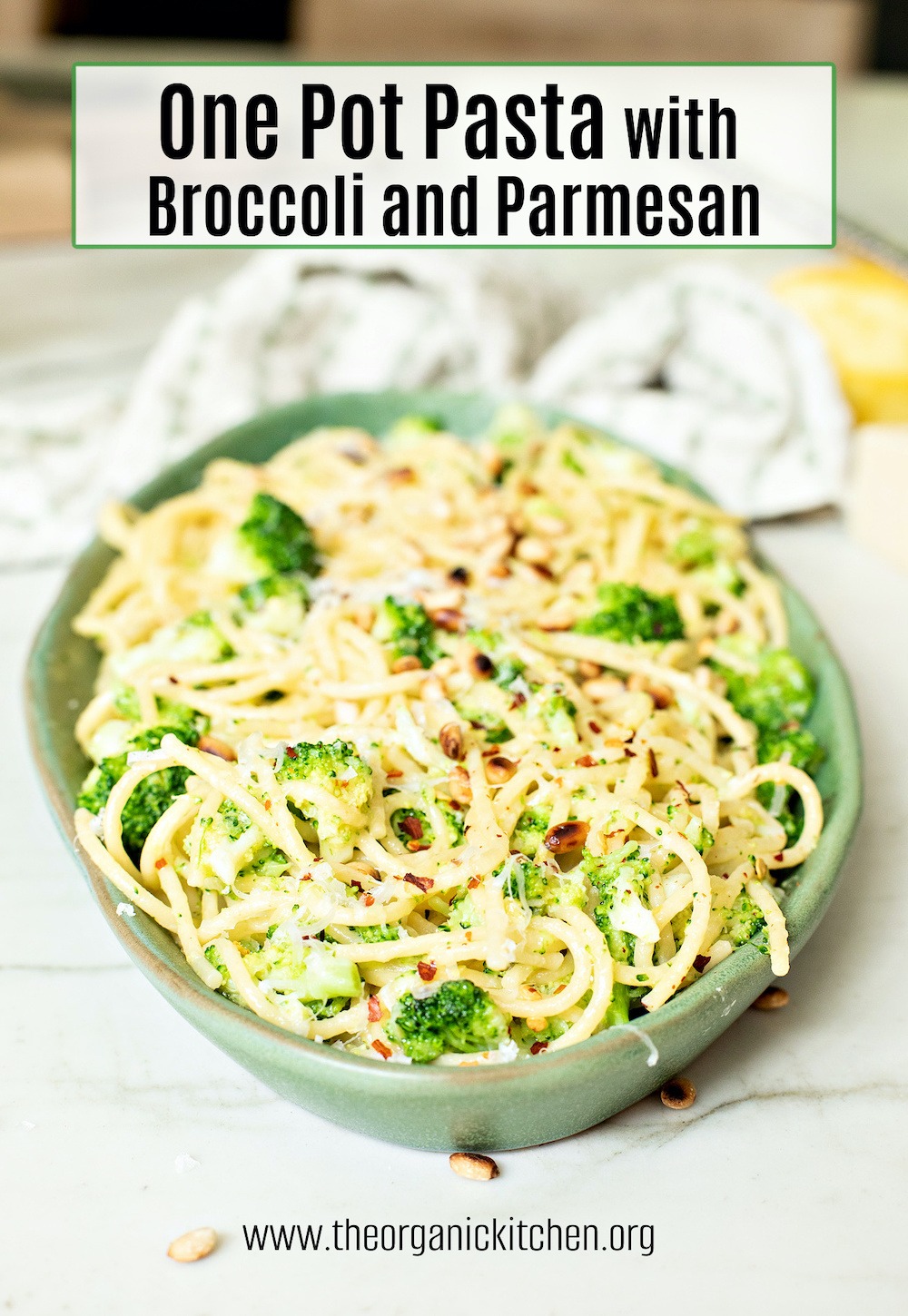 How to Make One Pot Pasta with Broccoli and Parmesan:
This one is a cinch to make. It's all made in one pot, which makes for easy clean up, and it uses minimal ingredients (most of which I hope you always have in the pantry!) Here's how you do it: boil water, while water heats, prep broccoli, garlic, lemon zest and parmesan. Add pasta to pot and add the broccoli a few minutes later. When both are cooked, strain. Add butter and olive oil to the pot with garlic, pasta and broccoli, then toss. Then add parmesan and lemon zest, sprinkle with sea salt an voila! You are ready to eat or perhaps devour is a better word. You can add pine nuts and red pepper flakes if you're feeling it.
TIPS FOR COOKING PASTA and Broccoli Together:
With this recipe we have to time the pasta cooking time with the broccoli cooking time. For best results, follow package instructions for pasta adding the broccoli when pasta has seven minutes left. The following tips help as well!
When cooking pasta there are only a few things to remember:
1. Follow pasta box cooking instructions, they usually are right on.
2. Salt the water generously for flavor.
3. To keep pasta from sticking be sure to have lots of water in your pot, at least several inches above the pasta to allow room for expansion
4. stir frequently.
The Microplane: the tool that saves time and meals!
The tool that makes this meal an absolute cinch to make is the ever versatile microplane. You will need one to grate the fresh parmesan, the lemon zest and the garlic for this recipe. It'll save you a ton of time! Nothing grates parmesan as finely as a microplane. You can find them at most grocery stores or use my Amazon link!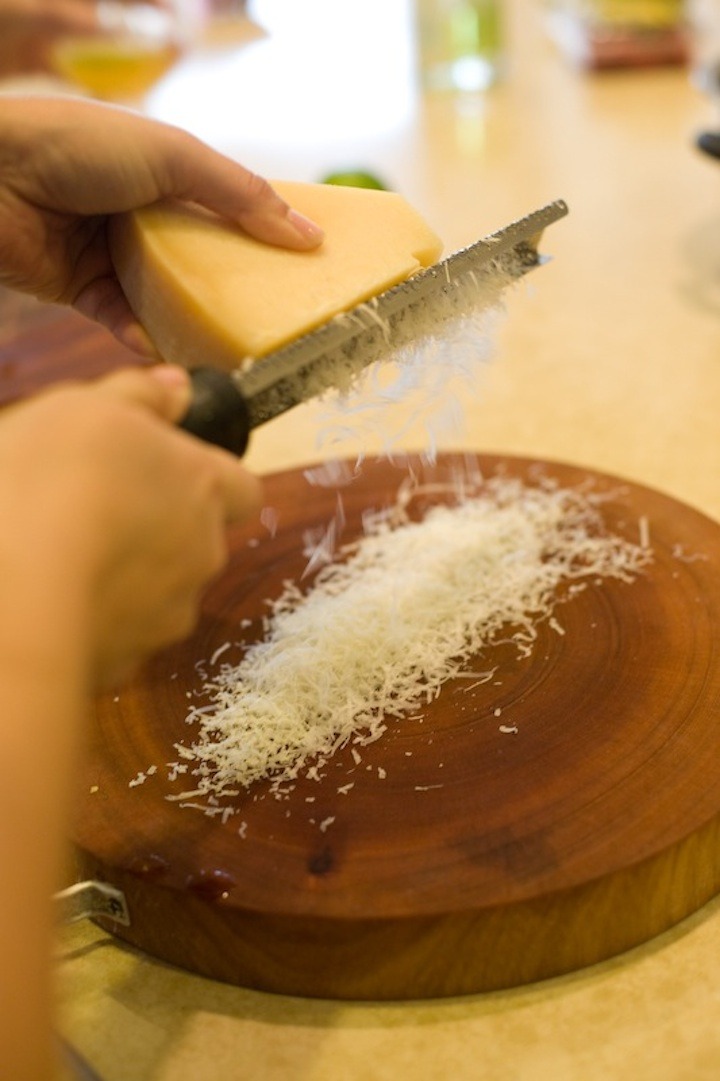 Keep it Vegetarian or Add Chicken
You can keep this pasta vegetarian or if you desire to add protein you can chop up roasted chicken (<—recipes here) or keep it simple by tossing in some store bought rotisserie chicken.
MAKING THIS One Pot Pasta with Broccoli and Parmesan GLUTEN FREE AND JUST AS GOOD!
If you live without gluten you don't have to miss out on exceptional pasta! Jovial Foods makes the best gluten free pasta around. I am lucky enough to live by a store that carries it, but if you aren't you can order it here!
The Recipe: One Pot Pasta with Broccoli and Parmesan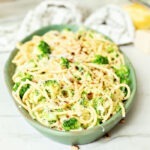 One Pot Pasta with Broccoli and Parmesan
A simple pasta dish that you can serve as a main or a side. Leave vegetarian or add rotisserie chicken
Ingredients
8

ounces

pasta (I like spaghetti, linguini, fettuccine) cooked to package instructions.

2

cups

fresh broccoli, cut into small florets

1

cup

freshly grated Parmesan cheese (grated finely, I use a microplane)

1

tablespoon

lemon zest (again I use a microplane)

1

small clove of garlic, peeled and minced (I actually use a microplane again to grate the garlic)

4

tablespoons

butter

2

tablespoons

good quality olive oil (separated)

sea salt
Optional ingredients: roasted pine nuts, red pepper flakes
Instructions
Place a medium sized pot of salted water to boil (must be big enough to accommodate pasta and broccoli)
While waiting for pasta water to boil prepare the rest of the ingredients:
Using your microplane, grate parmesan and place in a small bowl, grate lemon zest, add to parmesan and gently toss until combined. Set aside. Grate garlic.

When pasta water is boiling, add pasta. Stir occasionally. When there are seven minutes left on pasta cooking time, add broccoli florets to pasta water (this means if the cooking time on your pasta is 11 minutes you will add broccoli when pasta has cooked for four minutes) When pasta is al dente, pour pasta and broccoli into a strainer (do not rinse) and immediately put pot back on medium heat.

Add butter and 1 Tablespoon olive oil to pan. As butter melts, add garlic. Stir for 30 seconds. Add pasta and broccoli to pot, toss with butter mixture. Add remaining 1 tablespoon olive oil to pasta and toss again. Add parmesan/lemon zest mixture and toss until well combined. Add sea salt to taste, toss.

To plate: pour onto a platter. If desired, sprinkle with more parmesan, sea salt, pine nuts and red pepper flakes. Enjoy!
MAY I PLEASE ASK A FAVOR?
We small bloggers need all the help we can get. Subscribing and sharing on social media is very appreciated!
STANDARD FTC DISCLOSURE and Privacy Policy: In order for me to support my blogging activities, I may receive monetary compensation or other types of remuneration for my endorsement, recommendation, testimonial and/or link to any products or services from this blog. Please note that I only endorse products that are in alignment withThe Organic Kitchen''s ideals and that I believe would be of value to my readers.The Organic Kitchen is a participant in the Amazon Services LLC Associates Program, an affiliate advertising program designed to provide a means for sites to earn advertising fees by advertising and linking to Amazon.com. View The Organic Kitchen's Privacy Policy