The French know how to do food right. They take bread, which is already awesome and make it more awesome buy soaking it in eggs and cooking it in butter. Yes please! I add cottage cheese, berries and real maple syrup because, why not?
(This post contains affiliate links. I may make a commission off sales but your price remains the same.)
The Bread:
When it comes to french toast, it's all about the bread. I use a thick and hearty flaxseed Ciabatta  or a nice artisan bread for this recipe. It's best to use day old bread. Those of you that shy away from Gluten can use Udi's brand gluten free bread, not quite as good as this bread but what can you do…. (Ps That is a serrated knife. It's good for cutting bread, citrus and tomatoes)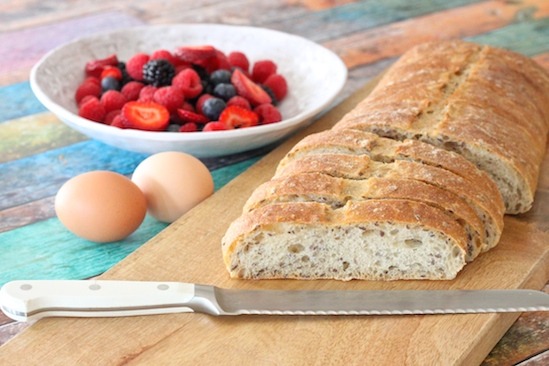 Let's talk about syrup and vanilla paste:
Real maple syrup is tapped from trees. I won't name names but many popular 'maple syrups' are really artificially flavored and colored corn syrup  (hint: one of them thinks she's your aunt, the other is married to Mr. Buttersworth and they all live together in a Log Cabin) I always use Neilsen Massey vanilla paste instead of extract… trust me, it's better than extract! Click here and have it delivered to your door.

Melt a little butter on top and surround with more berries.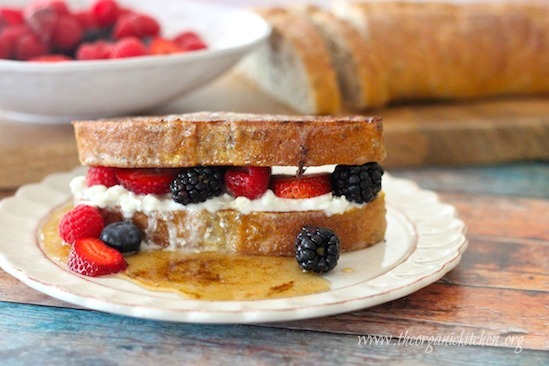 The Recipe: The Organic Kitchen French Toast with Berries
MAY I PLEASE ASK A FAVOR?
We small bloggers need all the help we can get. Subscribing and sharing on social media is very appreciated!