Spring is the time for all things fresh and beautiful. "The Best Lemon Cake Ever" is both! This dense, moist, delectable cake is flavored with fresh lemon juice, as well as lemon zest. Making it very lemony indeed!
(This post contains affiliate links. I may make a commission from sales, your price remains the same.)
The Secret Ingredient!
It's fairly predictable that a lemon cake would have lemon juice and lemon zest in it…but this cake does have a surprise ingredient that you'd probably never guess: grated butternut squash! Don't worry, it doesn't make the cake taste like squash, it makes it taste like heaven! It also makes this cake super moist and gives it a fabulous texture. Use a
"Y" peeler
to peel squash (a regular peeler won't do the job!) and then grate with the large holes of a
box grater
or use a
food processor.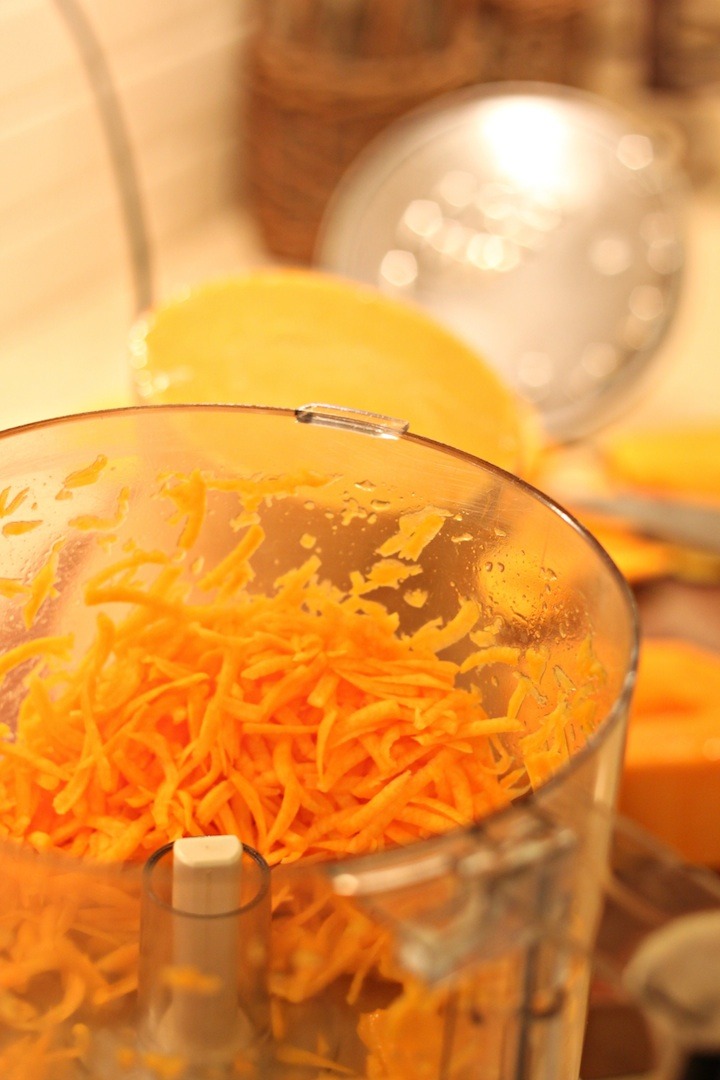 The grated butternut squash also creates beautiful orange flecks running through each slice.
TO MAKE THIS CAKE GLUTEN FREE:
If you are fine eating gluten, have at it! But if you are one of my gluten free followers, I have two wonderful suggestions to make this cake gluten free but just as good: King Arthur's Measure for Measure Gluten Free Flour is fabulous and found in most grocery stores. Jovial Gluten Free Pastry Flour is also wonderful and the grains in this flour are soaked for easy digestion!
 The Icing!
This glaze is delicious. I am always eating at least a little before I get to drizzling. I use this
handheld juicer 
to squeeze that fresh lemon juice into organic powdered sugar. You don't add too much juice, this glaze should be really thick so it stays on the cake instead of pooling on the plate. (as I will over emphasize below)
Take another look of this beautiful cake before…
I start pouring on the glaze…stunning!
The Best Lemon Cake Ever!
This lemon cake is moist, dense and delicious! You will need a bundt pan, a y peeler, and a box grater or food processor to grate squash. Position rack in center of the oven and preheat oven to 325. Use a paper towel to butter the bundt pan and then coat with flour.
Keyword:
classic recipe, easy dessert recipe
Ingredients
Cake:
3

cups

all-purpose flour

1

teaspoon

baking soda

1

t

easpoonsalt

½

cup

soft butter

1 ½

cups

granulated sugar

½

cup

coconut oil

2

large

eggs

1

Tablespoon

distilled white vinegar

2

teaspoons

vanilla paste or extract

¾

cup

buttermilk

1 3/4

cups

grated butternut squash (use a 'y' peeler to peel and box grater or food processor to grate

Juice of one lemon

Zest of two lemons

use a microplane like this
Icing:
2 1/2

cups

powdered sugar

zest of one small lemon

juice of 2-3 lemons
Instructions
Cake:
Place flour, baking soda and salt in a bowl and set aside. In a large bowl beat butter and sugar for one minute. Add coconut oil and beat for another minute. Add eggs, one at a time, beat. Add vinegar and vanilla. Add half the flour/ baking soda/salt mixture, lemon juice and zest, mixing low until just combined. Add half the buttermilk and mix well. Add remaining flour mixture, mix, add the rest of the buttermilk. Mix well and then gently stir in grated butternut squash by hand. Spoon batter into prepared Bundt pan. Smooth top with a spatula and bake for about 45-50 minutes or until an inserted toothpick comes out clean. Let cool before icing.
Icing:
Place zest and powdered sugar in bowl. Be sure to add lemon juice to sugar a little at a time and whisk. Icing should be really thick, I mean REALLY THICK, like molasses. If you make it too thin, it will run off the cake and pool on the plate. When I say thick I mean barely pourable...hate to beat a dead horse but even when people take my class and see how it's done, they tell me they went home and made it too thin...so...don't do that! Mix well and then drizzle over cooled cake.
I hope you enjoy this cake as much as I do! ~ Linda Spiker
MAY I PLEASE ASK A FAVOR?
We small bloggers need all the help we can get. Subscribing and sharing on social media is very appreciated!