I've got your Cinco de Mayo party right here! Caramelized Veggie Quesadillas, traditional and mango salsa, chunky guacamole…y mas! (That's 'and more' for you gringos)
(This post contains affiliate links. I may make a commission from sales but your price remains the same.)
Muy Rico!
These quesadillas are filled with caramelized bell peppers, shallots, corn and black beans. "Caramelizing" vegetables simply means you cook them slowly, as the moisture inside the vegetables evaporates their natural sugars intensify making them sweeter. And if all the vegetables inside the quesadilla weren't enough we are topping them with more!
The Salsas and Guac!
To top these gorgeous quesadillas you can choose between traditional Pico de Gallo, mango salsa and chunky guacamole…or make all three. That wouldn't make me mad! Fresh salsas and guacamole add flavor, color and healthful nutrients to any meal. They are quick and easy to make and the salsas taste even better the next day.
To Each His/Her Own!
Remember these recipes are just a guideline. Want more heat? Add more chili peppers. Want to cool it down? Add less. It's up to you, but remember to handle peppers with care. Always wash hands after handling and be careful not to touch your face or eyes fro several hours. See how to handle chilis click here.
The Recipes: Caramelized Veggie Quesadillas with Salsas and Guacamole
What you need: a cast iron grill pan or Anolon Tri-Ply Clad 12" Deep Ground Grill Pan. As always, you need a good knife,I use the 8″ Wusthof Ikon Chef's knife
To top these gorgeous quesadillas you can choose between traditional Pico de Gallo, mango salsa and chunky guacamole…or make all three.
Caramelized Veggie Quesadillas
Roasting the veggies ahead brings a LOT of flavor to a simple meal. Recipes for salsas and guacamole linked in blog post above.
Keyword:
kid-friendly recipes, weeknight dinner
Ingredients
2

tablespoons

Olive oil

8

shallots, peeled and sliced

1

orange or yellow sweet bell pepper, thinly sliced

1

red sweet bell pepper, thinly sliced

1

cob fresh white or yellow corn, kernels cut off cob

¼

cup

black Beans

Sea salt Pepper

1

lb

cheddar or jack cheese, shredded or sliced

1

Tablespoon

balsamic glaze

8

Tortillas (gluten free peeps use gluten free tortillas)
Instructions
Vegetable Prep:
Peel. chop/slice all veggies and grate cheese.

Place a large pan on cooktop on medium heat. Add olive oil. When pan and oil are hot add shallots and bell peppers. Saute till peppers and onions are nicely browned, about 20-25 minutes, stirring occasionally. The key to caramelizing veggies is patience. Don't rush them.

When onions and peppers are nicely browned add corn and beans and cook 3 more minutes. Sprinkle with sea salt, freshly ground pepper and remove from heat. Drizzle with a tablespoon of balsamic glaze and stir.
Quesadilla Prep:
Place a pan or skillet on cooktop on medium heat. Place tortilla on pan sprinkle half the tortilla with desired amount of cheese and top with desired amount of veggies. Fold the tortilla over and heat until cheese is melted and tortilla starts to brown. Flip tortilla. Remove when the second side is crispy. Serve with traditional salsa or our chunky guacamole.
More Cinco de Mayo Recipes:
White Girl Huevos Rancheros
Spicy Lime Chicken
Lime Chipotle Corn Off the Cob
Mexican Street Corn
Fresh Fish Tacos
Salmon with Spicy Mango Salsa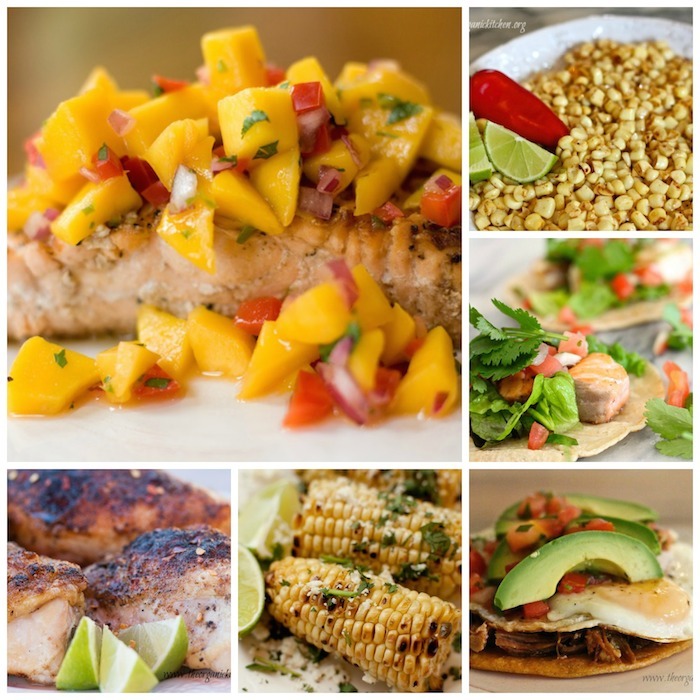 Happy Cinco de Mayo! ~ Linda Spiker
MAY I PLEASE ASK A FAVOR?
We small bloggers need all the help we can get. Subscribing and sharing on social media is very appreciated!