I have a bad habit (ok maybe more than one). When I go out to a restaurant 90% of the time I am a good girl. BUT if sweet potato fries are on the menu, I am a goner. I know I shouldn't. But I do…I order, I eat and I feel yucky because most restaurant sweet potato fries are fried in toxic vegetable or canola oils. Lucky for me (and you) there is an alternative that is actually healthy and just as delicious as those restaurant sweet potato fries: Crispy Sweet Potato 'Fries" with Rosemary and Sea Salt!
(This post contains affiliate links. I may make a commission from sales but your price remains the same.)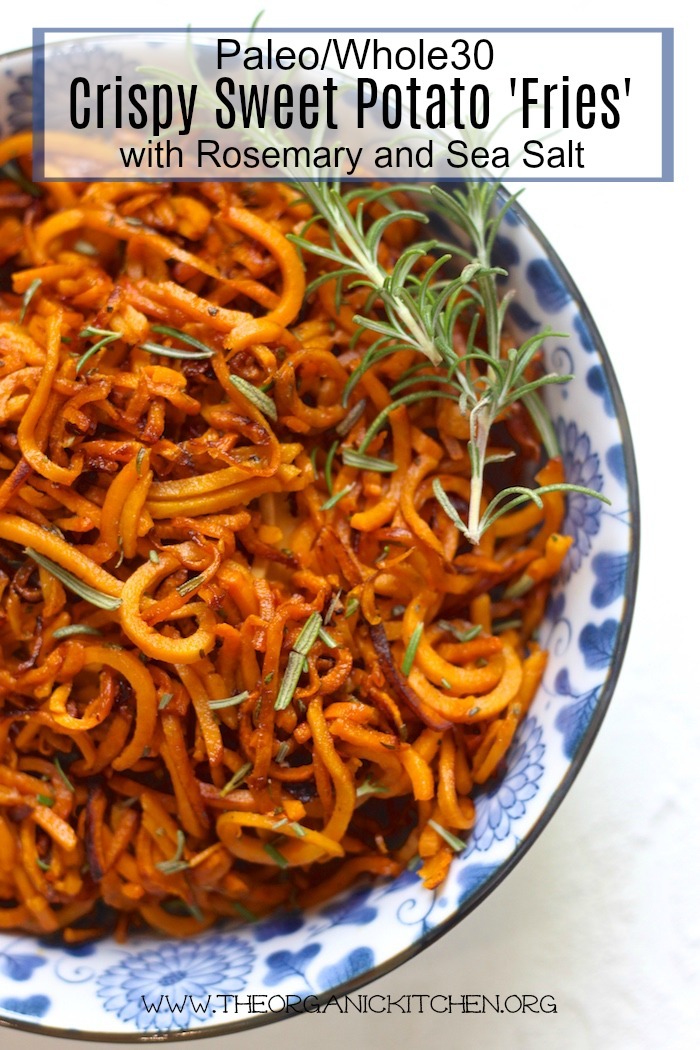 Only Four Ingredients Ya'll!
All you need is sweet potatoes, olive or avocado oil, fresh rosemary and sea salt…I use Maldon Flaked Chef's Salt. Rosemary is the one herb I can't seem to kill in my garden! Rosemary has long been hailed for it's health benefits. It is high in Iron, Calcium and Vitamin B6 and is a natural anti-inflammatory. It has long been used to help alleviate muscle pain, improve memory, and boost the immune and circulatory system.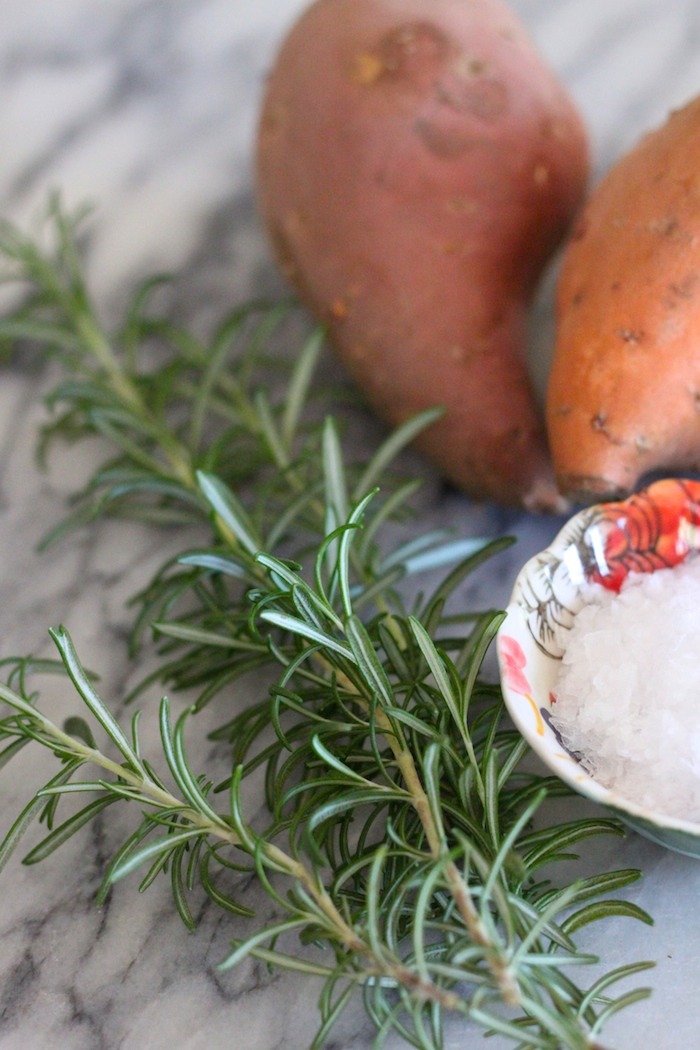 Let's Talk Spiralizers….
Luckily we live in an amazing world these days, where spiralized veggies can be found on many grocery shelves. This certainly makes living the veggie eating, Paleo or Whole30 life easier. But if you prefer to make your own, or don't live near a store that sells them pre-made, I got you! First I am not going to lie, the plastic spiralizer is great for things like zucchini, but it's really difficult to use with sweet potatoes. They are just too hard, I am not saying you can't use it, I am just saying it can be difficult and you will be getting a good arm workout. so if you want life to be easier and think you may spiralize vegetables frequently, you may wish to invest in the attachment for the Kitchen Aid mixer It's much sturdier than plastic and can handle hard veggies like sweet potatoes easily!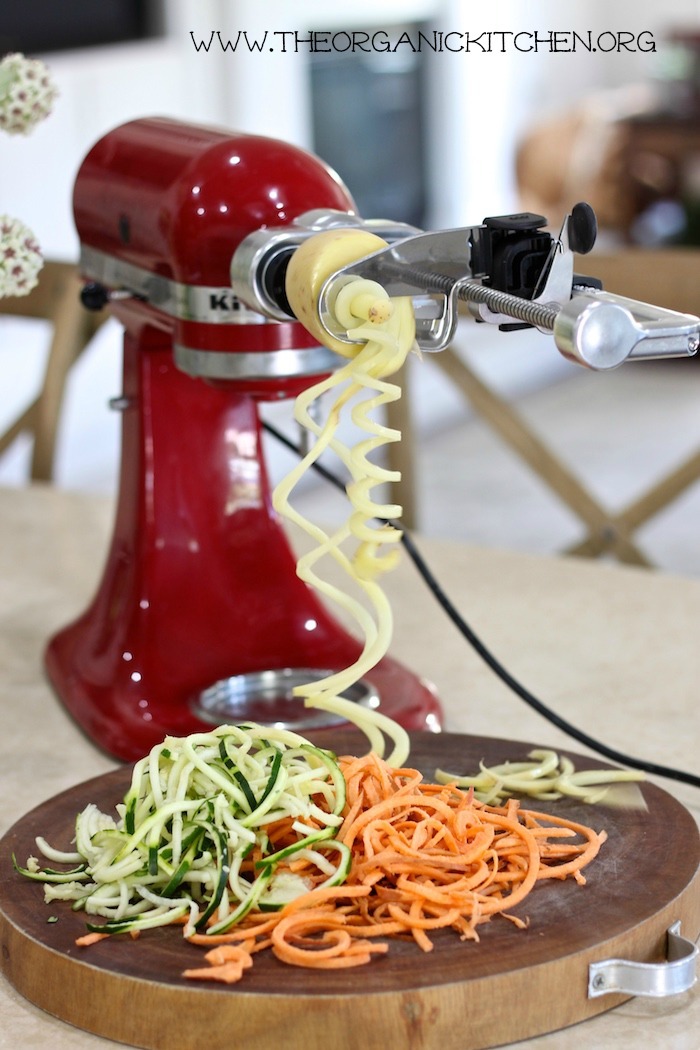 Cooking Tips:
To get crispy fries be sure not to stir too much. I like to place the sweet potatoes in a hot pan and allow them to cook for at least five minutes before turning the first time, then repeating that. This allows time for the fries to crisp up. Also stirring too frequently can make them a little mushy. So resist the temptation to over tend the potatoes.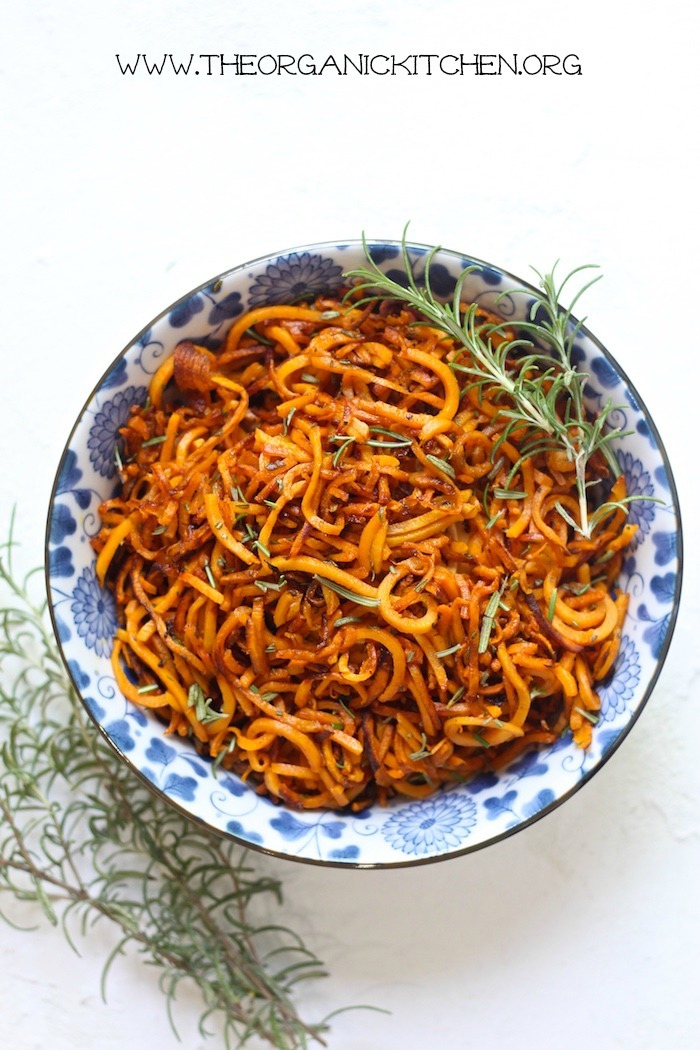 The Recipe: Crispy Sweet Potato Fries with Rosemary and Sea Salt
You will need: a spiralizer (<—plastic) but I recommend using the attachment for the Kitchen Aid mixer, and you may wish to invest in a spiralizer cookbook!
Crispy Sweet Potato 'Fries' with Rosemary and Sea Salt
A delicious and healthy version of sweet potato fires!
Keyword:
easy side dish recipe, kid-friendly recipes, weeknight dinner
Ingredients
4

large sweet potatoes, peeled and run through a spiralizer or 5-6 cups pre-spiraled sweet potatoes

3

Tablespoons,

olive, avocado or coconut oil (or enough to cover the bottom of pan when melted)

1

Tablespoon

fresh rosemary, finely chopped 

sea salt, to taste 

freshly ground black pepper
Instructions
If making your own spiraled sweet potatoes,  peel potatoes and run through spiralizer

Place a large pan on high heat and allow to heat for 2 minutes

When oil is hot  add sweet potatoes and spread out into an even layer. Cook for 5 minutes without stirring, lowing heat to med/high if needed.

Add rosemary and sea salt, gently stir potatoes, then let sit again for five minutes without stirring.

Stir and cook till edges of sweet potatoes are browned and crispy. Taste and adjust salt and pepper if needed (if using), serve!
Making these sweet potatoes at home sure makes it a whole lot easier to say no to those sweet potato fries at the restaurants!
MAY I PLEASE ASK A FAVOR?
We small bloggers need all the help we can get. Subscribing and sharing on social media is very appreciated!