This, my friends is the first pumpkin recipe I have posted on my blog! And it's a winner if I do say so myself. Savory Pumpkin Soup, rich and creamy and oh so comforting. I offer  dairy free, Whole30 and Paleo options!
(This post contains affiliate links. I may make a commission from sales but your price remains the same)
Savory Pumpkin Soup and What to Serve it With:
Warm, comforting, creamy, loaded with nutrients and fall flavor this soup is healthy comfort food! Serve with my  Cheesy Herb Bread or a delicious salad.
How To:
Made with fresh sugar pumpkin, butternut squash, onion and garlic….
…simmered in homemade broth with herbs and spices..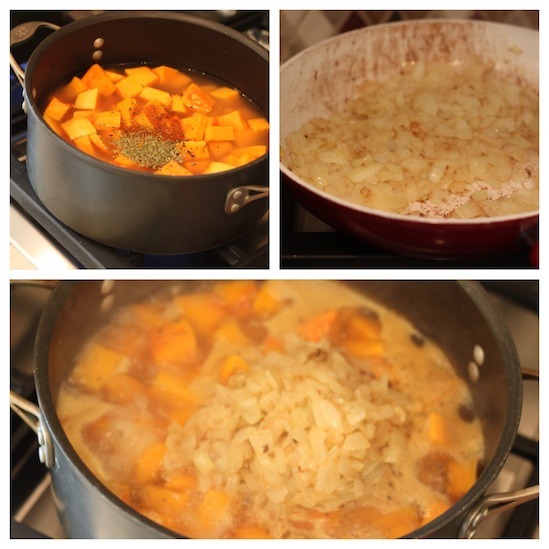 …and then blended with half and half (or coconut milk for those living dairy free or doing Whole30) Yep, that's it!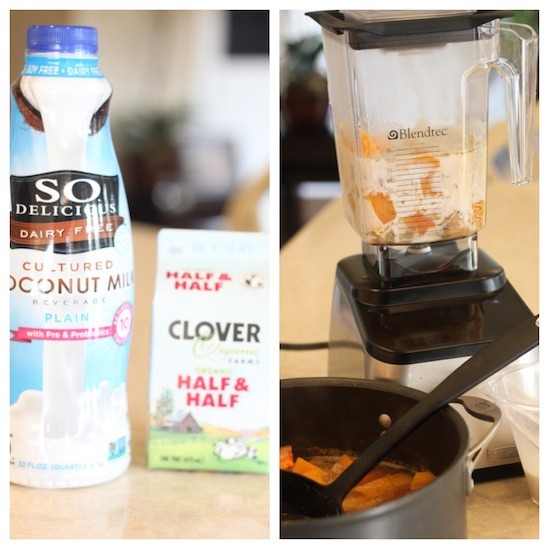 How to Peel and Pumpkin and Butternut Squash:
To peel the pumpkin and butternut squash you will need a "y" peeler and a really sharp knife! (affiliate links) With these two tools peeling and cutting is a snap, without them it can be a real chore.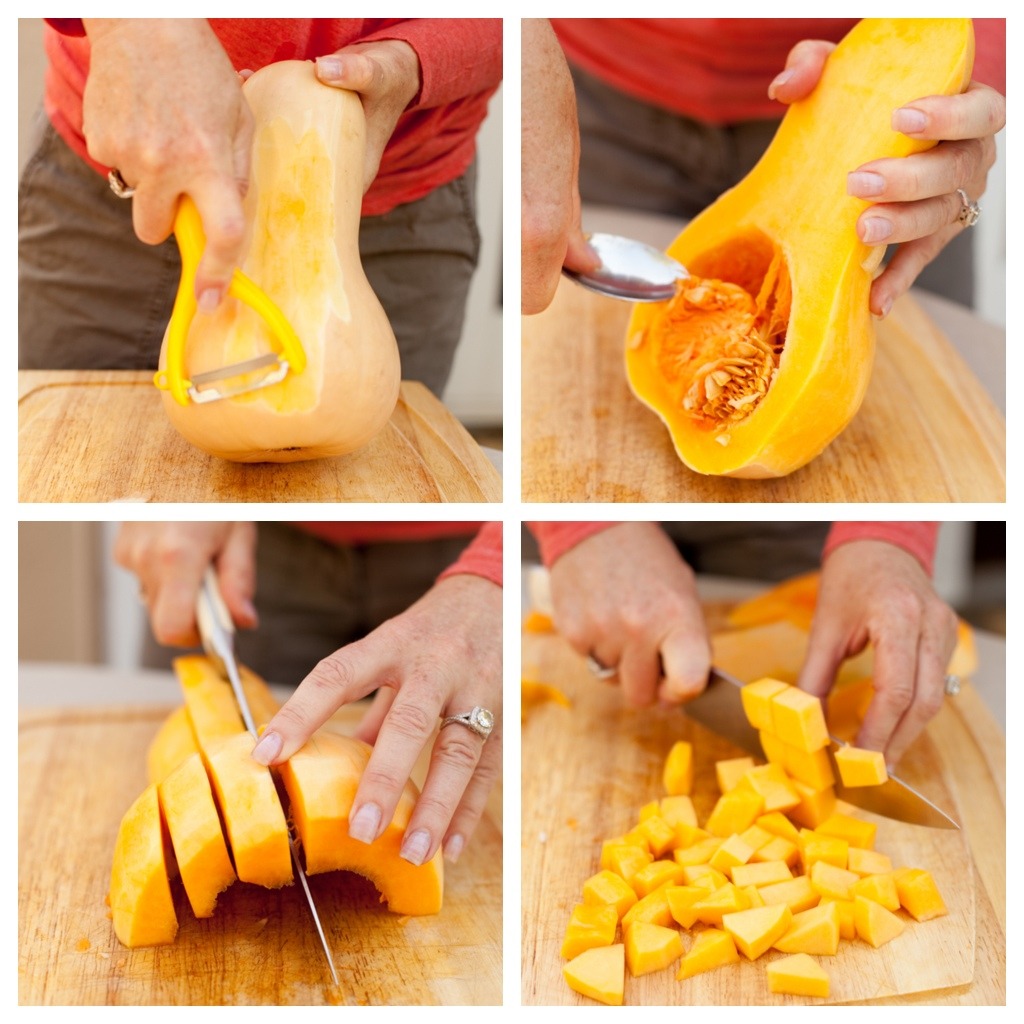 This lovely, comforting soup freezes beautifully. I freeze mine in mason jars and thaw the day before I want to serve. The perfect fall meal! This gorgeous bowl was lovingly handmade by Nikki at HappyClay.com . Swoon right? You can check out her Etsy Shop here.
I hope you find this recipe as delicious and comforting as I do ~ Linda Spiker
The Recipe: Savory Pumpkin Soup
Tips and what you will need: (affiliate links) You need a good knife and and y peeler to make peeling and cutting these vegetables a snap! I use a blendtec blender for this job, but you could also use an immersion blender, it will just take longer. Sugar pumpkins are those little pumpkins you see in the store around the holidays. Large pumpkins tend to be stringy and flavorless, but the small pumpkins are sweet and flavorful. Sometimes sugar pumpkins are also called baking pumpkins.
Savory Pumpkin Soup
A savory fall soup! You can cut the recipe in half but honestly you end up wasting pumpkin. I figure as long as you are peeling and cutting a pumpkin you may as well make a lot and freeze for later!
Keyword:
easy dinner recipe, fall recipes, gluten-free recipe
Ingredients
Note: to make this recipe paleo and Whole30 choose dairy free options offered
6

cups

sugar pumpkin, peeled and cubed

6

cups

butternut squash, peeled and cubed

64

oz

chicken broth (8 cups)

1 1/2

teaspoon

ground black pepper

1 1/2

teaspoon

dried marjoram

1/4

teaspoon

cayenne pepper, or more if you like it hot

3

cloves garlic, peeled and minced

1

large chopped yellow onion

2

Tablespoons

butter, ghee, or coconut oil

3

cups

half and half

Sea salt to taste

Dried cranberries and salted roasted pistachios for garnish, optional
Instructions
Use a "Y" peeler to peel pumpkin and butternut squash. Cut both in half and use spoon to scrape out seeds. Cut into 1" cubes.

In large pot, bring broth, squash, pumpkin, marjoram, black pepper and cayenne pepper to boil. Simmer for 15 minutes or until butternut squash and pumpkin are very tender.

While squash is simmering, sauté onion in a small pan with garlic and butter (or ghee or coconut oil) till soft. When squash has cooked for 15 minutes add sautéed onions and half and half to squash mixture, stir.

Allow to cool until just warm. Ladle into a blender and very carefully puree until smooth. You will have to split into portions to safely fit your blender. Return to pot and heat thru. Do not bring to a boil again. Add salt to taste and more cayenne if desired. Garnish and serve. Yum!
MAY I PLEASE ASK A FAVOR?
We small bloggers need all the help we can get. Subscribing and sharing on social media is very appreciated!
Post tags: gluten free, grain free