Life has often been compared to a circus, and sometimes a party. My daughter Courtney put the two together for an awesome circus themed birthday celebration that was both simple and inexpensive!
Lucy, five, and Henry, three, donned their tightrope walker and strongman costumes and were more than a little excited for their friends to arrive. (This post contains affiliate links via my association with Amazon. I may make a commission off sales, your price remains the same)
The Grand Entrance into the Bigtop
As the little guests arrived they were greeted by a photo opportunity with festive balloons and and DIY circus tent!
The children loved posing in front of this backdrop as they arrived!
The strongmen took their roles very seriously!
A bowl of red clown noses made for some additional circus fun! Aunt Octavia painted faces and the kids got all their energy out in the bounce house.

The Food: All Good Stuff!
If you remember from my post "Recipes for a Junk Food Free Birthday Party Part 1", we don't like to feed the little ones junk food, even at parties. So my daughter chose a menu that suited both children and adults! She made my recipe for Mac and Cheese but baked them in cupcake tins. You can find party themed cupcake papers and cupcake papers with toppers here.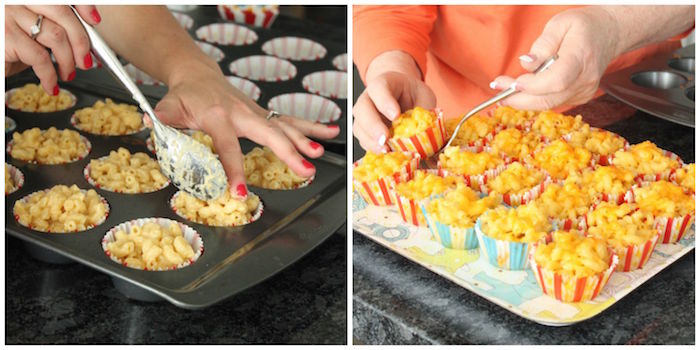 Veggies with hummus and a big bowl of fruit in compote were served alongside the macaroni cups.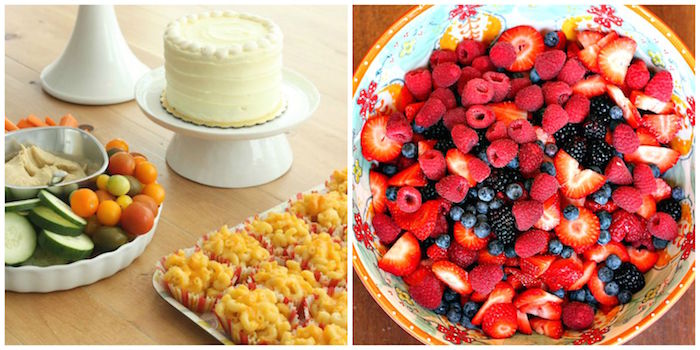 Rotisserie chicken was added to my "Pears and Blackberry Salad with Lemon Vinaigrette" to make a kid and adult friendly dish! White serving dishes are always a favorite for any party.
The cake was decorated with circus animals and my daughter made the "Hooray" cake topper and hoop for the lion to 'jump' through with gold pipe cleaners! Easy, adorable and budget friendly. Of course you could make any message you choose.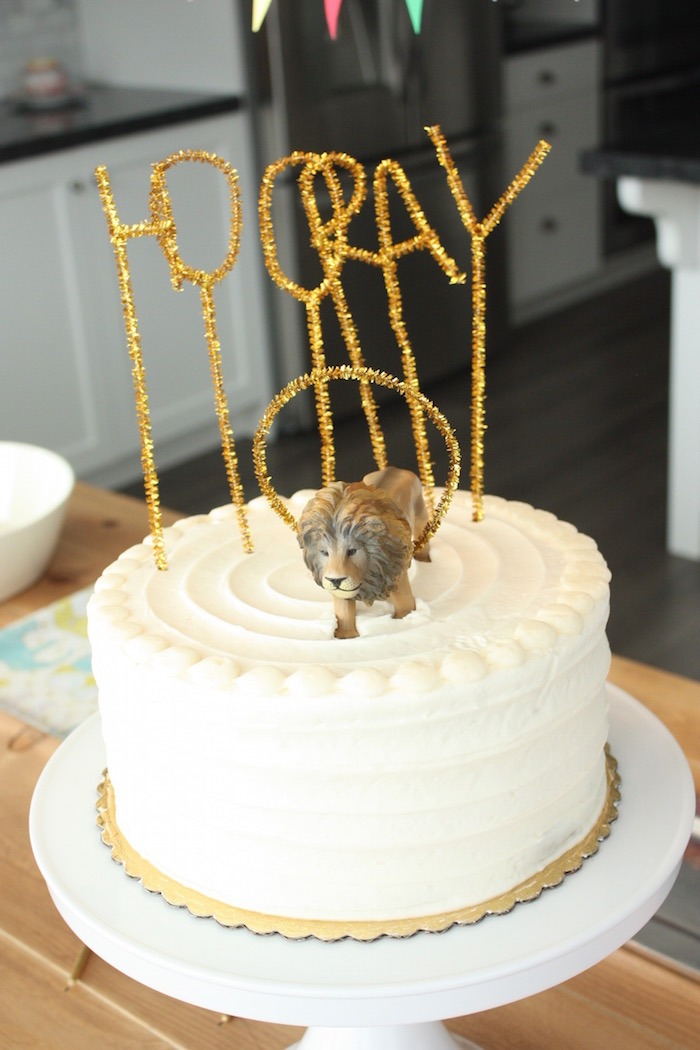 The kids and adults loved the freshly made Parmesan and Sea Salt Popcorn (recipe below) served in rolled colored paper with pom-poms glued to the bottom! Again, so simple to make and costs pennies!
Even the party favors the children left with were healthy: fruit leather and raisins in cellophane bags tied with decorative string…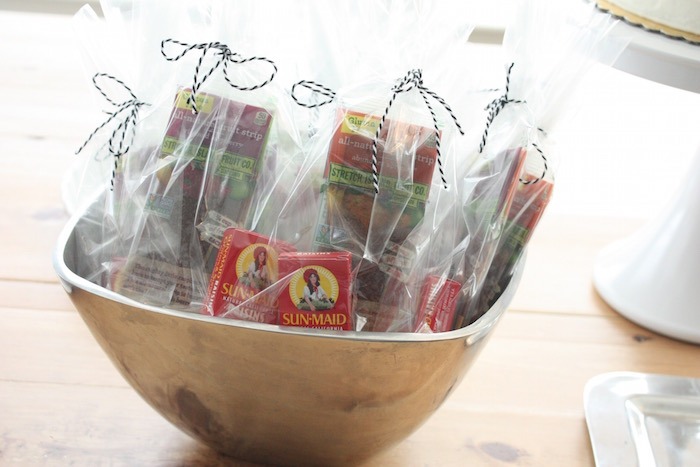 And even though I was busy taking pictures of the adorable festivities, I managed to get a few grand baby cuddles in!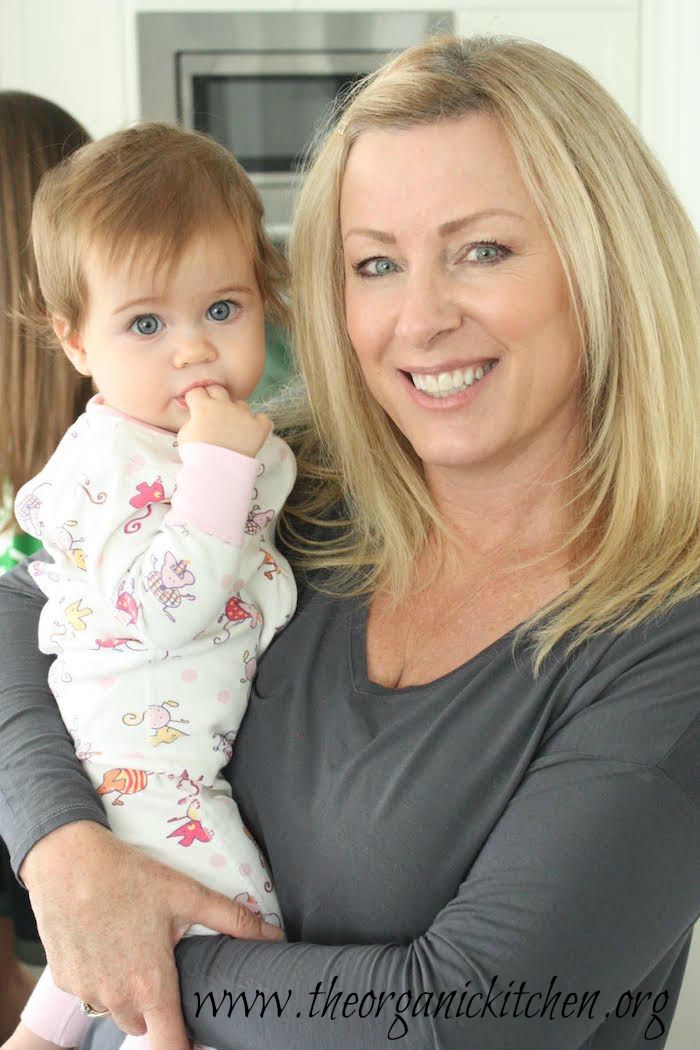 The Recipe: Parmesan and Sea Salt Popcorn
Tips and what you will need: A large pot, coconut oil, popcorn kernals (non gmo), sea salt (I buy the tub to save money!) and a microplane for grating fresh parmesan. Add Parmesan before sea salt. Parmesan is a little salty all by itself so if you add the salt first the popcorn might be too salty after adding cheese. Click for 11 more popcorn recipes!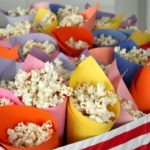 Parmesan Popcorn
Popcorn made fresh with butter from grass fed cows, sea salt and freshly grated Parmesan cheese. Remember that all recipes are adjustable! Add more or less butter, cheese etc to suit your taste!
Keyword:
easy snack recipe, kid-friendly recipes, party recipe
Ingredients
3

T

Coconut Oil

⅓

cup

white or yellow popcorn kernels

preferably NON GMO

1/4

cup

butter

melted (or more...I am a bit of a butter lover myself)

1 1/2

cups

freshly grated Parmesan cheese

sea salt

to taste
Instructions
If your pot does not have a long handle you will need oven mitts to shake safely.

Place large pot on stove on med/high heat, add coconut oil. Drop three corn kernels in oil. Place lid on pot. When kernels pop, pour ⅓ cup of kernels into the oil, replace the lid and shake pot continuously till kernels are done popping. Immediately remove from heat. Drizzle with melted butter while stirring with a knife, sprinkle with parmesan cheese, while stirring. Last sprinkle with sea salt to taste.
Please comment below with any questions you have and I will be happy to answer!
MAY I PLEASE ASK A FAVOR?
We small bloggers need all the help we can get. Subscribing and sharing on social media is very appreciated!