When there is a celebration there should be a cake…an extraordinary cake. This is the "Naked Chocolate Cake with Buttercream Frosting"! It's 'naked' because the sides are left unfrosted. It is triple layer, double chocolate and topped with berries and shaved dark chocolate. Simple. Beautiful.
(This post contains affiliate links. I may make a commission from sales but your price remains the same.)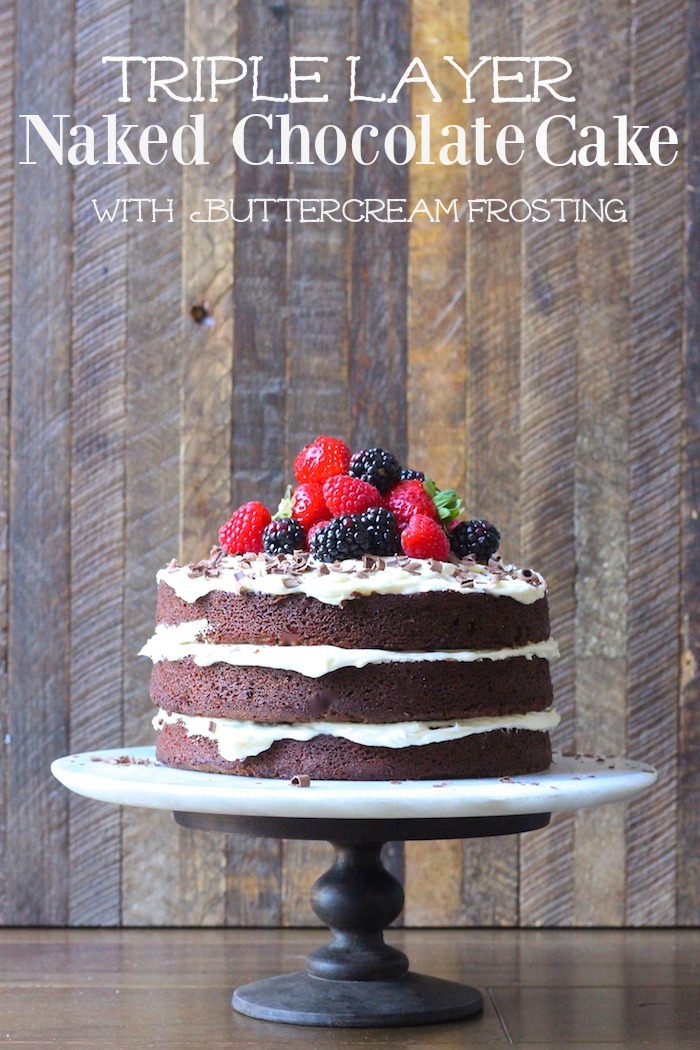 Why is This Naked Chocolate Cake with Buttercream Frosting So Amazing?
Because all the ingredients are amazing…coconut oil, vanilla paste, 60 percent cacao chocolate chips, coco powder and full fat sour cream….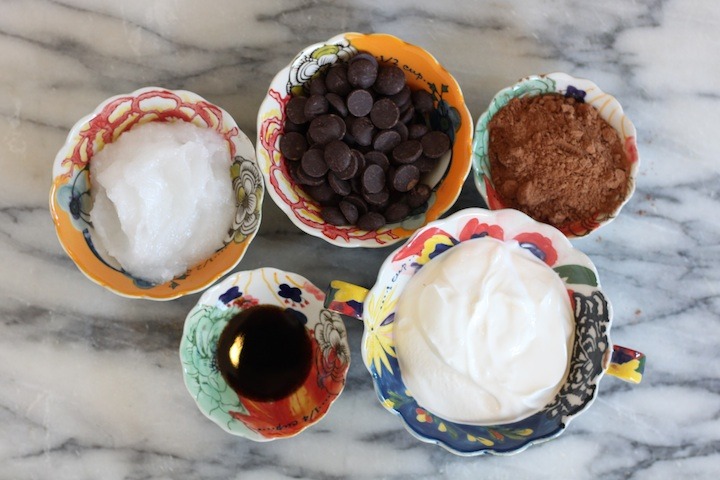 …oh…andthis….Espresso powder! Now coffee haters, don't worry! Espresso powder does not make this cake taste like coffee, it simply enhances the already rich chocolate flavor. I am not a fan of mocha myself, so trust me!

Let's make a cake!
This is a double chocolate cake, hence, rich dark chocolate chips and cacao powder together….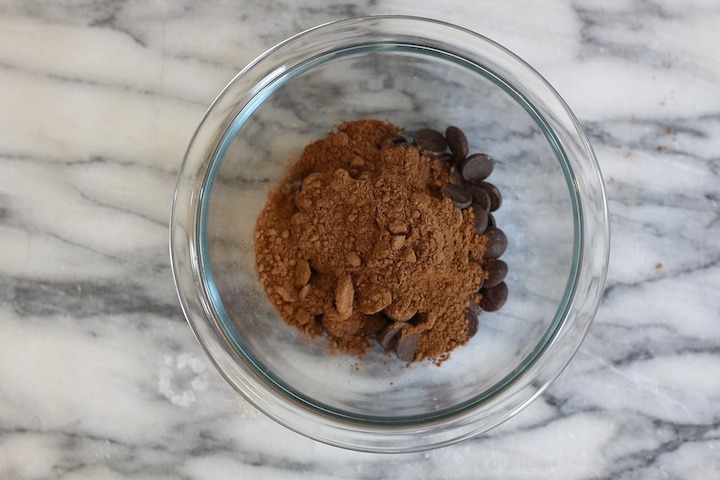 The sour cream makes this cake amazingly moist.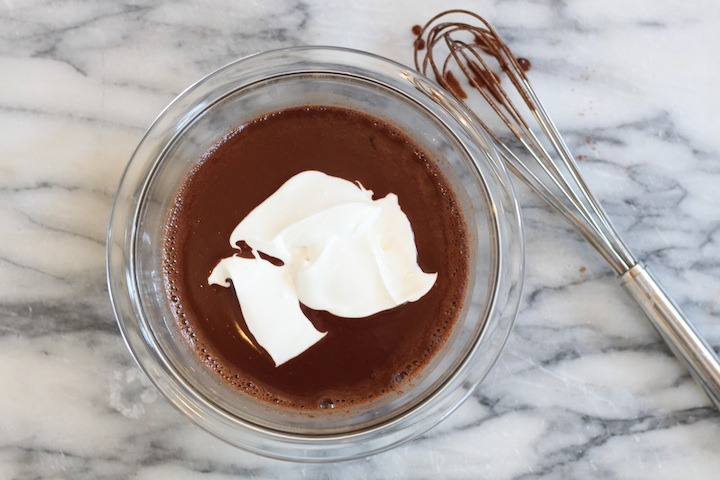 I use 8″ baking pans to make three layers…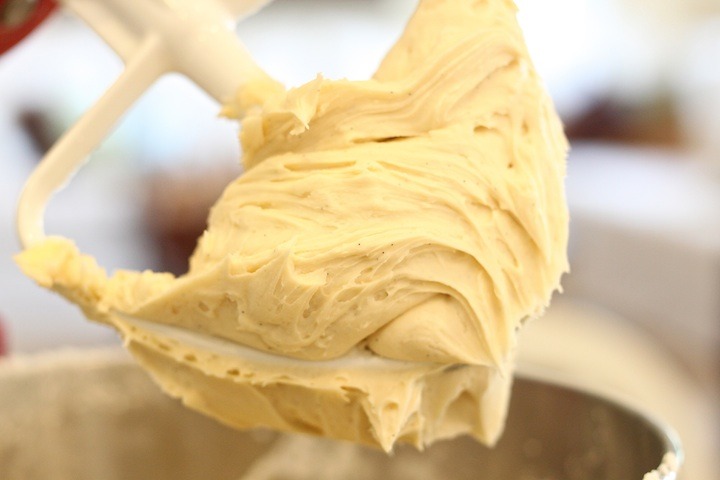 …and then put enough of our butter cream frosting in between layers so when gently pressed, the icing seeps out like mortar between bricks. Notice the beautiful vanilla bean flecks in the frosting, those come from my favorite vanilla paste! But vanilla extract works too. To finish, I use a "Y" to make chocolate shavings and then sprinkle them on top. Then I arrange with assorted berries. During the holidays I use cranberries for a special touch.
MAKING IT GLUTEN FREE AND JUST AS GOOD!
Not all gluten free flours are created equal. We recommend Jovial Gluten Free Pastry Flour for GF baking. The grains aren't just gluten free, they are soaked for easier digestion!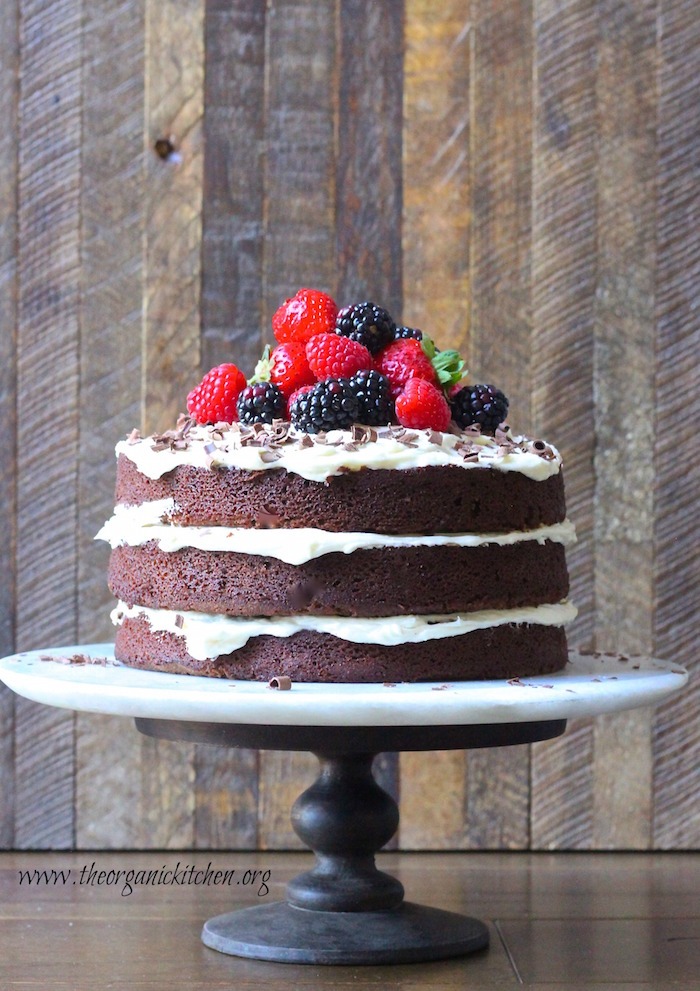 The Recipe: Naked Chocolate Cake with Buttercream Frosting
You will need: 3 – 8″ cake pans, espresso powder and vanilla paste or extract. (affiliate links) If you use 9″ pans your cake won't be as high and cooking time will change. We recommend Jovial Gluten Free Pastry Flour for gluten free baking.
Naked Chocolate Cake with Buttercream Frosting
A beautiful triple layer, double chocolate cake with buttercream frosting!
Keyword:
easy dessert recipe, holiday recipe, party recipe
Ingredients
Ingredients for cake:
2

cups

all purpose flour

1

teaspoon

sea salt

1

teaspoon

baking soda

3

whole eggs and 3 egg yolks

½

cup

dark chocolate chips (I use Ghiradelli 63% cacao)

¼

cup

unsweetened cocoa powder

1

rounded teaspoon espresso powder

¾

cup

boiling water

¾

cup

sour cream

½

cup

coconut oil (or your favorite baking oil)

1/2

cup

butter, room temp

1

cup

light brown sugar

¾

cup

organic granulated unbleached sugar

2

teaspoons

vanilla paste or extract
Buttercream Frosting: Make sure butter is soft or the icing will be clumpy
3 1/2

cups

powdered sugar

1

cup

butter, room temp

1/4

cup

heavy whipping cream

1

tsp

vanilla paste or extract

Raspberries or strawberries for garnish

A bar of dark chocolate for shavings, if desired
Instructions
Preheat oven to 350 degrees and place rack in center position. Use a paper towel to butter sides of three 8" cake pans and dust with cocoa powder (or flour, but cocoa powder will disappear). Use the bottom of cake pan to trace a circle on parchment paper, cut three 8" circles. Place parchment in bottom of pans. Do not skip this step or you will have a really hard time getting cakes out of pans.
Cake Prep:
Place flour, salt and baking soda in bowl and whisk, set aside.

Crack and separate eggs into a bowl and set aside.

Place chocolate chips, cocoa powder and espresso powder in a medium sized bowl.

Bring one cup water to boil. Measure ¾ cup boiling water and carefully pour over chocolate chips and cocoa powder.

Let sit for one minute, then whisk.

Add sour cream and whisk until well incorporated, set aside.

Place butter, coconut oil and sugars in mixer and begin mixing on low speed.

Add chocolate mixture to mixer with butter and sugars. Mix until well combined. Add vanilla paste and then eggs, then add flour mixture.

Once batter is combined, scrape sides of mixer, turn mixer to medium and mix for one more minute. Pour as evenly as possible into prepared cake pans. Tap pans firmly on counter to remove any bubbles in batter. Bake for 24 minutes or until an inserted toothpick comes out clean.

As soon as pan is cool enough to handle, use a knife to separate cake from edges of pan and CAREFULLY remove cakes and set on rack to cool, keeping parchment paper on the bottom.
Frosting Prep:
Place soft butter and sugar in mixer and beat on medium speed till combined. Add vanilla paste and whipping cream. Mix till light and fluffy.

Remove parchment from bottoms and set one cooled cake on plate, frost top and leave a generous amount around the edges. Then place second cake on top (don't forget to remove the parchment) and gently press so frosting squeezes out the sides like mortar between bricks. Frost second layer the same way then place third layer on top. Generously frost top of cake, garnish with shaved chocolate berries. Serve and listen to the raves!
A Different Take on Decorating:
To make the cake above look like the cake below…click!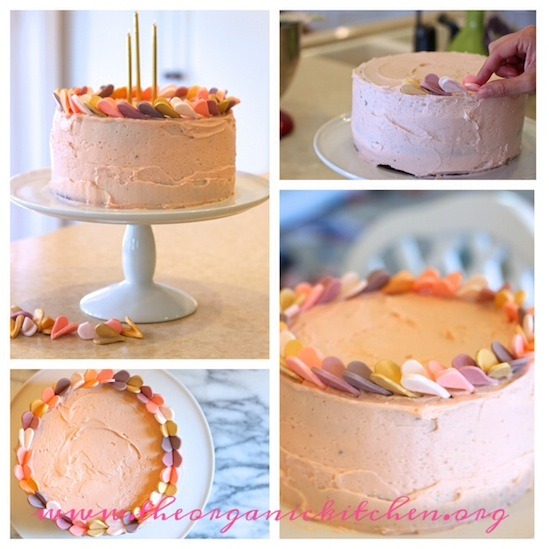 MAY I PLEASE ASK A LITTLE FAVOR?
We small bloggers need all the help we can get. Subscribing and sharing on social media is very appreciated!
All recipes and food images are copyrighted and owned exclusively by Linda Spiker. Do not republish photos or recipes without written consent.