When I was a little girl we went to Newport Beach on vacation and I loved to walk to the frozen banana stand for my favorite summer treat, frozen bananas. Well, these Chocolate Covered Nut Butter Banana Bites are reminiscent of those special summer treats but in a more manageable size. Perfect for kids and those who just want to cap off a delicious meal with a little something sweet.
(This post contains affiliate links. I may make a commission from sales but your price remains the same.)
How to Make Chocolate Covered Nut Butter Banana Bites:
I sandwich my favorite maple almond butter or honey peanut butter between sliced bananas, freeze for a bit, and then dip in melted chocolate and pop back in the freezer for a cold, rich chocolate treat. So rich in fact that one or two is plenty! You will feel like you have had a decadent treat when in reality these are quite low in sugar.
How to Melt Chocolate:
You can melt chocolate using a double boiler or the microwave. If you don't have a double boiler, you can make one by placing a bowl over a small pot with an inch or two of water in it. Just make sure the water does not touch the bottom of the bowl, we want to stream to heat the bowl and melt the chocolate. If using the microwave, simple follow the melting instructions on the chocolate package.
Most recipes call for using vegetable oil to thin out the chocolate for dipping, I prefer to use a healthier oil for this job. So coconut oil it is!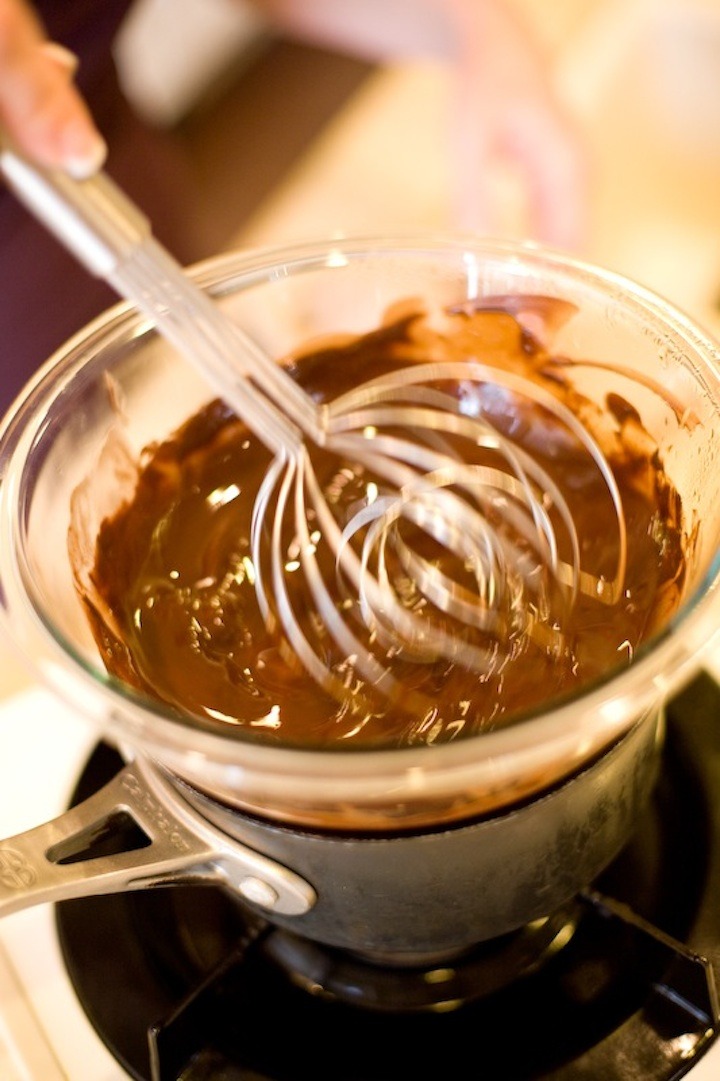 …and pop back in the freezer and you have a cold, rich chocolate treat. So rich in fact that one or two is plenty! You will feel like you have had a decadent treat when in reality these are quite low in sugar.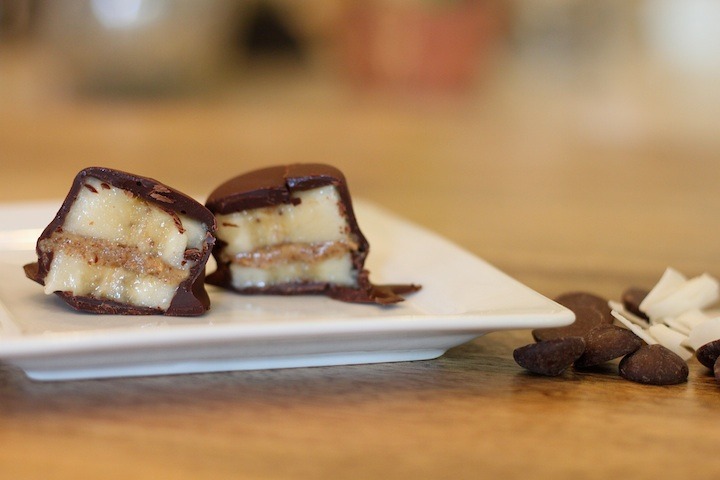 If Desired Sprinkle with Toppings:
…and a variety of toppings including chopped nuts, cocoa nibs, sliced almonds, granola, flaked sea salt and shredded coconut.
Add a Stick or Don't, it's up to you…
These little bites don't require a stick, but if you prefer one, simply use a toothpick!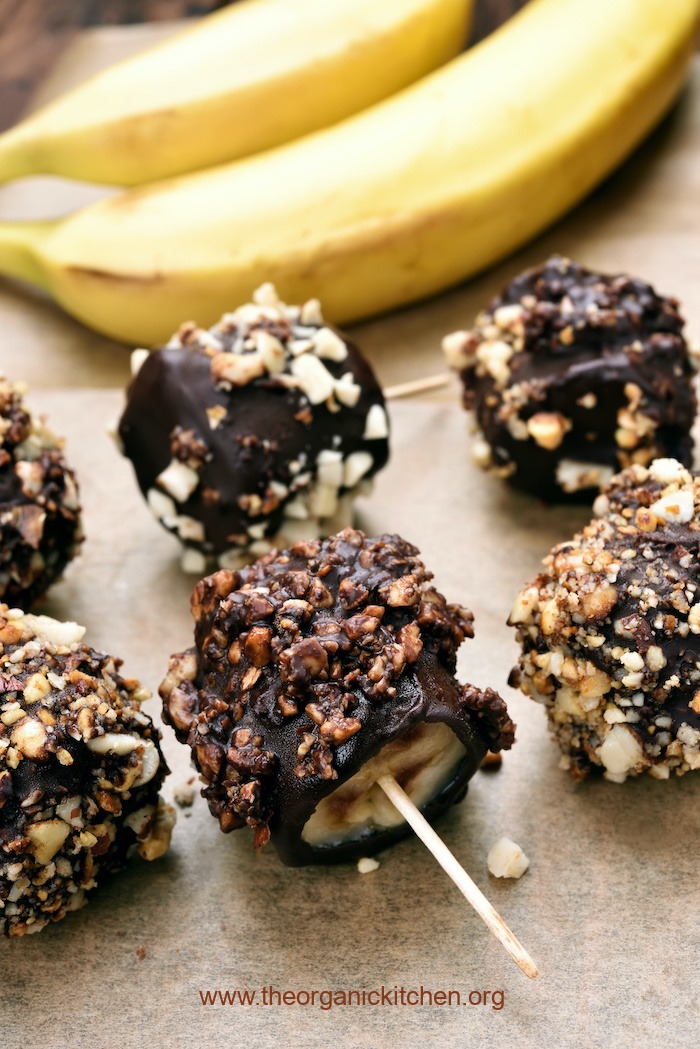 Want A Bigger Frozen Banana?
Try my full size Chocolate Dipped Frozen Bananas!
The Recipe: Chocolate Covered Nut Butter Banana Bites
Tip and what you will need: a double boiler. You can also use a microwave to melt chocolate.
Chocolate Covered Nut Butter Banana Bites
Delicious little desserts in a manageable portion.
Keyword:
kid-friendly recipes, no-bake dessert recipe, summer recipe
Ingredients
2

small bananas

6

oz

dark chocolate, chopped or semi sweet chocolate chips

1-2

tablespoons

coconut oil

Almond or peanut butter,
Toppings:
nuts, coconut, cocoa nibs, raisins, cranberries, granola, whatever you wish!
Instructions
Slice bananas, place on wax paper. Put a dab of maple almond butter on half the banana slices then top with remaining slices. If using a toothpick insert now.

Freeze for at least 15 minutes (or up to an hour).

When you are ready to dip, melt the chocolate in a double boiler or microwave (see how to make your own double boiler in post above. If using microwave, use instructions on chocolate package for melting) Add 1 tablespoon coconut oil and whisk until well blended. If you desire a thinner coat of chocolate add second tablespoon of oil.

Pour melted chocolate into small measuring cup so the chocolate is deep enough to cover frozen banana bites when dipped.

Pick up frozen banana bites and place in melted chocolate. Use two forks to gently place bite back on wax paper. If using toothpicks you can just dip while holding onto the toothpick.

If desired immediately sprinkle with your choice of topping before chocolate hardens.

Repeat until all bites are done.

If you need to remelt chocolate half way through dipping, just place in microwave for a few seconds. Place chocolate covered bites back in freezer for at least another hour.

Then place in an airtight container or baggie and place back in freezer.

Take out of freezer a few minutes before serving.
Enjoy my friends and remember, there's always money banana stand! (Arrested Development fans will get it:)
MAY I PLEASE ASK A FAVOR?
We small bloggers need all the help we can get. Subscribing and sharing on social media is very appreciated!
;