Potato salad and summer go together like peas and carrots. Or better yet, like potatoes and green beans. This "Tri-colored Potato Salad with Green Beans and Rustic Pesto" is such a spring and summer delight!
(This post contains affiliate links. I may make a commission off sales but your price remains the same.)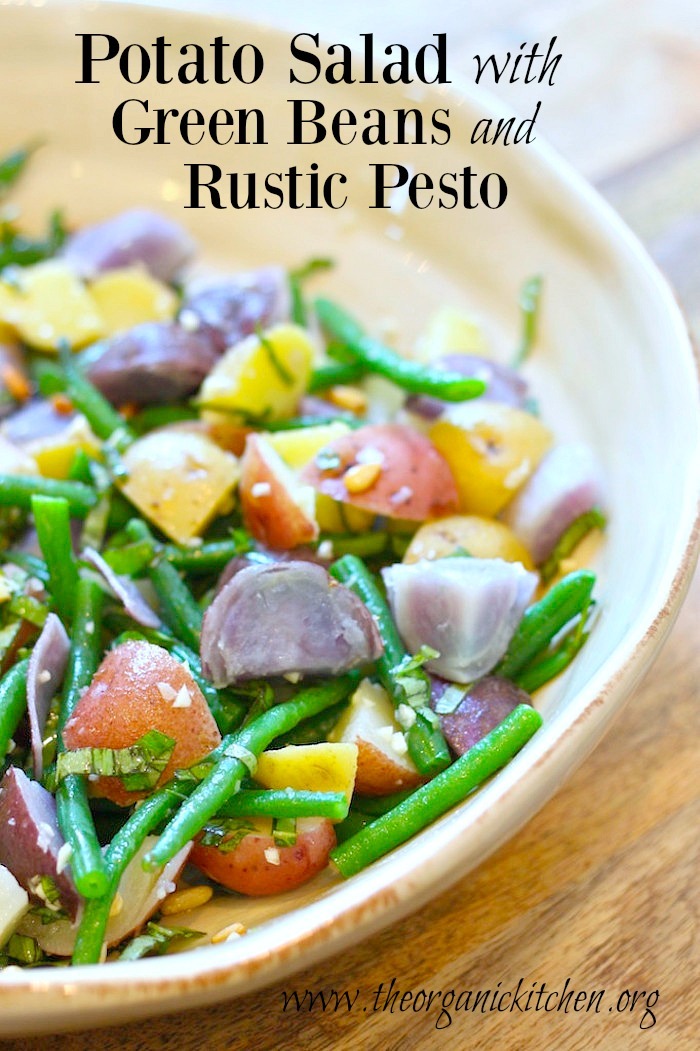 The Potatoes and Green Beans:
This salad is delicious, colorful and light. Instead of russet potatoes I use a medley purple, new rose, and new white potatoes. Purple potatoes are lower on the glycemic index than white potatoes, and contain more nutrients. My local market carries the medley. If you can't find it you can use new rose potatoes. Green beans are in season from May to September. In this recipe we blanche the green beans so they are bright green and crispy.
The Dressing:
I skip the mayo entirely in favor of organic extra virgin olive oil and toss the potatoes and green beans with a rustic pesto. What is rustic pesto? So glad I asked…instead of using a food processor to make a paste of our pesto, we are using all the same ingredients but keeping them whole or roughly chopped. If you want to be fancy (and who doesn't?) you can use a knife skill called a 'chiffonade' to make your basil into long thin strips. Simply stack several basil leaves, roll tightly and slice.
Technique:
The key to this salad is potatoes that are boiled until cooked but still firm, not mushy! To accomplish this, boil potatoes until a fork goes in but they are still quite firm, usually 8 minutes or so. If you wait till potatoes are soft they will end up getting mushy later. Check frequently and when the potatoes are just right, toss in the trimmed and cut green beans and blanche for 3 more minutes. Drain potatoes and beans in colander and rinse in cold water immediately to thoroughly to stop the cooking process so veggies stay firm.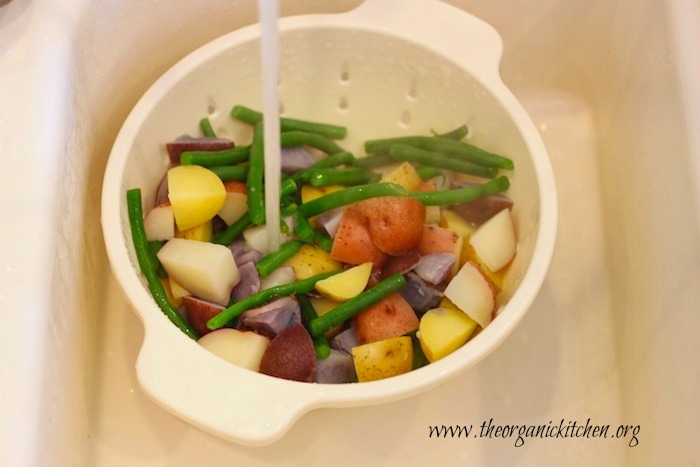 If you happen to err on the undercooked side (doubtful), just throw a dishtowel over the colander and let the potatoes and beans steam for a minute before rinsing with cold water.
Now for the rustic pesto! Pour olive oil liberally over potatoes and green beans. Sprinkle with basil, minced garlic, and pine nuts, toss. Add sea salt to taste, toss. Serve warm. Enjoy!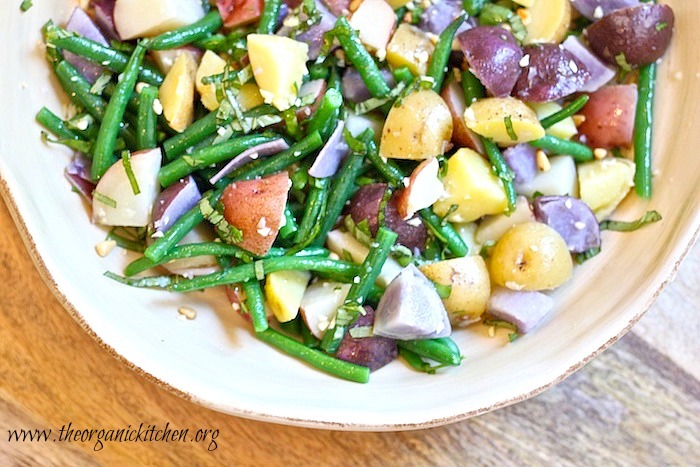 The Recipe: "Tri-colored Potato Salad with Green Beans and Rustic Pesto"
Tips and what you will need:  Be sure to follow tips on cooking potatoes, chceking them frequently. This recipe is easy but the most common mistake is overcooking the potatoes. You will need a large stock pot, a good knife and a great non toxic pan. I use Xtrema Ceramic, naturally non stick without chemicals!
MAY I PLEASE ASK A LITTLE FAVOR?
We small bloggers need all the help we can get. Subscribing and sharing on social media is very appreciated! 
All photos and recipes are copyrighted by Linda Spiker.
Post tags: Gluten free, grain free, dairy free, whole 30