I love this salad! Chopped romaine, caramelized walnuts, diced apples, dried cranberries and aged gouda drizzled with an amazing tangy apple vinaigrette. It looks lovely and tastes even better!
(This post contains affiliate links. I may make a commission off sales but your price remains the same)
The Salad:
This salad is very simple and easy to assemble. It's very versatile too. Simple enough for the family, but great for parties and the holidays too. You can purchase caramelized nuts at the store or learn to make your own here.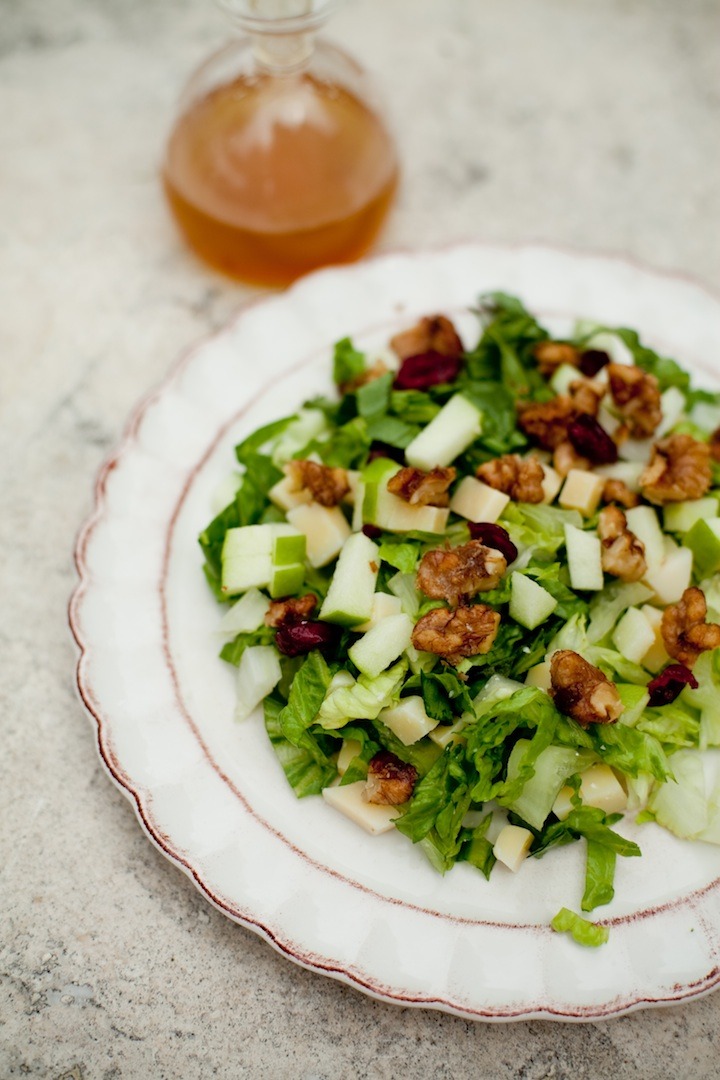 The Apple Vinaigrette:

The salad dressing on this salad is the perverbial icing on the cake! It is made with heart healthy olive oil, apple juice concentrate and white balsamic vinegar. My favorite white balsamic vinegar is called Prelibato. It is smooth and creamy and really makes a difference in a salad dressing.
 The Recipe: Chopped Salad with Apple Vinaigrette
Tips and what you will need: After using frozen apple juice concentrate, replace lid, cover with plastic wrap and use a rubber to seal, put back in freezer so you can use it again next time! See 'how to caramelize nuts here. You will need  apple cider vinegar, white balsamic vinegar and sea salt (my favorites) Affiliate links.
MAY I PLEASE ASK A FAVOR?
We small bloggers need all the help we can get. Subscribing and sharing on social media is very appreciated!