Caramelized nuts are so versatile. I use them in salads, toss them in oatmeal and serve them with herbs and spices as an appetizer.
(This post contains affiliate links. I may make a commission from sales but your price remains the same.)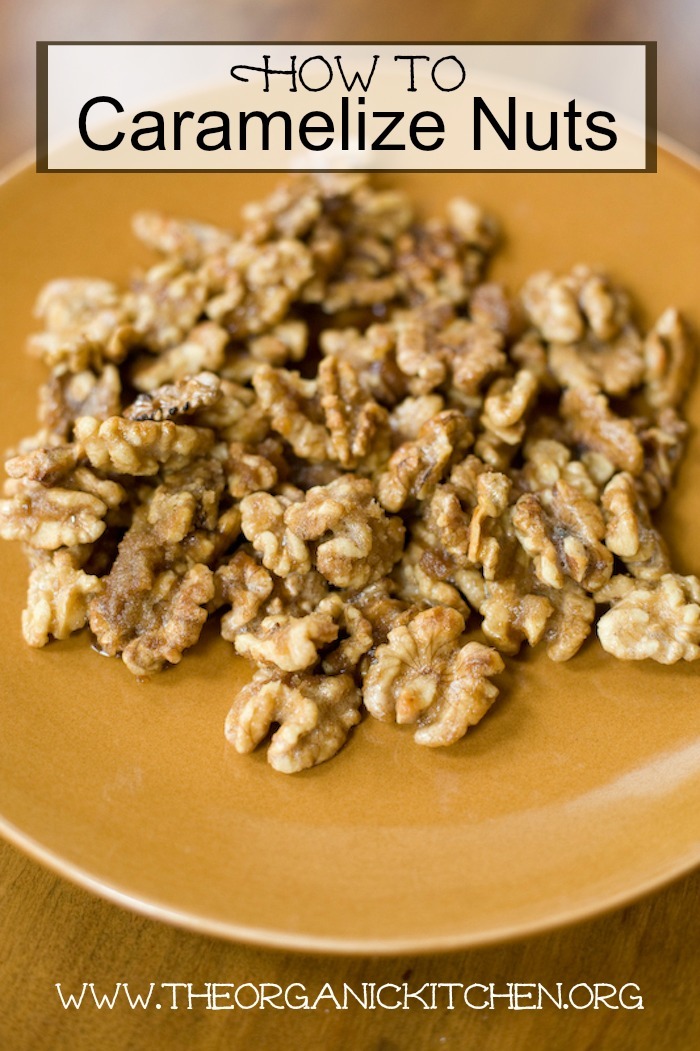 In the Oven Or on The Cooktop?
You can certainly do either. Which method you choose will depend on how much time you have or how adventurous you are. The oven method takes a longer but it's very simple. You simply melt butter and sugar in a pan, then pop in the oven at a very low temperature for an hour, turning every 15 minutes. If you choose the cooktop method you can have the nuts finished in five minutes, then just allow to cool before eating.
Cook Top How To:
I am demonstrating the fancy 'flip' in these pictures but you can certainly use a spatula instead of flipping. I think the flip method is really fun and coats the nuts more evenly, but you may have a few (or more) nuts on the floor until you get the hang of it. Luckily I have a video tutorial you can watch that teaches the technique! Full printable recipe below.
Step 1:
Melt butter in pan…
Step 2:
Add walnuts or pecans to pan and toss until nuts are evenly coated with butter. Toss the nuts several times while you allow the nuts to become slightly toasted and hot enough to melt the sugar.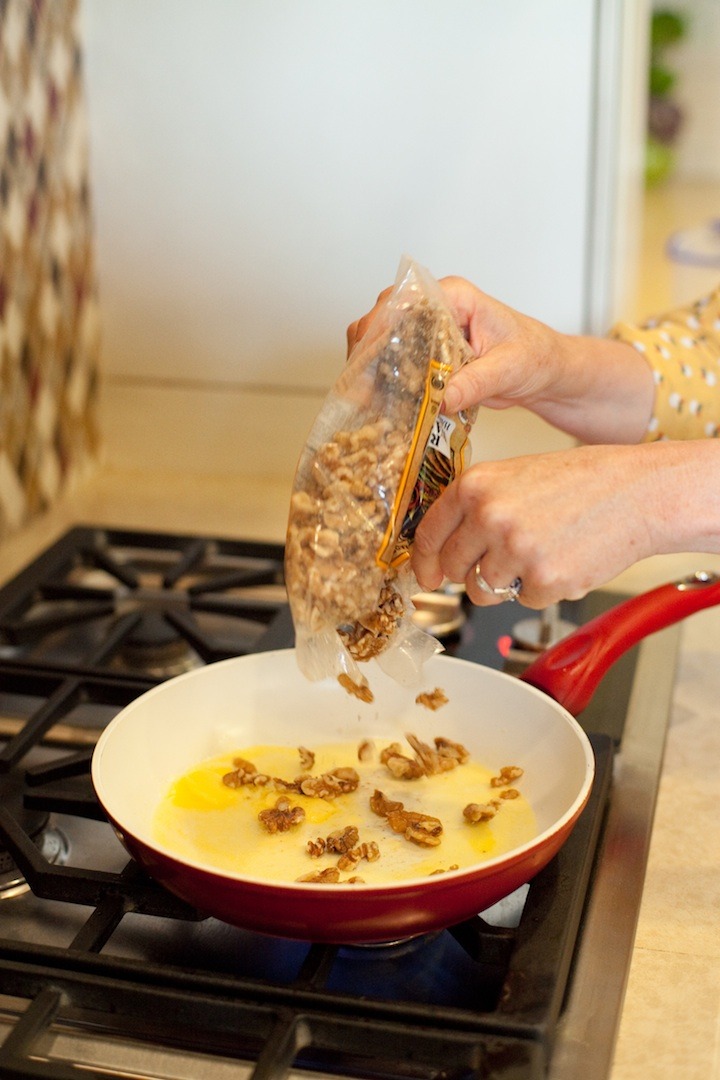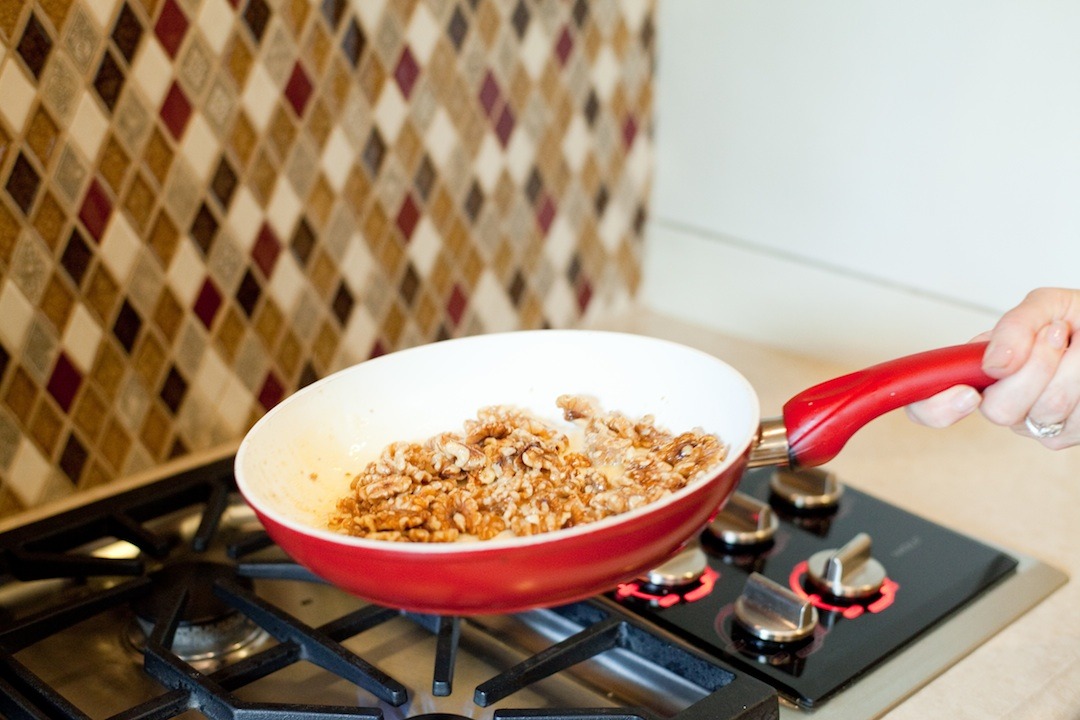 Step 3:
When the nuts are nice and toasty, add sugar. I recommend light brown sugar. It seems to work the best. And strangely this is the one time I won't recommend organic sugar, I know weird, huh? But for some reason it doesn't melt as well. Once sugar is added, flip a few more times until sugar is melted and nuts are coated in sugar. Then pour onto a plate and allow to cool. Then use however you like!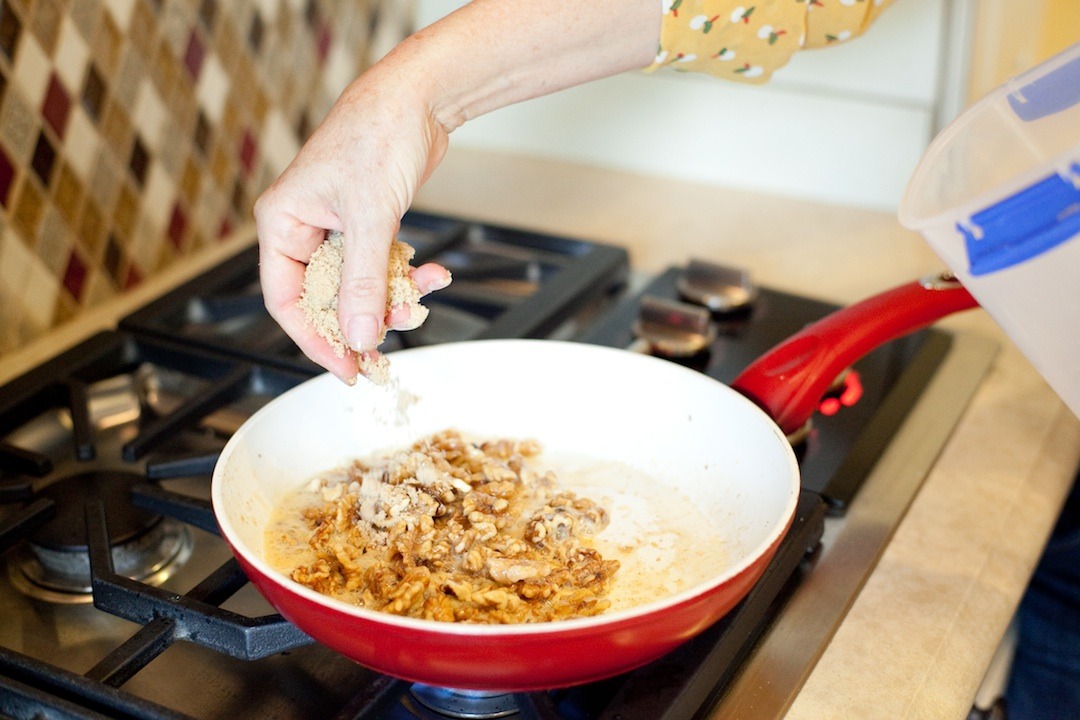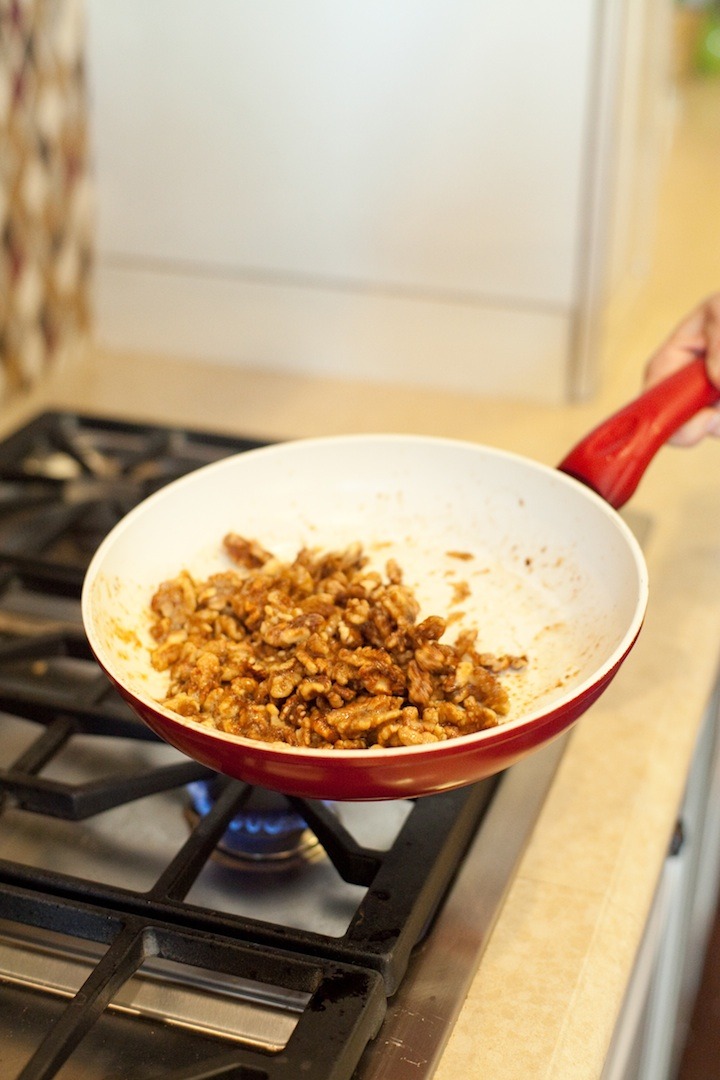 The Recipe: Caramelized Nuts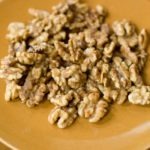 Caramelized Nuts
There are two methods instructed in this recipe: the cooktop and oven method.
Keyword:
easy snack recipe, kid-friendly recipes
Instructions
Oven Method:
Preheat oven to 250 degrees and place oven rack in center position

Place an oven safe pan on cooktop on medium heat

Add butter

When butter is melted add sugar, stirring with spatula until sugar melts

Add nuts and stir until evenly coated, then place oven safe pan into oven and allow nuts to slowly roast for 1 hour, stirring every 15 minutes
Cooktop method:
Melt butter in a lightweight pan on medium heat. When butter is melted, add 1 cup nuts. You can use walnuts, pecans, almonds, cashews, mixed nuts...whatever, but I will say walnuts and pecans work best because they have nooks and crannies that hold the melted sugar.

If you are using a spatula just stir nuts in butter until they are nicely coated. Cook them until slightly roasted (4-5 minutes) then add sugar and stir until sugar melts. Remove immediately (you don't want to burn the sugar) and place on a plate to cool.
If you are doing the flip method:
Melt butter in a lightweight pan on medium heat. When butter is melted, add 1 cup nuts. Give the nuts  a 'flip' to make sure all nuts are glistening with butter. To learn the flip I really do recommend you 

watch this video!
To Flip:
Shake the nuts back and forth in the pan from front to back. Get a little rhythm going. Then when the nuts are moving forward in the pan (away from you) and they reach that curve in the pan, just give the pan a little ummmph and the nuts will flip. This takes practice!

Once nuts are browned slightly, add sugar. I use 1/3 cup C&H light brown sugar. I find it melts the best. Sorry, but organic brown sugar clumps. I wish I could say it wasn't so! If you are looking for a lower glycemic sugar try 

coconut sugar

. It works very well.

Flip again. When nuts are evenly coated with melted sugar, remove from heat and place nuts on a plate to cool. If you are using them right away you can pop them in the fridge or freezer for a quick cool down.

Once cooled, use right away or store in a covered container for up to a month. The recipe for Spicy Caramelized Nuts is on page 62 of my 

cookbook.
MAY I PLEASE ASK A FAVOR?
We small bloggers need all the help we can get. Subscribing and sharing on social media is very appreciated!