With the holidays coming up I thought it would be a great time to offer this new tutorial: How to Make Sweetened Condensed Milk! Sweetened Condensed Milk is used in a huge variety of recipes, and because most store bought brands are made with low quality dairy and high fructose corn syrup, it's worthwhile to know how to make your own healthier version.
(This post contains affiliate links. I may make a commission off sales but your price remains the same.)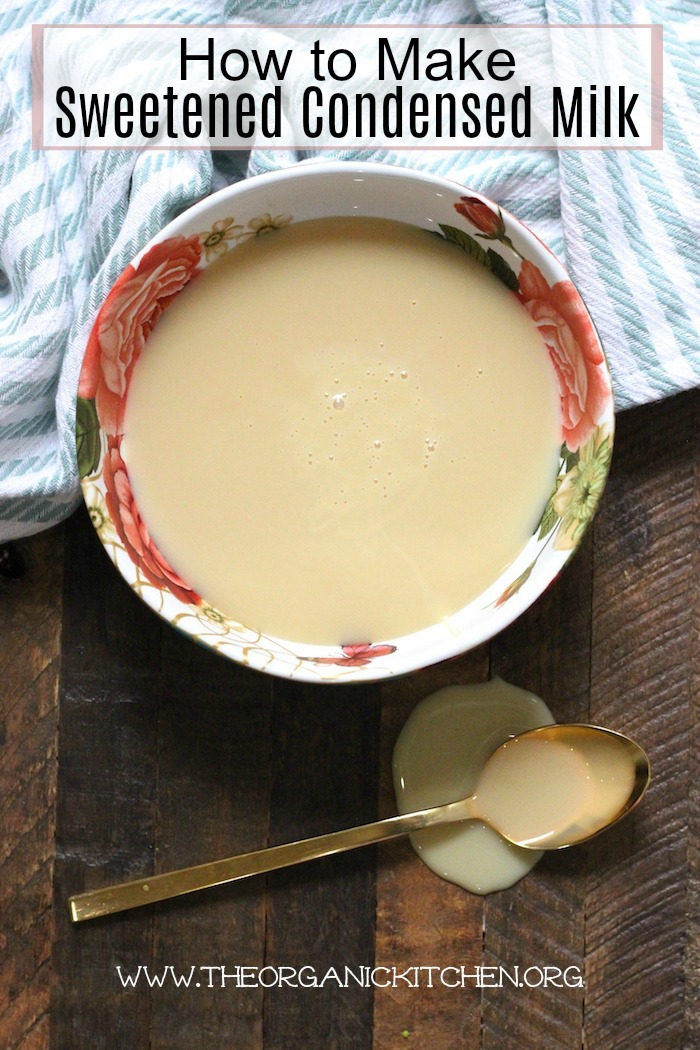 Are There Any Good Store Bought Options?
Absolutely! There are some organic brands (<– Amazon Link) of sweetened condensed milk that don't use milk from conventionally farmed cows and use organic cane sugar instead of high fructose corn syrup. The the 365 brand from Whole Foods Market is made with both organic whole milk and organic cane sugar, which are the exact same ingredients I use in my version. But for you die hard 'Do It Yourselfers' I have a simple recipe that doesn't take much effort, just a little bit of time.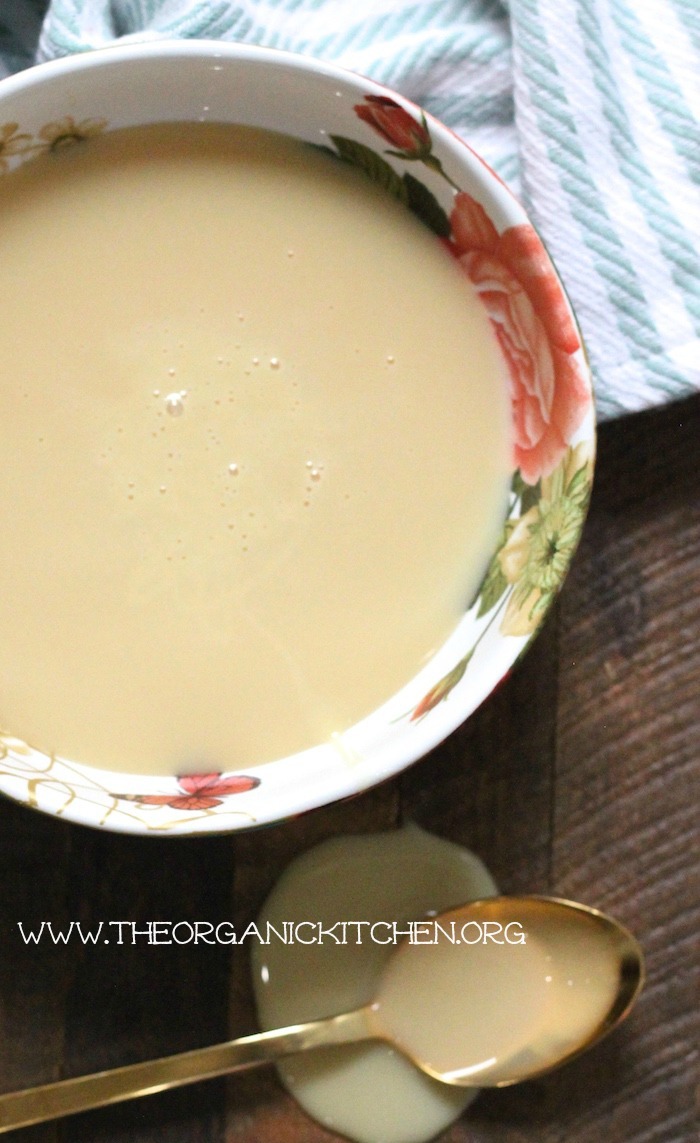 The Recipe: How to Make Your Own Sweetened Condensed Milk
What you need: a heavy bottomed pan.Wondering how you can use this recipe? Try it in my no churn ice cream!
How to Make Sweetened Condensed Milk
A simple recipe that requires little tending
Keyword:
easy dessert recipe, how to
Ingredients
2

cups

organic whole milk

2/3

cup

organic cane sugar

Optional: 1 teaspoon Vanilla paste or extract

note: I usually end up using this condensed milk in recipes that already require vanilla so I often leave it out. If you choose to omit it, your milk will be a little lighter and whiter than pictured, and that's just fine
Instructions
Place milk and sugar in a heavy bottomed pan, stir for 20 seconds with spatula

Place on cooktop and heat pan on low heat until sugar is dissolved, gently stirring here and there

Once sugar is dissolved, turn heat to medium and bring milk/sugar mixture to a simmer (do not stir from here on out)

Allow to simmer (not boil) for 40 minutes. Milk will thicken and darken a little. When done condensed milk should thickly coat a spoon and measure about two cups, but that measurement doesn't have to be exact. If it's not quite thick enough and you need to give it a little extra time, do! No harm will come from letting it simmer a little longer. Milk will also get thicker once it's placed in the refrigerator.

If a foam forms on top just skim off with a spoon

When ready, remove from heat and allow to cool

Once cool, if using vanilla, add it now and stir. Pour milk into a jar and place in the fridge. Allow condensed milk to get cold, (thickening even more) before using.
MAY I PLEASE ASK A FAVOR?
We small bloggers need all the help we can get. Subscribing and sharing on social media is very appreciated!