This salad may look a little familiar to you, it's on the cover or my Spring/Summer cookbook, and it is as delicious as it is beautiful. I call it "The Summer Berry Salad" ….for obvious reasons.
(This post contains affiliate links. I may make a commission off sales but your price remains the same.)
The Salad:
This salad is incredibly simple. Just toss mixed greens, fresh spring and summer berries of your choice, caramelized pecans and soft goat cheese together and then dress! Perfect for a healthy lunch or delicious warm weather side dish.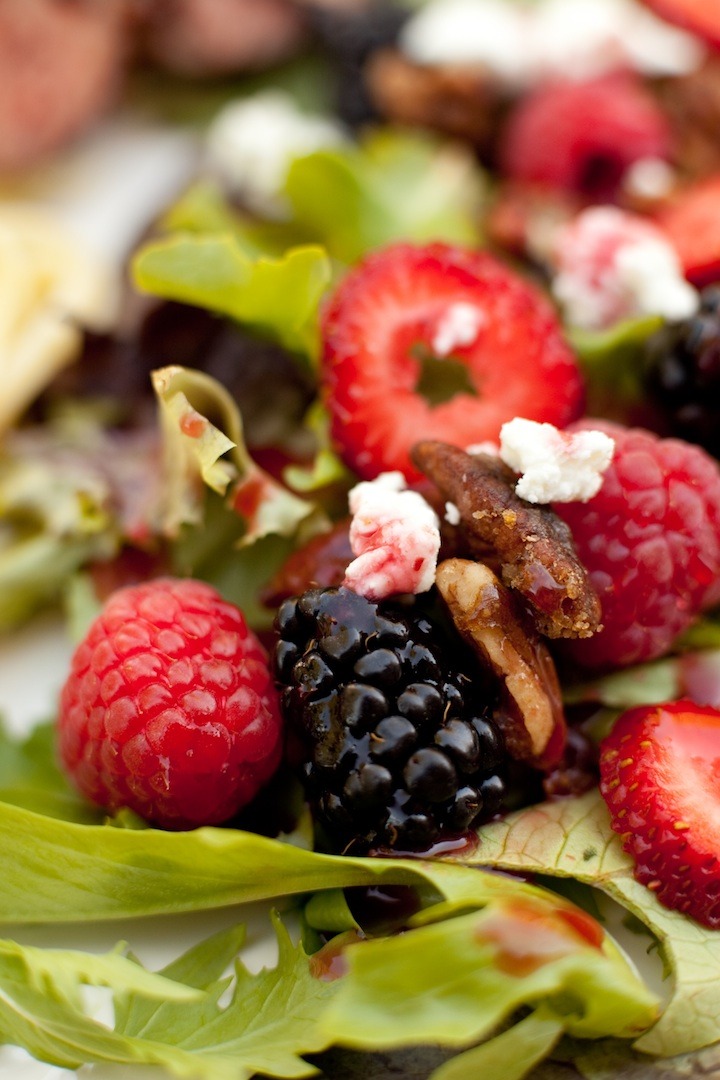 How to Caramelize Nuts:
I love caramelized nuts in this salad. Click here to see how to make your own. Of course if you would rather skip the sugar you can use your favorite raw nut, roasted salted pistachios or cashews!
The Vinegar Makes All the Difference!
I am going to offer you two salad dressings for this salad, an amazing raspberry vinaigrette and a lemon dressing, but will suggest you try the raspberry! I use this Raspberry Vinegar from A L'Olivier, It's amazing, rich, flavorful and pulpy.
The Recipe: The Summer Berry Salad
Tips and what you will need: A hand held juicer, mini whisk, and good quality honey. If you are making this with the raspberry vinaigrette you will need Raspberry Vinegar from A L'Olivier.
 May I Please Ask A Favor?
We small bloggers need all the help we can get. Subscribing and sharing on social media is very appreciated! 
Post tag: Vegetarian, salad, side dish, fruit